By Andrew Osmond.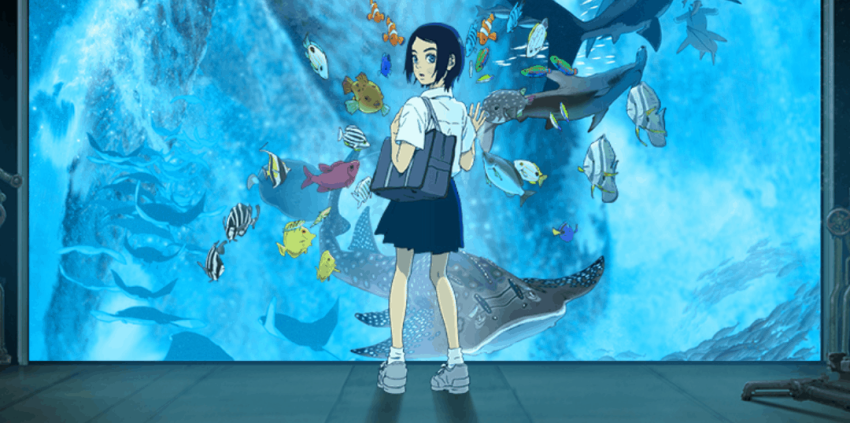 Young people are learning how to be people, how to be human; small wonder they're drawn to the vast world beyond humanity, to the myriad other forms of life. That applies particularly to youngsters troubled in their "normal" lives, fractious with their peers and parents, longing for connection. It's a subject explored in live-action films from Ken Loach's Kes to Spielberg's E.T.
Children of the Sea is at least partly a fantasy along those lines, though the eyes of an unhappy girl. Ruka (Mana Ashida) lives with her mum after a parental separation, but doesn't get on well with her. She's into sport, but an angry fight gets her banned from her handball team just as summer starts, blighting her holiday. Painfully aware of her pariah status, Ruka visits the aquarium where her father works, and encounters a cheeky, scampering little boy (Hiiro Ishibashi). To her amazement, she sees him dive into the aquarium's main tank and swim happily among fish and turtles, in his element in every way.
The boy, it turns out, is called Umi (the Japanese for "sea"). It appears, incredibly, that he comes from the sea, being found as a baby with protective dugongs, the sea mammals which may have inspired mermaid legends. Though he lacks a tail, Umi is pretty much a mer-boy. For example, he needs regular immersion in water on land, like Daryl Hannah in Splash! Inevitably, Ruka spends more and more time with him, eventually meeting his frailer, far more enigmatic big brother Sora ("sky", voiced by Seishu Uragami).
The set-up may remind you of two lighthearted aquatic fantasies, Ponyo and Lu Over the Wall. Let's just say that Children really isn't like that. Adapted from a five-volume manga by Daisuke Igarashi, it becomes far more mystical and abstract, less Miyazaki than late-period Terrence Malick. Characters speak casually of life, the universe, and the wonders of creation. Portions of the film, especially the climax, may actually make more sense if you ignore the dialogue and focus on Ruka's visual journey as it blurs inner and outer space, microcosms and the cosmos, struggle and acceptance.
Children of the Sea is lavishly made by Studio 4°C, famed for pushing unconventional spectacle rather than for any fixed style. The studio's films include Mind Game by Masaaki Yuasa, Tekkokinkreet and the Berserk film trilogy. More recently 4°C worked with a French studio on the underrated action-comedy MFKZ, which blended bloody violence with sweet-natured humour. The studio's full range of styles was shown off in the Genius Party anthologies, available in a Blu-ray from Anime Limited.
Visually the film is glorious, highly realist yet with more of a picture-graphic edge than Miyazaki's and Shinkai's output. The leviathans in the ocean may be awesome, but the character animation on Ruka is sensitive and warmly observed. The biggest "name" on the film is animation director Kenichi Konishi, who has umpteen credits on Ghibli and Satoshi Kon films, including animation director posts on Millennium Actress, Tokyo Godfathers and Princess Kaguya. The backgrounds, meanwhile, lend the film mysticism – an evening sky stained scarlet, Ruka paddling in phosphorescent waves – before the whirling psychedelia takes over at the end, a child of the sea but also Akira.
Studio 4°C's handling of 3D space isn't as upfront as it was in past films such as Tekkonkinkreet, though there's a dazzling early shot of a distraught Ruka running downhill through her town. The location is real, the coast near the island of Enoshima (about an hour from Tokyo). The aquarium where Ruka finds Umi is plainly Enoshima Aquarium in the town of Fujisawa, even if the building been given a name-change. The same area is depicted in anime including Ping Pong, Slam Dunk, Just Because! and Psychic School Wars.
The film's director, Ayumu Watanabe, doesn't appear to have any previous credits at Studio 4°C, though he recently helmed the anime After the Rain – another story of a troubled girl, this one crushing on a middle-aged man. Ruka's voice actress Mana Ashida, has long form as a child actress – she was the moppet in the live-action Bunny Drop film, and she was also in Pacific Rim, when a traumatised Rinko Kikuchi remembers herself as a child fleeing monsters.
But the one name on Children of the Sea that you'll surely recognise is composer Joe Hisaishi, making an extremely rare appearance on an anime feature not by Ghibli – the last one he scored was Venus Wars, thirty years ago.
Children of the Sea is being released on Blu-ray/DVD by Anime Limited.