Cloud Matsuri returns – 15th-19th November
November 11, 2021 · 0 comments
Believe it or not it's been almost an entire year since our last Cloud Matsuri event in November 2020 – at the time we promised that it would return, albeit most likely in a slightly different format, and so today we're here to confirm the return of this event next week, from November 15th-19th 2021.
Across the week we'll be running a number of video features, including our Christmas showcase, to give you a first look at what to expect from our 12 Days of Christmas sale which is coming up fast. You can also expect guest interviews, thoughtful discussion on anime, and even more insight into what's coming up here at Anime Limited.
For the full low-down, read on!
As the arena for online events has changed quite a lot since we launched our first Cloud Matsuri last year, we're changing the format of the event quite substantially to match people's requirements and habits at this point in time, as well as looking to make these events something that can be more readily slotted into our (and your) calendars.
As a result, rather than one massive weekend blow-out of panels and streams, this month's Cloud Matsuri will feature one panel each day – these events will be a mixture of live panels, "as live" pre-recorded panels, and hybrid panels that are pre-recorded with a live Q&A segment.
Here's the run-down of what you can see and where: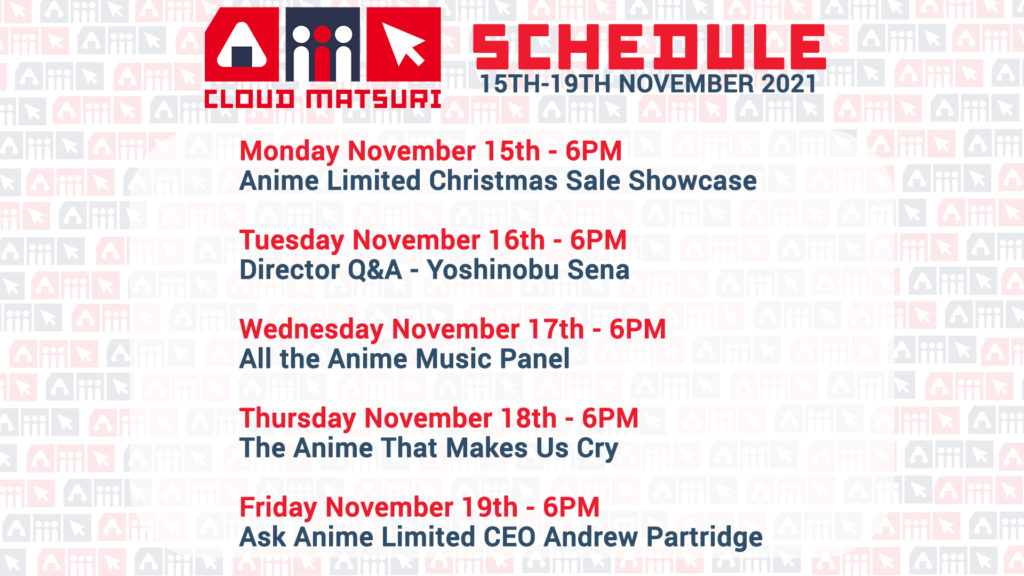 Monday 15th November – 6PM
Anime Limited Christmas Sale Showcase
Delve into the highlights of our 12 Days of Christmas Sale, as we give you a tour through what to expect, and most importantly what new products will be making their debut during the sale!
Tuesday 16th November – 6PM
Director Q&A – Yoshinobu Sena
Jonathan Clements (author, Anime: A History) talks with the director of Over the Sky about his directorial film debut, in a revealing in-depth conversation about the film, screening at the We Loves Anime film festival in Sheffield and Picturehouse cinemas (more details here). This is an extended edition of the pre-recorded panel first shown at Scotland Loves Anime 2021.
NOTE: This panel will only be available "as live" at this time, and will not be available on-demand after the panel.
Wednesday 17th November – 6PM
All the Anime Music Panel
Join Andy Hanley and Andrew Partridge to talk about all of the latest news from the Anime Limited music label. Expect new title announcements, plus a live Q&A to pose your questions about our music plans and products.
Thursday 18th November – 6PM
The Anime That Makes Us Cry
The Anime Limited team share their most tear-jerking anime film experiences. Join Demi Rodriguez, Kat Hall and Andy Hanley to delve into their emotional anime highlights. This panel was originally screened at MCM London Comic Con last month.
Friday 19th November – 6PM
Ask Andrew Partridge
Got a question for Anime Limited CEO Andrew Partridge? Of course you do, we'd be more surprised if you didn't! Join us for a live Q&A to tackle any and all of your questions about our plans and the industry.
---
For all of the latest on the schedule and to find these panels, keep an eye on the official Cloud Matsuri web site which we'll be updating shortly.
All of our content will be streamed and – unless otherwise stated – available subsequently on-demand via our official YouTube channel.
We can't wait for you to join us, so be sure to check out everything we'll be bringing your way – surely there's no better way to while away these colder evenings as the November nights draw in?
Tagged with: