Many of you will recall that earlier this year we brought the first movie of a three film project celebrating the 10th Anniversary of the classic Code Geass: Lelouch of the Rebellion I – Initiation to the big screen. Since then many of you have been wondering if/when we might be bringing releasing this on home video. Well today we're here to tell you that we're bucking from the trend and we're going to be the first English language territory to release it on Blu-ray!
And what's more, you won't have wait long either as it'll be arriving as a subtitled-only Ltd Collector's Edition Blu-ray on 29th November 2018.
BUT, if you're going to the MCM London Comic Con event this weekend, you'll be able to get your hands on it even earlier, as there will be some advance copies available from our AllTheAnime stand (South Hall, Block S2, Stand S400) in limited quantity!
So, there's a lot we need to tell you about on this, partly because there are a couple of very important details you should know about when it comes to this release. So read on below for details.
---
ABOUT CODE GEASS 1: INITIATION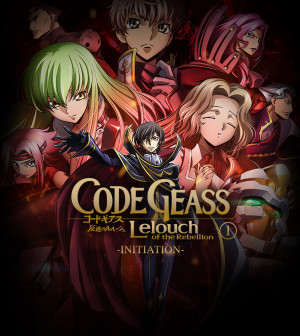 From the studio that brought you Mobile Suit Gundam and Cowboy Bebop
Synopsis: "In a world dominated by the Holy Empire of Britannia, most of the globe has been conquered and forced into submission by this behemoth of a superpower. Japan, now renamed Area 11 after its defeat at the hands of the Empire, continues to harbour pockets of seemingly futile resistance that seems powerless in the face of the might before them. Enter Lelouch Lamperouge, an exiled Britannian prince hidden away under a false name in Area 11 – harbouring a deep hatred for the empire which has forsaken him, he grabs the chance to fight back when a mysterious power known as "Geass" is bestowed upon him, and begins working from the shadows to bring Britannia to its knees as the faceless leader of Area 11's resistance."
Duration: 135 mins
Language: Japanese with English subtitles
It's worth noting this film project has reunited the staff of the original series to bring the story to the big screen. There are some newly added scenes and the voices have been re-recorded as well to truly make this a unique experience for all fans.
Also worth noting the film is in Japanese with English subtitles only, as there no English dub has been produced for the film at time of writing.
You can watch a trailer for the film below
---
WHAT'S PLANNED FOR THE RELEASE?
We're going to be releasing the film as a Ltd Collector's Edition Blu-ray set on 29th November 2018. Here's your first look at what this set will look like: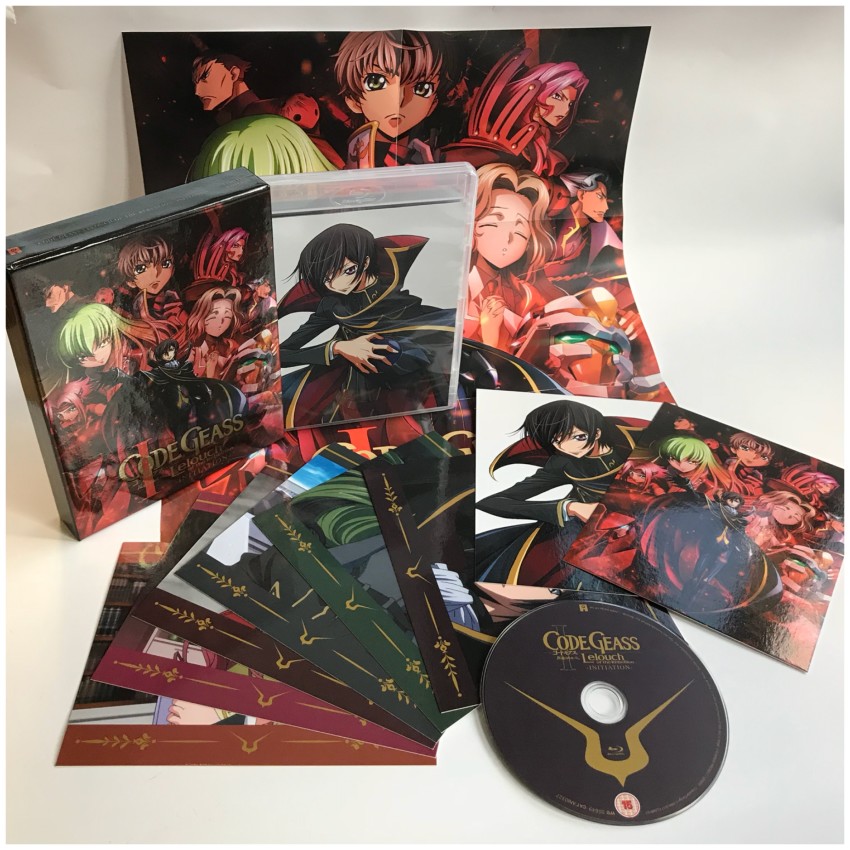 Let's breakdown what you get in the set. First of all, the set comes packed in a rigid case. Inside that you'll get an amaray case that stores the Blu-ray disc. In addition to that you'll also find 8 art cards and an A3 poster inside the box.
On the disc itself you get the film, Code Geass: Lelouch of the Rebellion I – Initiation on Blu-ray in Japanese with English subtitles. (You'll be able to select to watch the film in either 2.0 and 5.1 as both are included on the disc.)
We've said it a few times already but we want to reiterate, there is no English dub of this film as there has not been one created for it; hence why it is in Japanese with English subtitles only.
---
HOW MUCH DOES IT COST?
The SRP for release is £34.99, but when you apply retailer discounts and such you ultimately won't pay that for it – i.e. it will be cheaper. This product will also be exclusive to AllTheAnime.com and Zavvi.com around the time of release.
see all the anime listing here Order at Zavvi
Pre-orders for Code Geass Movie 1 will commence this Friday (26th October 2018) at our AllTheAnime.com online shop with a limited time special offer. (Worth noting that as our entire team is at the MCM London Comic Con event this weekend, we can't put a set time on when it will launch, but it will launch that day.)
---
UNBOXING TIME! PHOTOS OF THE FINISHED PRODUCT
And now it's time to show photos of the finished product! You can click on them to enlarge them too if you want. Enjoy~!
---
FREQUENTLY ASKED QUESTIONS (F.A.Q.) SECTION
— How come the film is in Japanese only when the original series was dubbed into English?
Simply put, the film has differences to the original TV series. So because of this there is no English dub of the film.
— Will the film be dubbed into English at a later date? If so, will you release it?
If one is created for it and/or the other two films in the trilogy, it's certainly something we'll be looking into.
— Is this a new series of Code Geass?
No. It's a retelling of the original series, with some differences, spread over the course of three films to celebrate the 10th anniversary of it. This first film covering a large portion of events from the original first season of the series.
— Does the film include that awesome opening song that was in the series?
You mean the song "COLORS" by Japanese rockers, FLOW? Don't worry, it's in there.
— I attended the Fan Event you had earlier this year in London. How do I redeem my code?
At the event you should have received a code to redeem a free copy of this release. Once we're taking orders for this product, visit our AllTheAnime.com online shop, add the product to your shopping cart, during the checkout process redeem the code – which will apply the necessary discount needed, then complete the transaction as normal. Then once stock is available at our warehouse, your product will be sent to you like a normal order from our online shop.
NOTE: The code can only be redeemed via our online store. It cannot be redeemed at any event we exhibit at.
— How many units of this set are being produced?
There are 1000 units total being produced.
— Is there a DVD version of this set being release?
No. This is a Blu-ray only release.
— Will you be releasing the second and third films?
Yes. We have acquired the license to all three films. You can read our announcement from earlier this HERE. But please know there are currently now details regarding any plans for the second and/or third film we can share
---
And that wraps up this announcement! We hope you're excited to be able to add this to your collection. We're very excited to be the first English speaking territory in the world releasing this on Blu-ray so admittedly we can't wait to get our hands on the final product!
Signing out~!
Jeremy