By Andrew Osmond.
Here are ten "Easter Egg" references in anime's coolest action series Cowboy Bebop, ranging from Bruce Lee to Hollywood classics, from Japanese folklore to Lupin the Third. Read on…
Yusaku Matsuda. According to Watanabe himself, this Japanese actor is the model for Spike Spiegel. Matsuda's work is little-known in the West, though Tom Mes has an excellent write-up of his career on the Midnight Eye website. Matsuda was known especially for the 1979 live-action TV drama Detective Story, where he played a laidback, curly-haired cop. Perhaps not coincidentally, "A Detective Story" is the name of a Watanabe-directed segment in The Animatrix. However, Watanabe said his favourite Matsuda work was the 1980 film The Beast to Die, where the actor played a freaked-out war reporter turning to crime and murder.
Matsuda's Hollywood breakthrough came in 1989's Black Rain – directed by Ridley Scott, whose Alien figures elsewhere in this article – playing a villain hunted by cop Michael Douglas. It should have launched Matsuda as an international star; but even as he was filming Black Rain, the actor, turning 40, was suffering from bladder cancer. He died in October 1989, eight years before Watanabe's anime tribute.
Bebop wasn't the only posthumous representation of Matsuda in anime. In Mamoru Hosoda's 2009 Summer Wars about an extended family, the "black sheep" illegitimate Wabisuke – who seems to be sardonically distanced from the action, but is actually at the heart of the story – is based on Matsuda.
Bruce Lee. As many fans know, Spike fights using the same school of martial arts – Jeet Kune Do – that was created by the legendary Bruce Lee. In the eighth episode, "Waltz With Venus," Spike takes time out to explain his fighting style, in a way that's very close to a famed Bruce Lee interview (clip here). But it doesn't seem to be the only big reference in the episode…
On Dangerous Ground. "Waltz With Venus" involves Spike becoming involved with a young man and his gracious sister, who's blind. The story ends tragically, but it brings out a side of Spike that he usually hides in the series – the fact he's not simply a merc, but can become emotionally involved in strangers' problems.
Fans have noted that the story shares some elements with a vintage American crime film, On Dangerous Ground, made in 1951. That film's main character is a police detective, played by Robert Ryan, who's been brutalised by his profession and is instinctively violent. He becomes involved in a murder case, which involves a young man and his sister, a blind woman (Ida Lupino). Although the story is very different from the Bebop episode – for one thing, the brother in the film has committed a terrible act – the point of the story is similar, to bring out a side of the detective that he'd buried. Indeed, the film's ending suggests a way that Spike's story in the series might also have ended – though seemingly not in the view of Shinichiro Watanabe, who suggested to me that Spike's fate was preordained.
On Dangerous Ground was directed by Nicholas Ray, not long before his most famous film, Rebel Without a Cause (1955) with James Dean. Rebel has been suggested as an influence on the teen gangs in Akira; more obviously, Rebel was referenced in an episode of the anime Zombie Land Saga (part 9, involving a deadly "chicken" game near a cliff edge).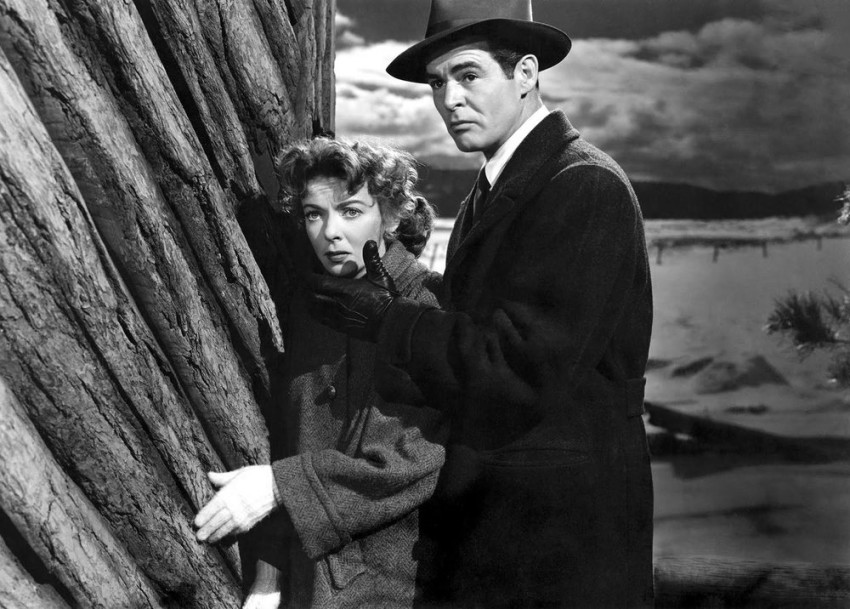 Alien. One of the most obvious Bebop references, in the comedy episode "Toys in the Attic." (The gag with the flamethrower is priceless.) It's worth watching it in a double bill with "Polymorph," a third-season episode of the British series Red Dwarf which also lovingly spoofs Alien – as of writing, you can find the Red Dwarf episode on Netflix.
In retrospect, the odd ending of "Toys in the Attic" – which you could take as suggesting that it's a non-canon Bebop story where everyone dies – might foreshadow Watanabe's later stint on Space Dandy, where canonicity flies out of the window. (Dandy is a show where everyone gets wiped out in part one.) Indeed, the "Toys in the Attic" monster makes a cameo appearance in Space Dandy, part 8.
Urashima Taro. An overt reference within the series. Jet tells this story to a fascinated Ein in the episode "Speak Like a Child." This is an episode with major revelations about Faye, and those two things are not coincidence.
Urashima Taro is a folktale from Japanese antiquity, at least 1200 years old. The best-known version has parallels with the American tale of Rip Van Winkle (and legends from other countries), but it's much darker. Urashima Taro is a simple fisherman. One day he rescues a small turtle from cruel children, and releases it back to the sea. Then a huge turtle appears and tells him he has saved the daughter of the Emperor of the Sea. Taro is brought to the sea turtle's undersea palace and honoured for three incredible days.
But there's a sting. Taro returns to the surface, only to find everything has changed. His friends and loved ones are gone; he's in a world of strangers. It may have seemed like three days underwater, but centuries have passed on the surface. Now Taro is a man truly lost, out of time.
If you remember the revelations about Faye in Cowboy Bebop, it's heartbreakingly obvious why the series cites "Urashima Taro." The story also underpins Mamoru Oshii's early masterpiece Urusei Yatsura: Beautiful Dreamer, where a whole town ends up on the back of Taro's turtle. "Urashima Taro" also informed Gainax's Gunbuster. The story was also the basis for one of the earliest known Japanese animations, made in 1918; you can see the (very brief) film here.
Lupin the Third. Readers of this blog won't need any introduction to the master thief. In broad terms, three Bebop characters seem to correspond to Lupin characters: Spike to the lanky Lupin himself, Jet to Lupin's loyal gunman Jigen, and Faye to Lupin's rival Fujiko. Of course, there are big differences. For example, Spike has none of Lupin's horniness, and Spike and Faye lack the sexualised chemistry crackling between Lupin and Fujiko. (Though Fujiko's wiles and independence are certainly carried through to Faye.)
Spike also has a memorable, and very dangerous, adversary who wears a version of Lupin's costume – see episode 6, "Sympathy for the Devil". You might see this character as a projection of Lupin at his most nihilistic. Watanabe has emphasised the Lupin he prefers is the first TV anime version in 1971, which many fans see as the hardest-boiled Lupin, before the character softened in subsequent anime. But looking at Bebop overall, you could argue the show's comedy episodes aren't much less zany than "soft" Lupin, while episodes like "Waltz With Venus" even evoke the kind Lupin of Castle of Cagliostro. Indeed, Bebop in the round anticipates Lupin series of the 2010s (like Lupin the Third Part IV), which deliberately showcase all the different kinds of Lupin, from Bond violence to wild slapstick.
Of course, Spike is far more melancholic than any version of Lupin… though unconfirmed rumour has it that Mamoru Oshii wanted to make a Lupin film where the thief runs out of things to steal and succumbs to existential ennui! Also, we nearly got a space-age Lupin in the '80s – it would have been a French-Japanese series called Lupin the VIII, with a new generation of the characters capering round future space cities. It was cancelled in early production due to rights problems.
Desperado. Fans point out that in Bebop's very first episode, there's a tornado shoot-out in a "Mexican" bar which feels very like a set-piece in Robert Rodriguez's 1995 film Desperado. Moreover, there's a Hispanic femme fatale character in the episode who feels reminiscent of Salma Hayek – though perhaps not as close as the Woody Allen clone in "Heavy Metal Queen," or the blaxploitation-era Pam Grier in "Mushroom Samba."
Of course, the 1990s saw influences go both ways between live-action and anime. !995 was the year of the first Ghost in the Shell film, whose imagery (exploding melons etc) was raided by The Matrix just four years later.
Perhaps Rodriguez was repaying Cowboy Bebop's compliment in 2019 when the director made Alita: Battle Angel – by general consensus the best Hollywood adaptation of an anime to date.
The French Connection. Watanabe has spoken of his love for 1970s action cinema, and there's an overwhelmingly likely model for a central set-piece in Cowboy Bebop: The Movie. It's where Spike confronts his nemesis Vincent on an elevated train hurtling over a bay – the Bebop franchise at its grittiest, with bullets flying randomly and a murderous foe. It harks back to an iconic sequence in 1971's The French Connection, directed by William Friedkin, where Gene Hackman's maverick cop chases down a hitman on another elevated train.
Space Shuttle Columbia. The late Bebop episode "Wild Horses" pays tribute to the real-world triumphs of space exploration in the twentieth century. At the finale, a familiar craft appears; the Space Shuttle Columbia, a reusable "spaceplane" which flew 27 missions over two decades. It has particular nostalgia for me; as a child, I saw its triumphant landing on live TV, after its first spaceflight in 1981.
By the time Bebop was broadcast, that triumph had already been overshadowed. The next Space Shuttle built after Columbia was Challenger, whose tenth flight ended in disaster; it disintegrated seconds after take-off in 1986, killing seven crewmembers. Tragically, that disaster would be repeated soon after Bebop aired. In 2003, while the Columbia was re-entering the Earth's atmosphere at the end of its twenty-eighth mission, it broke up like the Challenger, killing seven more crewmembers.
The Snows of Kilimanjaro. Like Urashimo Taro above, this is an overt reference within the show's script, and also like Urashimo Taro, it's presented as a story told by Jet. This time, he's telling the story to Spike, near the series' end (part 1 of "The Real Folk Blues").
"A man injures his leg during a hunt. He's in the middle of the savannah, no means to treat the wound. The leg rots and death approaches. Last minute, he's picked up by an aeroplane. He looks down and sees a land of pure white below him, glistening in the light. It's the summit of a snow-capped mountain; the mountain is Kilimanjaro. As he gazes down, he feels the life flowing out of him, and he thinks, That's where I was headed… I hate stories like that. Men only think about the past right before their death. As if they were frantically searching for proof that they were alive. Turn back."
Jet's giving a (very brief) summary of a 1936 story called "The Snows of Kilimanjaro" by Ernest Hemingway. In the original story, the flight over the mountain is a dying dream by the protagonist… which may be significant, as dreams are a prominent motif all the way through Cowboy Bebop.
Moreover, Jet's telling of the story evokes a scene in a different anime. In Miyazaki's Porco Rosso, the pig-faced pilot tells a story of how he nearly died in battle, then sees thousands of planes flown by pilots who had died. This tale was also based on a Western short story, though a far less famous one – "They Shall Not Grow Old," written in 1945 by Roald Dahl, who'd later become known for very different fiction.
Cowboy Bebop is available on UK Blu-ray from Anime Limited. Andrew Osmond is the author of 100 Animated Feature Films.