By Jasper Sharp.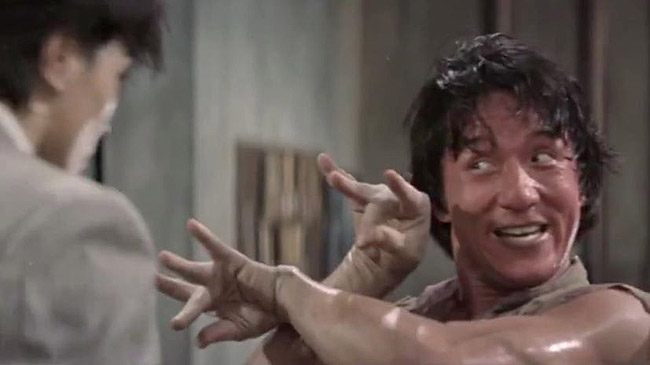 Eureka Entertainment's dual-format release of Jackie Chan's Drunken Master (1978) is the first time his breakthrough hit has been made available on Blu-ray. Dubbed, re-edited, cropped and bastardised in so many other ways during its various excursions outside its home turf, be they theatrical screenings, TV broadcasts or on VHS, the 4K restoration presented on Eureka's disc is the closest to the original we are likely to ever see.
The release includes a raft of extras, including straight-to-camera interviews with Asian film expert Tony Rayns, The Raid director Gareth Evans and Chan himself. There is also a piece on producer Ng See-Yeun, the original trailer, a deleted scene, a UK Music promo, and a 'Kicking Showcase' compilation of some of the film's more impressive sequences, as well as a booklet containing archival imagery and a new essay by Michael Brooke. Audio options include the rarely heard Cantonese soundtrack, and both Mandarin and English dubs. It should be pointed out that the English dub, which deviates considerably from the subtitles and obscures the nuances of the original dialogue, is not the same as that heard on the original late-1980s UK VHS release, but from a more recent version, due to various muddy issues surrounding who owns the rights.
Athough a local smash upon its original release, Drunken Master was pretty much ignored by film critics outside of Hong Kong, lost in the deluge of low-budget martial arts movies, derisively termed chop-socky, that flooded low-rent downtown cinemas in the wake of Bruce Lee. In the on-disc interview, Chan confesses he never even expected the film to be seen outside Hong Kong at all. It was left to a new breed of Western taste-makers to sort the wheat from the chaff and establish the criterion of what was actually good or not, figures like Ric Meyers and Jeff Yang, whose enthusiastic commentary track here has been ported over from the 2002 Hong Kong Legends DVD.
Drunken Master itself followed hot on the heels of Snake in the Eagle's Shadow, released earlier in 1978, and the title that really saw Chan finding his feet after earlier attempts by local producers to launch him as an heir to Bruce Lee resulted in a string of box-office misfires. It was initially marketed as a sequel of sorts, circulating under the title of Drunken Monkey in the Tiger's Eye, although Chan plays a very different character in it, that of Wong Fei Hung (1847-1924).
This was by far from the first film centred on this Canton-born herbalist, physician and martial arts expert. By the time of Drunken Master, Wong's folk-hero status had been firmly established through a long-running serial that stretched from 1949 through literally scores of titles. What was new here was Chan's irreverent portrayal of this esteemed emblem of Confucian ideals as a wayward, wise-cracking prankster, indeed something of a prat, and completely at odds with the more sober depictions of previous films.
Drunken Master focuses on Wong's rambunctious youth and his father's attempts to set him on the straight and narrow, which involve putting him under the gruelling tutelage of a family associate named Beggar So. What both teacher and pupil share is a love of booze – somewhat propitiously, as the martial arts form Beggar So specialises in is called "drunken monkey", although as the impetuous young trainee comes to learn, the style's sinuous spur-of-the-moment gymnastics require a delicate balance between mild tipsiness and utter inebriation.
To be honest, there's not a whole lot of plot here. Drunken Master essentially presents the classic kung-fu template popularised globally by Hollywood with Karate Kid, as Wong's unruly talent is finely honed through torturous training sessions that lead to a final confrontation with taekwondo virtuoso, Yim Tit-sam (played by the Japan-born Korean martial arts star Hwang Jang Lee), a professional killer known for his "Devil's Kick", who is contracted to take out Wong's father.
Certainly, a familiarity with the central character, the various martial arts styles on display and Hong Kong culture and film conventions in general will add to an appreciation of Chan's antics. One such aspect is the casting of Yuen Siu-tien, or Simon Yuen, as Beggar So. A ubiquitous face in Hong Kong cinema, Yuen's earliest film credit was for Peng Hu's The Story of Wong Fei Hung (1949), the very first film based on Wong, and he made countless appearances in the character's various cinematic escapades, although never actually playing Wong Fei Hung himself.
Yuen was a veteran of Peking Opera, the flamboyant, acrobatic stage tradition in which the much younger Chan also received his stage schooling. This aspect not only lends a certain weight to the pair's master-student relationship, but also informs the overall tone of broad comedy, which might confound those expecting a more serious martial arts film. Many of the supporting characters are played as gurning, almost cartoonish grotesques, with buck teeth, painted on freckles or hairy moles, while Beggar So is portrayed as a drunkard with matted hair, clammy face and glowing red nose, constantly partaking in long slugs from his flagon between his loose-limbed reelings in the fight scenes.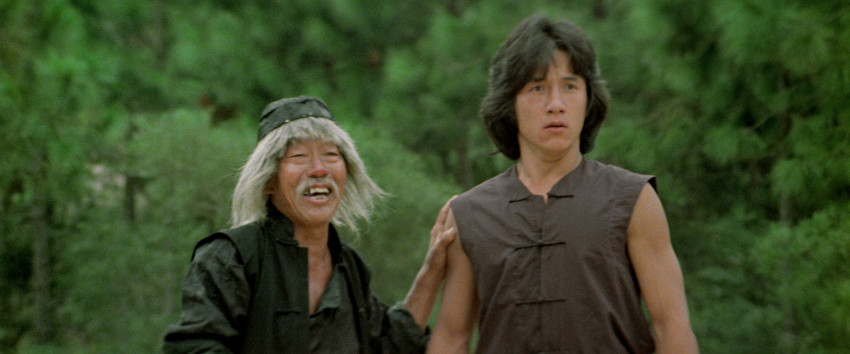 Yuen was 65 at the time of filming, and a double was used for some of the more physically demanding sequences. He reprised the Beggar So role in Dance of the Drunk Mantis and Story of Drunken Master, although never lived to see their releases after suffering a heart attack on 8th January 1979. While both in the same comic action vein as Drunken Master, neither featured Chan, although Dance of the Drunk Mantis did share the same director, Yuen Woo-ping, who is, incidentally, one of Simon Yuen's twelve sons.
Yuen Woo-ping played an instrumental role in the Jackie Chan story, directing him in a small handful of films up to and including the double-whammy of Snake in the Eagle's Shadow and Drunken Master that ultimately sowed the seeds for the star's global success. As Jackie Chan took to directing himself in his own films, Yuen Woo-ping subsequently achieved international recognition as the fight choreographer on such Asian-flavoured Hollywood titles as Lethal Weapon 4 (1998), The Matrix trilogy (1999/2003) and Tarantino's Kill Bill films (2003/2004). It is mentioning also that Yuen revisited the life of Wong Fei Hung almost two decades later with the altogether more reverent Iron Monkey (1993), a year before Chan reprised the role in Drunken Master II (1994), while other later films based on the figure include Tsui Hark's Once Upon a Time in China series (1991-96) starring Jet Li and Roy Chow's Rise of the Legend (2014).
In the lengthy interview with Tony Rayns (which, filmed against a black backdrop and over 40 minutes in length, might have been better expanded as an alternate commentary track), the critic points to a certain irony in Yuen Woo-ping's film (if we can make auteurist claims for it being "his" film) being included as part of Eureka's Masters of Cinema line, alongside works by directors such as Ford, Sirk, Imamura, Murnau and Pasolini. While the widescreen action unfolds against some admittedly picturesque backdrops, in cinematic terms, the overall approach is fairly rudimentary.
Yuen Woo-ping's auteurism is hardly an issue in terms of enjoyment. The appeal here lies in what occurs before the camera, with Chan taking the physical comedy of Chaplin, Keaton, the Three Stooges et al., mixing it with a range of martial arts forms (mostly based on animal names) and pushing everything to the most astonishing extremes. It is impossible to be unimpressed by the consummate skill and poetry of the high-speed fight and action scenes, and it comes as no surprise to learn from the commentary that Chan is also a big fan of Gene Kelly.
Meyers and Yang introduce it as "one of the most important films in Hong Kong cinema" while the Leonard Maltin quote on Eureka's publicity blurb refers to it as "enjoyably silly." Whichever side you go for, Drunken Master is heady, exhilarating stuff.
Drunken Master is released in the UK by Eureka on the Masters of Cinema label.