Durarara!!: Book Review
September 13, 2015 · 0 comments
By Meghan Ellis.

Durarara!! was one of my most fondly-remembered anime of 2010, so when it was announced that the original light novels were being released in English, they were a guaranteed addition to the summer reading list. Despite some mishaps (Amazon delisting it multiple times in a bid to raise fans' blood pressure, for one) it's now been released and I'm pleased to say it was worth the wait.
Author Ryohgo Narita's wacky characters and their wackier interactions are a firm fan favourite, and the light novel gives you an insider look into exactly what's going on in their heads as they go about their daily lives in Tokyo's Ikebukuro ward. Without giving too much away, Durarara!! is the classic coming-of-age story given a maniac twist, with a young country boy coming to the big city to build himself a new identity and getting himself caught up in everything his city-wise friend tells him not to do. A recipe for disaster, right? Therein lies the fun of the series.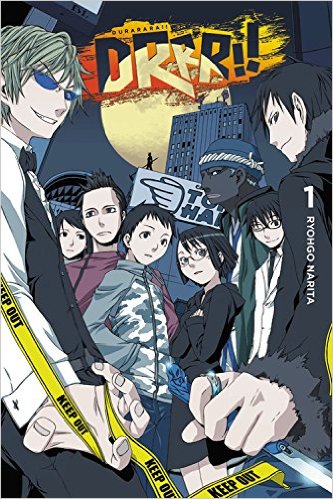 For those more familiar with anime and manga, light novels do exactly what they say on the tin – they're easy reads designed to be consumed on the daily commute, or as a break from the computer screen in the evenings. A light novel definitely couldn't be considered a work of literary mastery, but it's the perfect cure for a few hours' boredom and are especially popular with Japanese teenagers. As such, they're often adapted into their better known cousins, and with Durarara!!, it's interesting to see where the inspiration came from for this well-loved anime.
I personally enjoyed this volume, but it did take a chapter or two to get into, so persevere if you're not immediately hooked. Aside from Narita's clear obsession with exclamation marks (I counted 17 on the first page, and while it's to express a character's emotions that's just a bit much) the writing as a whole is clear, simple and speckled with bits of wit that couldn't have been put into the on-screen adaptation. As a long-time Durarara!! fan, hearing Seiji Yagiri outright compared to a stupid preteen in love – partially because that's what he pretty much is, aside from being a murderous sociopath – really allowed me to see where Narita's mischievous writing works its magic. Plus, there are some adorable interactions between Shinra and Celty that aren't given as much time in the adaptation.
Don't worry if the light novel is your introduction to Durarara!! as a series: the novel and anime follow the same chronological order, with the 24-episode first season covering the first three volumes of the light novel. There's a nice cliff-hanger at the end of the first volume, too, so if you can't wait until Volume 2's release in November, the show could help satisfy your cravings.
If you're the type of fan who likes to read/watch everything to do with a favourite series, then there's plenty to get your teeth in to with the Durarara!! light novels and their animated cousin. Personally, I'd recommend watching the show first, then reading the book – it's much funnier when you have faces to put to names – but if you want to see where it all began, then you're in the right hands with Narita Ryohgo's light novel.
Meghan Ellis is a Japanese culture, gaming and anime anorak at www.meghanon.co.uk.
The Durarara!! novel is out now from Yen Press.