By Anthony Thomas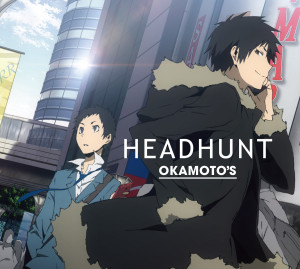 Durarara!! series one followed the crazy misadventures that can be found in the back streets of Tokyo's Ikebukuro district (from kidnapping gangs to headless bikers!). Series two, entitled Durarara!! x 2 Shou, takes place six months after all that madness, and sees things return to relative normality. But things can only remain calm for so long, and gradually the chaos we came to love makes a return.
One band also currently causing chaos in Japan is series two openers OKAMOTO'S. They're no strangers to Ikebukuro, performing there countless times. They even formed their radical, shaggy-haired rock band a few miles down the road in a part of Tokyo that's home to many more crazy stories and urban legends; Shinjuku, setting for the Yakuza games and loads of Japanese crime films.
OKAMOTO'S are good boys, though – no dodgy dealings or headless guitarists between them. After all, they have had no less than THREE songs featured in Naruto so far, hardly a series known for its gritty portrayal of Japan's underworld (mind you, I wouldn't fancy meeting Orochimaru down a dark alley).
What's most impressive about the group's anime adventures is that the song from Durarara!! x 2, called HEADHUNT, is only their sixth single, which begs the question "are OKAMOTO's half ninja?". With 50 per cent of their releases popping up in Naruto, I'd say there's a possibility that they might just be. Here's one of their tracks from Naruto Spin-Off: Rock Lee & His Ninja Pals.
The band first formed way back in 2006 when the lads were still in school. As anyone who's watched anime set in a school will know, there's an annual bunkasai ('Culture Festival'), where students show off just how artistic they can be.
The soon-to-be-OKAMOTO'S used the event as motivation to form a band, play some songs and impress the opposite sex. After an electric reaction, they started taking the band idea more seriously, and started rocking around Ikebukuro, Shinjuku, and just about anywhere else that would let them rock and / or roll.
In homage to their favourite artists, the band decided to adopts the stage-surname of Okamoto after the famous Japanese avant-garde artist Taro Okamoto, and dish it out to all band members much like American punk legends The Ramones did with their namesake. And from the clashing of Japanese and western pop-culture, OKAMOTO'S was born.
Soon they had all manner of A&R people and label representatives trying to sign them up. In an interview with the Japan Times, vocalist Sho Okamoto states that they decided to go with a subsidiary of Sony called Airola Japan simply because they liked the look of the logo.
Since then, the band's managed to smash out of Japan, rocking up to Texas for the South By South West festival followed by a whirlwind American tour, and then hitting Australia as well as playing shows across Asia. As for the United Kingdom, we've been left OKAMOTO-less for now, but at least there's the opening of Durarara!! x 2 to hold on to until the time is right.
Durarara!! x 2, featuring music from OKAMOTO's, is out from Anime Limited. For more music from OKAMOTO's, check out their iTunes store.