Durarara!! x2 (Part 2: Ten) Home Video Release Details
November 13, 2017 · 0 comments
It's been a long wait for the next instalment of one of our favourite franchises in the AllTheAnime catalogue but the wait is nearly over as in just a few weeks time Durarara!! x2 (Part 2: Ten) comes to Blu-ray and DVD! Today we'll be telling you what to expect from our release.
ABOUT DURARARA!! X2 (PART 2: TEN)
This is the second arc of the second season in the Durarara!! franchise. The first arc of season 2, Shou, is available now on Blu-ray and DVD.
Synopsis (of Part 2: Ten):
"The story continues as more chaos ensues—
In the aftermath of the assault against Izaya Orihara, the information broker, signs of new disorder begin to develop like ripples across the water. Holding his own ideals, Mikado gains the powers of both the "Dollars" and the "Blue Squares" and started "cleaning" the bad seeds inside the Dollars. Meanwhile, Shizuo Heiwajima and Tom Watanabe end up hiring Varona for their debt collecting business. Paths cross and trouble brews as the plot thickens in this complicated web of conspiracies."
---
WHAT'S INSIDE? WHAT'S ON THE DISCS?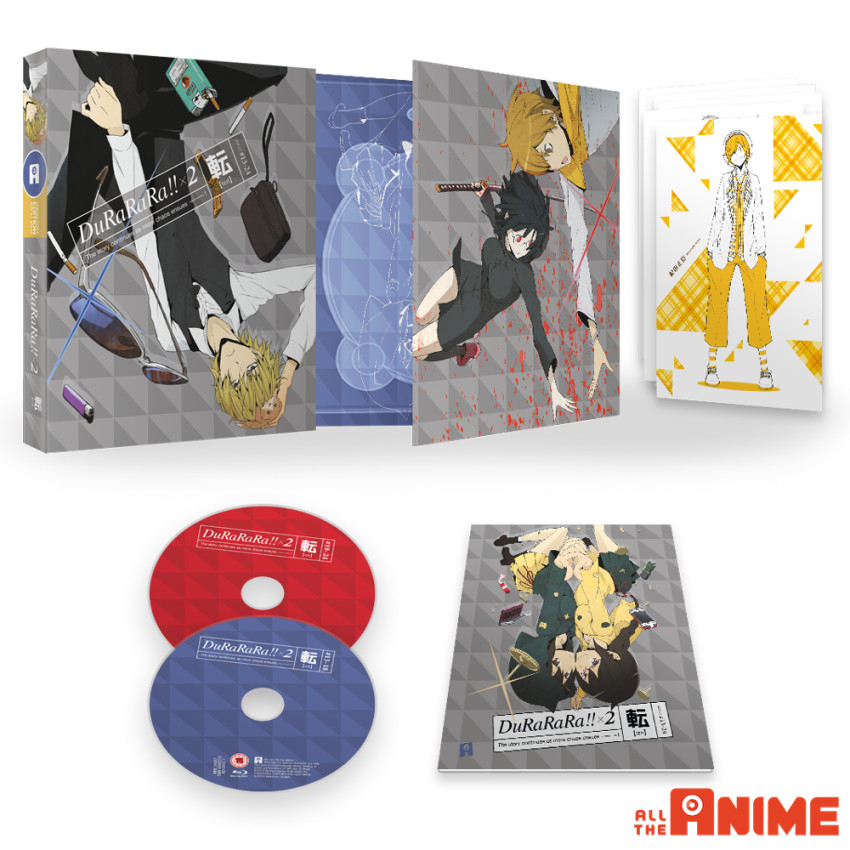 Following in similar style to our release of Durarara!! x2 (Part 1: Shou), our release of Part 2: Ten continues the look and presentation, with a design similar that means both releases will sit nicely next to each other on your shelf.
The release comes packed in a rigid case with a digipack to store the two Blu-ray discs. Also included is a 32-page booklet, and 6 art cards.
On the discs themselves you get –
The complete second arc of Durarara!! x2 "Ten", episodes 13-26, in both English and original Japanese with English subtitles.
Extras on the discs are Clean Opening and Clean Ending title sequences.
---
WHERE CAN I BUY THIS?
You can pre-order this now from the likes of
Order at Amazon Order at Zavvi Order at Base Order at Anime-On-Line Order at HMV Online
---
~AllTheAnime.com Special Offer~
Until Monday 20th November 2017 pre-order Durarara!! x2 (Part 2: Ten) Ltd Collector's Edition Blu-ray for £34.99 (Regular Price: £41.99 | SRP: £59.99)
Also, as it's the perfect time to catchup on Durarara!! x2 until Monday 20th November you can order the Ltd Collector's Edition Blu-ray of Part 1: Shou for only £19.99! (Click the link above for details.)
---
And that concludes this post about Durarara!! x2 (Part 2: Ten)! We hop you're looking forward to adding this to your collection. And stay tuned as we'll have more to share with you about this release soon (including an full unboxing of it.)
Singing out~!
Jeremy