Everything you need to know about MCM London, May 2019
May 22, 2019 · 0 comments
It's that time of the year again! In just a few days MCM London Comic Con returns to Excel London and in case you hadn't figured it out already, we'll be there too! This post is very much to serve as a handy guide of the things you need to know relating to our activity there. Be it from the Anime Guest of Honour, panels, our AllTheAnime shop and even our good friends at Crunchyroll!
Read on below for the details.
---
QUICK GUIDE
Here is the layout of this blog post for you –
Anime Guest of Honour: Yuichiro Hayashi
Crunchyroll
AllTheAnime shop
All The Anime Panels
---
ANIME GUEST OF HONOUR:
Yuichiro Hayashi
This weekend Yuichiro Hayashi, director of the hit series Kakegurui is making the journey all the way from Japan to London and can't wait to meet you! Across the weekend he will be having a special panel where he'll be making a special presentation he has created especially for this event on Saturday, and will also be taking part in two free signing sessions!
The Anime Guest of Honour Panel with Yuichiro Hayashi


1:30pm-2:30pm @ Centre Stage, North Hall

Free Signing Session #1


2:45pm-3:45pm @ MCM Signing Area, South Hall
Sunday 27th May – 
Free Signing Session #2


11:45am-12:45pm @ MCM Signing Area, South Hall
ABOUT YUICHIRO HAYASHI:
Yuichiro Hayashi has been involved in numerous major productions as a storyboard artist, episode director as well as series director. Some of his most well-known works are 009 RE:CYBORG (2012; Storyboard Artist), GARO: The Animation (2014; Series Director), and GARO: Divine Flame (2016; Movie Director, Storyboard Artist, Episode Director). On Kakegurui (2017), he not only served as Series Director, but also played major roles as Storyboard Artist and Episode Director. Most recently, he directed Kakegurui xx (2019) in collaboration with Kiyoshi Matsuda.
Kakegurui Framed Prints available at All The Anime stand
Everyone who attends the signing session will have the option of getting a free signing card signed by Mr. Hayashi, but if you're wanting something a little bit extra, so to speak, something that has become quite popular with attendees during past MCM events is getting framed prints we have on sale at our AllTheAnime booth signed by the Guest of Honour!
Following a lot of demand to make this possible for future events as well, as usual we have herd you and are delighted to announce that we will have not one, but three officially licensed framed Kakegurui prints available for you to purchase [while stock lasts] from the AllTheAnime stand (Block S2, Stall S600, South Hall), which if you want to you can open up and get signed by Mr.Hayashi, the director of the series!
Here's a quick peek at the three designs for you –
(The portrait framed posters being 40cm x 30cm, and the horizontal ones being 30cm x 40cm)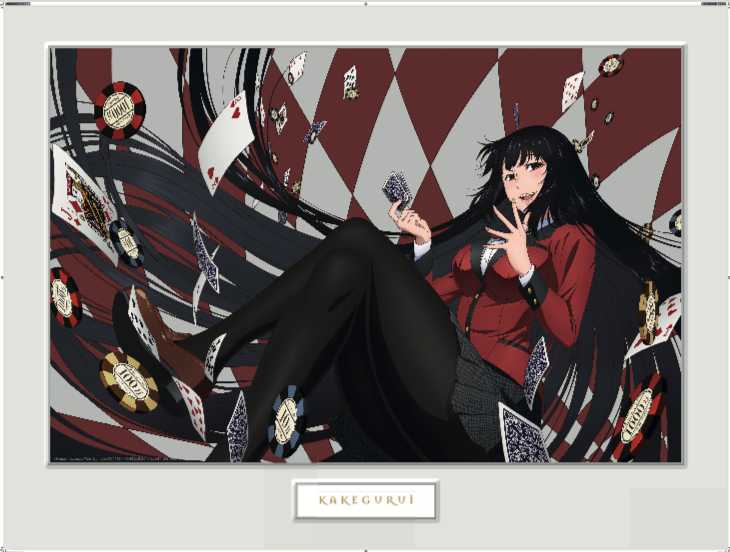 Once again, these framed prints will only be available to purchase from the AllTheAnime stand (while stock lasts.)
---
CRUNCHYROLL RETURNS TO MCM LONDON COMIC CON
That's right there back! In case you missed the blog post detailing all of their activity, they have a lot going on!
But to summarise, there are Premium Member giveaways, a special That Time I Was Reincarnated As A Slime photo op (where there'll even be a plushie of Rimuru you can hold while getting your photo taken!!!!!), your chance to purchase Blu-rays and DVDs of Crunchyroll titles and even official Hime themed Crunchyroll merchandise that's exclusive MCM London Comic Con! Plus there's an Instagram photo competition and even the UK Premiere of Saga of Tanya The Evil: The Movie!
Click on the link below to read about Crunchyroll's plans in detail.
Read about Crunchyroll's MCM Plans HERE
---
All The Anime Shop
The All The Anime Shop will be back in full force to give you the chance to stock up on anime to add to your collection. This time around we've got a nice mixture of new releases combined with some titles that haven't even been released yet?! And if that wasn't enough, as mentioned earlier in this post above we've got some fantastic Kakegurui framed prints available too!
Kakegurui Framed Prints
As we mentioned earlier, to celebrate the director of the series Kakegurui being the Anime Guest of Honour at MCM London Comic Con this week, we've got three officially licensed framed prints based on the series available to purchase from our AllTheAnime shop stand.
All three of these will be available to purchase strictly while stock lasts.
And if you were looking for a bit more inspiration, as I mentioned earliest in this post some attendees at previous events have actually purchased a framed print to be signed by the Anime Guest of Honour! So you can do the same as well if you want! You're going to have to decide which one you'll want to get to be signed; decisions, decisions!
Blu-ray and DVDs~!
If you've got the hankering to add a bunch of anime to your collection, we've got you covered this MCM London Comic Con. As well as the Crunchyroll titles mentioned above we'll have a whole load of extra titles available! The list (at time of writing) being –
As was mentioned in the blog post about Crunchyroll's activity over the MCM weekend, regarding Re:ZERO Part 2 –
"we've just had confirmation through at time of writing that there will be a VERY LIMITED amount of stock of the Re:ZERO Part 2 Blu-ray Ltd Collector's Edition set that comes with the AllTheAnime Exclusive BONUS Limited Edition storage box! This will pretty much be all remaining stock of this product so if you missed out on the pre-order opportunity for this, this will likely be your last chance to get it."
---
Quick side note from Jeremy – Now, I wouldn't normally say this but I will add the following: the list above is a list of confirmed titles we will have available to purchase. We're trying our hardest to cast the best smokey mountain magic spell we can muster to see if we might, and I really do mean might be able to get any additional pre-release titles available to buy at the event. (It's entirely possible there might be some things delivered to direct to the show from the production house; wouldn't be the first time where that's happened, but the only way we'll know if we have them available is if they turn up during the event itself.)
We'll post updates over the weekend on our social media channels if anything else does arrive, but right now that's the confirmed list. But to say any additional titles being on sale will be coming in hot if they are, is an understatement.
---
MCM LONDON COMIC CON EXCLUSIVE WAREHOUSE CLEARANCE MYSTERY BUNDLE~!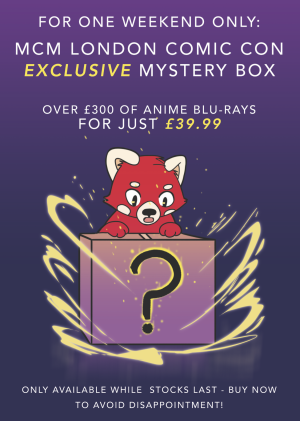 Speaking of Blu-ray and DVDs being available, we need to tell you about a cool offer we'll have at our AllTheAnime booth! We're doing a bit of a warehouse clearance at AllTheAnime HQ, so we've decided at MCM this weekend we'll be giving attendees the chance to purchase a mystery bundle of Blu-ray titles that works our over £300 in value, for only £39.99. Yep, not even joking!
Now an important note, this is NOT a staff curated mystery bundle, like we've offered in the past during our Christmas sales, as an example. The titles included in this bundle are set in stone and have been determined based purely on stock levels in our warehouse. There will be 200 bundles available total and will be available to purchase from our stall during MCM London Comic Con opening hours (or while stock lasts).
A personal opinion from Jeremy, the one writing this post, here: you'll be getting a nice variety of titles in this bundle! I would wager a guess that for most people some titles included may be ones you may not have even considering checking out. But that doesn't mean you won't be having laughs, emotional rides or action either; because you will! Plus, it's only £39.99 for 9 titles! That's a great bargain in itself!
T&Cs of this MCM exclusive bundle –
There is no limit on how many boxes any one customer can purchase, but please be aware the titles will be the same in every box. You DO NOT get to choose what's included.
This offer is only valid during the opening hours of MCM London Comic Con between 24-26th May 2019 (or while stock lasts) from the AllTheAnime stand (Booth #S600 in the South Hall only.) There are a total of 200 MCM Mystery Bundles available.
All products included are brand new and sealed. All products included are AllTheAnime/Anime Ltd. releases.
You cannot exchange any title included in this mystery bundle for another title.
Product included in this bundle may be available to purchase separately from the AllTheAnime stand during MCM London Comic Con weekend.
In the event a customer needs to refund a purchase bundle, the entire bundle must be returned.
As noted above, though there is a set list of titles that will be included in this bundle, this is NOT a curated selection of titles.
Majority of titles included in this mystery bundle are Blu-ray only titles.
The over £300 value is based on the SRP (Suggested Retail Price) of each title.
By purchasing one of these bundle you agree to the above noted T&Cs.
None of the above affects your statutory rights.
---
ALL THE ANIME PANELS
If the Anime Guest of Honour panel isn't enough to whet your appetite when it comes to panels focusing on anime, then (as is almost tradition at this point) you can catch our All The Anime panels hosted by our towering tag team of terror (because they're both tall) of Andy Hanley and Jeremy Graves for two bouts of anime talk on upcoming releases, new announcements and who knows else as they embark on always ready to throw a curveball at a moments notice "anything goes Q&A sessions".
The panels will be on –
All The Anime Presents… Panel #1


Friday 25th May, 3:15pm-4pm @ Centre Stage, North Hall

AllTheAnime Presents… Panel #2


Sunday 26th May @ 2pm-2:45pm @ Centre Stage, North Hall
---
And I think *deep breath* that concludes our preview of what to expect from us this weekend at MCM London Comic Con.
I encourage you to keep an eye on what we have to say on our social media channels – FACEBOOK | TWITTER | INSTAGRAM – particularly the latter two, as we'll be posting updates across the weekend.
No sleep till London!
Signing out~!
Jeremy