Gundam Iron-Blooded Orphans: Part 1 arrives on Blu-ray
May 15, 2020 · 0 comments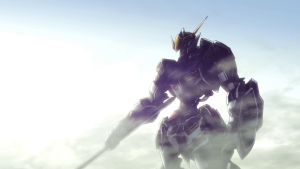 A few weeks ago we revealed that we'll be bringing the series Mobile Suit Gundam Iron Blooded Orphans to Blu-ray! At the time we made it clear it was coming, but we couldn't elaborate on the exact details until everything was signed off and whatnot. Well today we got final sign off on Part 1 so we can tell you about that!
But to cut to the chase on a certain detail now, we've got a special limited time offer at our online shop on pre-order Part 1, so if want to jump straight to the order page click on the link below
Read on below for more details.
---
ABOUT
MOBILE SUIT GUNDAM: IRON-BLOODED ORPHANS
A very popular series that garnered a lot of attention during it's broadcast, Iron-Blooded Orphans is a great place to start for people venturing into the world of Gundam for the first-time as it's takes place in its own continuity; the P.D. timeline – which stands for Post Disaster, but it's also great for returning Gundam fans too!
This series also saw the reuniting of a popular anime duo collaborating with each other; as it's directed by Tatsuyuki Nagai and written by Mari Okada, who previously worked together on the film Anonhana: The Flower We Saw That Day and the series Toradora!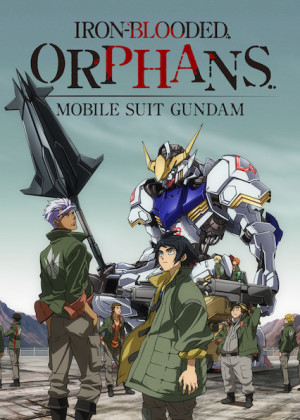 Synopsis: The year is P.D. 323.
Three centuries after the Calamity War, a new world order is maintained by the military organization Gjallarhorn, but the seeds of a new conflict are being sown on Mars.
A private security company accepts a mission to escort the revolutionary leader Kudelia Aina Bernstein to Earth, and the company's child soldiers rise up in revolt against the adults who betrayed them.
Among them is Mikazuki Augus, who becomes the pilot of the Gundam Barbatos, a dreadful relic left over from the Calamity War.
Duration: Two season total; 25 episodes each season.
Director: Tatsuyuki Nagai (A Certain Scientific Railgun, Waiting in the Summer, Anohana: The Flower We Saw That Day, Toradora)
Written by: Mari Okada (Maquia: When the Promised Flower Blooms, Kiznaiver, Anonhana: The Flower We Saw That Day, Toradora)
You can watch an English dub preview of this below –
---
WHAT'S THE PLAN FOR PART 1?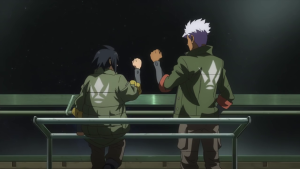 Product: Mobile Suit Gundam Iron-Blooded Orphans: Part 1
Format: Blu-ray Ltd Collector's Edition
Release date: 10th August 2020
Cat. No.: ANI8046
Suggested Retail Price*: £59.99
*Suggested retail price is the maximum price a retailer could charge for the product. However, once retailers factor in their own discounts, the regular price will be cheaper. 
As has been the case with past Gundam series releases, it will be released over two Collector's Edition sets, Part 1 & Part 2, total. We'll have more details on what exactly will be included with Part 2 soon (once everything relating to that has been signed off and whatnot), but we can tell you Part 1 will come with a rigid case that will be able to store both Part 1 & Part 2* (*sold separately). So it will fit nicely along with the rest of Gundam Collection!
Part 1 specifically includes all the episodes from Season 1 (25 episodes total) with both English and original Japanese with English subtitles viewing options spread over four Blu-ray discs.
With that being said here's a visual of how it will look below –
To put a focus on the rigid case for a moment, I know a lot of like to see how it will look with the rest of your Gundam Collection, so here's a visual of both sides of it for you –
---
WHERE CAN I ORDER THIS
This isn't exclusive to any one retailer, so it will be available from the likes of Amazon, Zavvi and others – but at the time of writing those listings are appearing on retailer sites; should do in the coming weeks though.
But you can pre-order this right now from our AllTheAnime.com online shop!
~ AllTheAnime.com Special Pre-order Offer ~
Until Thursday 21st May 2020 pre-order Gundam Iron-Blooded Orphans: Part 1 Blu-ray Collector's Ed. for £34.99
(SRP: £59.99)
---
And that's what you need to know about Part 1 of our Mobile Suit Gundam Iron-Blooded Orphans release! Expect some news on Part 2 to be made known in the coming weeks; as we mentioned as soon as it's all signed off and whatnot we'll be sure to share the details.
We hope you're looking forward to adding this to your collection.
Signing out~!
Jeremy
EDITOR NOTE: This blog post has been amended to reflect the change of release date. All references to the previous date have been changed to the new release date of 10th August.