By Jasper Sharp.
Toshio (Kanji Furutachi) is a self-employed metal worker who welcomes his acquaintance Yasaka (Tadanobu Asano) into his family when he appears at his workshop one day. The consequences, however, are disastrous. Soft-spoken, polite and immaculately turned out in crisp white shirt and black trousers, Yasaka is the very model of respectability, although his stiff movements and rigid body posture suggest he is not all that he appears. Toshio's wife Akie (Mariko Tsutsui) is initially quite taken aback when her husband not only offers Yasaka a job to help him through a rough patch, but a room in their cramped home. After all, she has never heard Toshio so much as mention him before. But she soon begins to warm to their new lodger as he develops a rapport with their young daughter Hotaru, and offers to coach her on the harmonium organ that lends Koji Fukuda's film its English-language title.
Hotaru's faltering musical efforts and the unnerving tap-tap of the metronome when she is away from the keyboard accompany many of the scenes in the early stages of the film, before subsiding to leave just the ambient sounds of the suburban backdrop in the second half. Fukuda's use of the soundtrack is one of Harmonium's most impressive aspects. Hiroyuki Onogawa's more emotive score is sparingly used. When it does appear, it almost feels unnecessary and intrusive. Most of the sounds come from within the film itself, such as the pipe organ that plays in the background at the church Yasaka accompanies Akie to, after which he makes his own confession to her about his dark past…
While anime might have been going from strength to strength over the past five years or so, fans of live-action Japanese cinema haven't had quite so much to get excited about. Last year, however, was something of a vintage one, with such strong titles as Kiyoshi Kurosawa's Creepy and Tetsuya Mariko's Destruction Babies providing a much-needed ray of sunshine for those jaded by the output of an industry intent on crowding out the market with its annual glut of manga and TV tie-ins.
Nevertheless, it is interesting to note the number of titles, including Naomi Kawase's Sweet Bean (2015), Katsuya Tomita's Bangkok Nites (2016) and Kurosawa's Daguerrotype (2016), that have benefited from substantial European investment (mostly from France). Harmonium is another such Franco-Japanese co-production to add to the list, and if this trend means we got to see more ambitious and challenging films from some truly talented directors making it to international audiences, it is certainly a welcome one. Koji Fukuda's most recent film won the Jury Prize in the Un Certain Regard section at last year's Cannes, was voted the third best domestic release of 2016 by the critics of Japan's Kinema Junpo magazine, and is now following his earlier Au revoir l'été (2013) as his second film to get release in the UK. Everyone's a winner.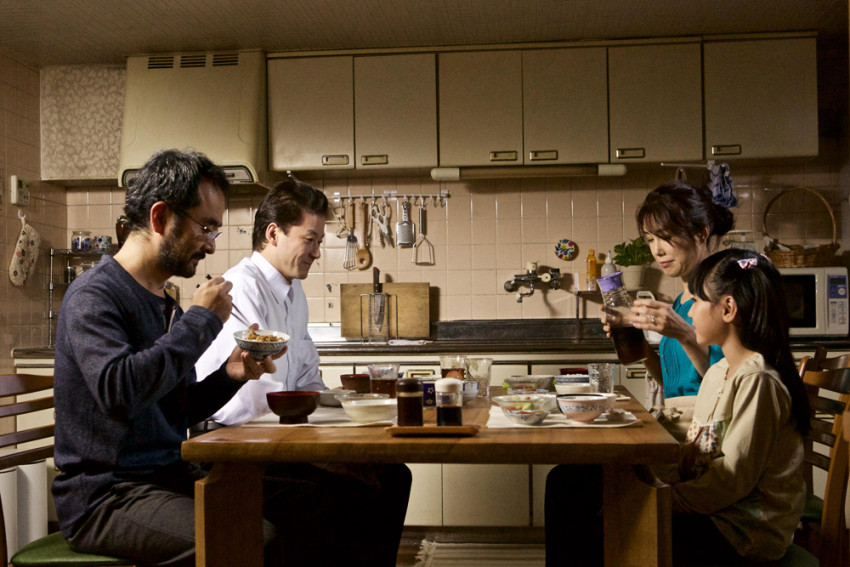 Harmonium's original Japanese title of Fuchi no tatsu translates as Standing at the Abyss, hinting at the bleak depths of the human soul, although its initial scenes unfold in a misleadingly low-key, almost whimsical fashion that recalls Hospitalité (2010), the wry comedy that first saw Fukuda's name on the lips of international critics. There are other echoes of his earlier indie breakthrough, too. In both, the arrival of an unexpected guest into a seemingly ordinary lower-middle-class suburban household reveals complex fissures within the domestic set-up, although the cracks run much deeper in Harmonium. And then there's the casting of Furutachi, who in Hospitalité played an unemployed slacker taken on as a favour by an old friend to work in a family-run print-shop
The visual approach is deceptively simple and unfussy, akin to the recent films of Hirokazu Kore'eda, and indeed like Kore'eda, Fukuda's style across his oeuvre has been superficially likened to the works of Japan's grandmaster of the domestic drama, Yasujiro Ozu (Fukuda has cited the chamber pieces of Eric Rohmer as an influence). The comparisons are not a million miles off the mark in as much as, as like these two directors, Fukuda deploys a spare and efficient film grammar to tell his tale (as well as writing and directing, he also edited Harmonium). The tight framing contributes to the ticking time-bomb air of claustrophobia within the, while gestures and other non-verbal interactions, not to mention a masterful use of screen space, emphasise the characters' awkwardness with one another. Yasaka's respectable turnout is betrayed by his body language. He is an unsettling presence when within the frame, even more so when outside it, while the results of his physical and increasingly close emotional proximity to the cloistered Akie are perhaps not difficult to predict. It is only at the mid-point, when he rips asunder his white work overalls to reveal a glaring crimson T-shirt that one notices the preponderance of deeply saturated reds in the frame, the symbolism of which becomes quickly apparent.
That this scene signals a crucial plot twist is never in doubt, but to reveal what happens next would be a crucial spoiler in a slow-burner narrative. Suffice it to say, the second hour adopts a different tack, introducing a new character and unfolding in a separate timeframe. Fukuda's script is remarkable in the way that it subtly drip-feeds revelations about all the protagonists' backstories to reveal new facets of their relationships, but it is the understated nature of the performances that really single this out from the herd. Yasaka is a marvellous creation, revealing the sheer range of Asano's acting capabilities, while Furutachi provides a strong foil as the blue-collar head of the family, but it is Mariko Tsutsui as Akie, who really stands out in anchoring the drama, as the rocky foundations of her marriage are soon revealed.
A horror flick masquerading as an arthouse movie, Harmonium bears comparison with another standout title from last year, Creepy, which saw Kiyoshi Kurosawa self-consciously playing with the tropes of the kind of psychological thriller with which he made his name. The more low-key Harmonium similarly takes the basic starting point of Hospitalité, a satirical take on Japan's relationship with the outside world, and pushes it in new and darker directions to come up with something completely different. Despite their radically different approaches, Creepy and Harmonium make for fascinating companion pieces. Both trade on the tension derived from a suspicious outsider threatening to disrupt the domestic status quo, and both depict their horrors with a masterful use of the most basic tools of the trade, and are no less powerful for it.
Harmonium is released on UK Blu-ray by Eureka.