I Want to Eat Your Pancreas
October 10, 2018 · 0 comments
By Andrew Osmond.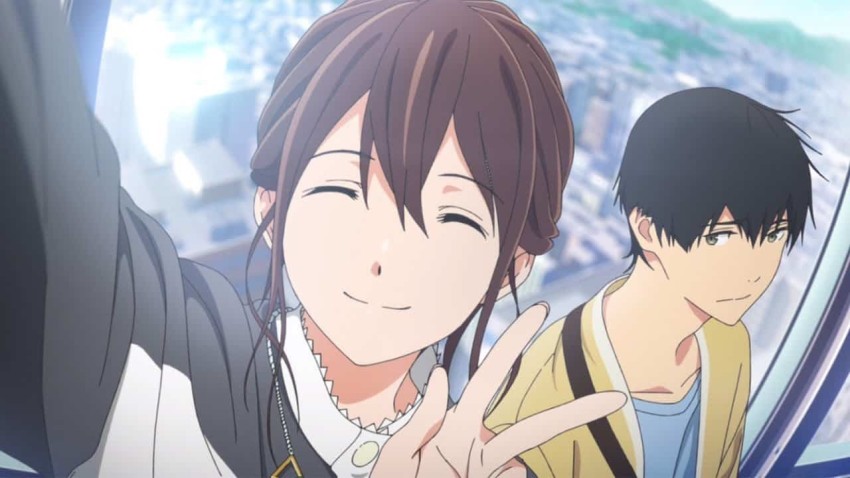 Let's get the obligatory disclaimer out of the way. Despite its alarming title, I Want to Eat Your Pancreas has nothing to do with gut-munching cannibalism. (If you want that kind of thing, we'd direct you to the Edinburgh SLA screening of Calamity of a Zombie Girl.) Pancreas is actually one of a growing line of anime films that are highly emotional teen dramas, set in modern Japan with few or no "magic" elements.
As such, Pancreas follows the likes of A Silent Voice and Anthem of the Heart, as well as two trailblazers by Makoto Shinkai, 5 Centimeters per Second and The Garden of Words. Pancreas' subject will also remind many viewers of a certain high-profile TV anime of the 2010s which involved music; like Pancreas the story appeared in manga and live-action form as well as anime. However, it would be a spoiler to name the series.
Arguably, though, Pancreas has as much in common with the live-action Hollywood film The Fault is in Our Stars. Pancreas is about a teenage girl facing imminent death, and how she chooses to react to this. However, the story is framed through the eyes of another character, a loner boy who's shocked when the girl forces herself into his life. The subsequent story explores whether this unwilling pairing can turn into an actual relationship, given both protagonists are prone to the misjudgements and blunders you only make in adolescence.
I Want to Eat Your Pancreas first originated as a web novel (like Sword Art Online), written by Yoru Sumino. Seven Seas will publish an English translation of the novel in December, followed by a manga version next January. In Japan, cinemagoers saw double; the anime debuted this September, barely a year after a live-action film of the book that's often referred to in English as Let Me Eat Your Pancreas. Interestingly, the live-action version has an elaborate flashback structure, with the main story being framed through the memories of some of the characters twelve years later. The anime simplifies the timeframes.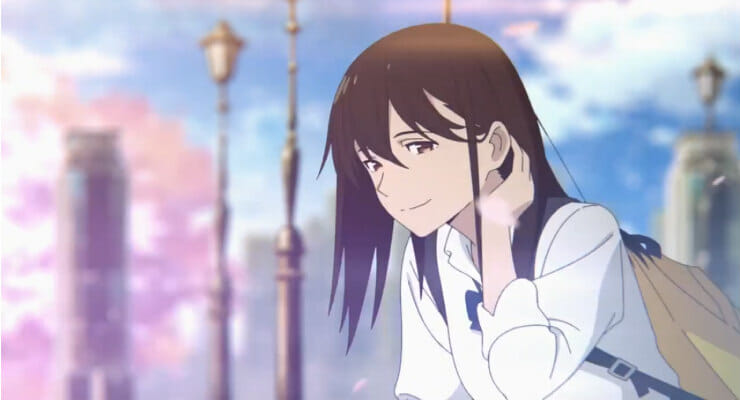 Still, the anime opens with a huge spoiler about the story to come, though it hides some crucial details. Then we launch into the story, which starts with a boy being bothered by a girl in their high school library. The girl seems fascinated by a supposed Japanese custom from the old days. Back then, if a person suffered disease in a part of the body – the stomach, for example, or the intestines – supposedly that disease could be cured if the afflicted person ate the same body part from a loved one.
Soon after, the boy's in a hospital reception when he notices a book that's been left on a chair. It turns out to be a diary, whose writer (the boy reads) will soon die from a disease in the pancreas. A moment later, the diary's owner turns up – it's the bothersome girl from the library, called Sakura. She asks the boy what he thinks about her terminal condition. He flatly replies that he doesn't care, and Sakura seems weirdly delighted… and from that point, she won't leave him alone.
Soon the other students at their school suspect they're a couple. Rather than romcom-style shenanigans, this leads to fury and violence. The two angriest people are Sakura's previous boyfriend, who won't accept that she's moved on, and Kyoko, Sakura's fiercely protective girlfriend, who's scared of her getting emotionally hurt by someone unworthy. (There was a comparable figure in A Silent Voice, but Kyoko is far angrier.) Crucially, neither they, nor the other students, have any idea of Sakura's medical condition; only the viewpoint boy knows.
If you're wondering why we haven't named the boy yet, it's because he's nameless for most of the film – his name isn't something he's inclined to divulge. He's also withdrawn and unpopular, far below Sakura's "league." And yet Sakura insists on flirting with him, trying to get a rise out of him, even forcing him to take a bullet-train trip with her to Fukuoka on Japan's south island of Kyushu. This part of the film slightly echoes the atypical Ghibli film Ocean Waves (1993), an early "realistic" teen drama. But the tensions run far higher in Pancreas, especially when the characters end up sharing the same room.
Pancreas will surely be controversial with Western fans. Some will see the boy as a naked cipher for male viewers watching the film, and the whole plot as supremely tasteless wish-fulfilment; a no-hope guy finding a pretty girl falling into his arms, even if he doesn't know what to do with her. Equally Sakura, with her cheery exterior and eccentricity, may be charged with being a perverse Manic Pixie Dream Girl. Later story developments are still more inflammatory, especially when the teen tensions finally boil over.
But for all its debatable premises, it's an engaging story and, while it does hits familiar notes, it also goes in some very unexpected directions. One of the crucial story points is left unspoken, concerning an action taken by a person who's not identified, which seems to acknowledge the terrible reality of toxic relationships.
The film's animation is by the very young Studio VOLN, whose past credits have been collaborative, including working with the better-known MAPPA studio on the 2015 TV version of Ushio and Tora.  Sunlight, shining through windows or onto water, is central; a scene of the couple at the sea becomes a semi-abstract liquid furnace. Sakura contemplates a world that's bright against her own unavoidable burning out. The girl's backlit figure often seems both vibrant and ethereal, the boy looking muted beside her.
The film's one slide into dream-fantasy comes near the end, and is inspired by a classic children's book that's named in the film: The Little Prince by Antoine de Saint-Exupery. While available in Britain, the book appears to be cherished far more in Japan (there's even a museum dedicated to it in the Hakone area). The book's use in the story may remind viewers of the anime Giovanni's Island, which made comparable use of another fantasy book, Japan's Night on the Galactic Railroad (as discussed here).
The film may have an unintended resonance for anime fans who followed the work of the director Satoshi Kon (Perfect Blue). Pancreas stresses how Sakura simply doesn't want her friends and acquaintances to know of her condition; only the boy (for mysterious reasons) and her family. In the real world, fans were happily waiting for Satsohi Kon's next film, with no idea anything was wrong, when the news broke in August 2010 that Kon had succumbed to pancreatic cancer, aged 46. His last public message was released posthumously.
Finally, I Want to Eat Your Pancreas does include a significant epilogue scene at the very end, so please wait through the closing credits.
I Want to Eat Your Pancreas is screening at Scotland Loves Anime.