In This Corner of the World
June 26, 2017 · 0 comments
By Andrew Osmond.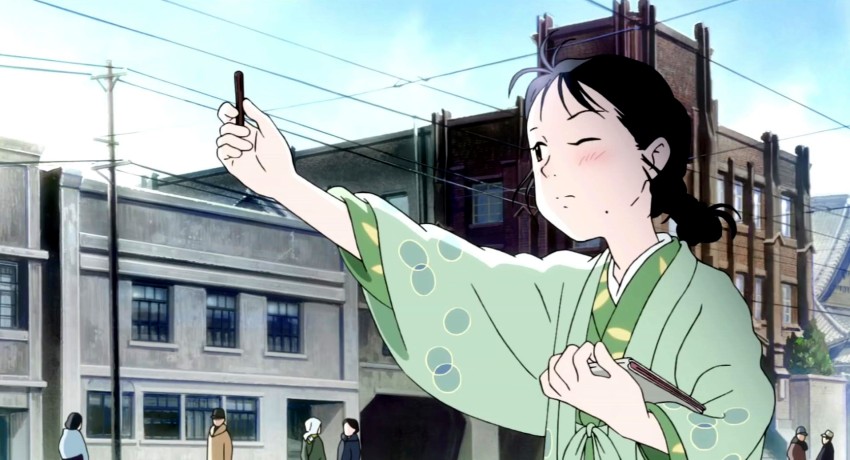 Anime movies have tackled heavy subjects for decades, and the recent crop has been no exception. Some address their topics head on, like the shocking Genocidal Organ. Others are more indirect. Your Name was a teen romcom fantasy that implicitly raised the horrors of the 2011 Tohoku earthquake. A Silent Voice used romcom and teen comedy to lighten a story of cruelty and guilt. Now In This Corner of the World uses soft drawings and everyday domestic drama to tell a story of life in Japan during World War II, in and around Hiroshima. Yes, Hiroshima.
It's important to stress that In This Corner is less a war film than a portrait of ongoing life, where the war is distant for the first hour. Although Japan is fighting through most of the film, for the characters this is a story of 'peace and war,' without the capitals. The main character is Suzu, a young woman who marries into a family on the green slopes above Hiroshima. Suzu lives with her rather diffident husband Shusaku, his kind parents, his sharp-tongued sister Keiko, and Keiko's infant daughter Harumi.
Another significant character is Tetsu, Suzu's male childhood friend, who's comically "cool" and stand-offish in his early scenes. It's easy to peg him as a rebel looking for a black leather jacket, although that's not how he turns out; this is a different time and place. Tetsu is voiced by Daisuke Ono, the satanic Sebastian in Black Butler and strongman Shizuo in Durarara!! Suzu herself is voiced by a newcomer to anime, a popular TV actress called Rena Nonen; she was kept off screens for more than a year due to contract problems with her Japanese agency (details). She now goes under the name "Non".
Tetsu aside, In This Corner is a Japanese family drama in the live-action tradition of Ozu or Kore-eda. In This Corner also evokes a Takahata anime film, but probably not the one you were thinking of. The female-centred anecdotes of daily life, one giving way suddenly to the next, feel akin to Takahata's Only Yesterday, at least in the first half before foreign planes fly into Suzu's skies.
Already, reviewers are comparing In This Corner to two iconic anime war films of the 1980s: Takahata's heartbreaking Grave of the Fireflies and the harrowing Barefoot Gen. But while these comparisons are understandable – Gen was specifically about the Hiroshima A-bomb – they do a disservice to In This Corner. As I wrote in a film magazine, its "digressive, episodic, anecdotal" storytelling has a specific effect, "to address the trauma of the atom bombing without letting it delimit and define the milieu and characters."
Even Grave and Gen were about living more than suffering or dying. In This Corner is emphatically a film about life, less about the fear and the bombing than the characters' daily challenges of making meals, planting crops and rubbing along. Among war animations, it's close to France's Persepolis (about a girl in Iran) and Britain's own Ethel and Ernest. In appearance, In This Corner goes for an illustrative look that can be an acquired taste but asks you to meet it on its own terms; that was true of another period anime film, Giovanni's Island. Giovanni's look had been largely set by its Argentinian background artist, Santiago Montel, while In This Corner's design follows the style of its source manga by artist Fumiyo Kono.
Animated by the young MAPPA studio that's turned heads with series like Terror in Resonance and Yuri on Ice, the film is directed by Sunao Katabuchi. Yes, he directed Black Lagoon, but forget that… In This Corner is far closer to his 2009 film Mai Mai Miracle, which we covered here. Both films portray bygone Japans, shown with loving affection but also a frankness about the hardships and tragedies of the times.
For viewers with young children, we should say that In This Corner is much harsher than Mai Mai in later scenes, with horrors both implied and shown. The film has been rated 12A, but we'd say a few scenes are towards the Hunger Games end of the scale. A couple of scenes have sexual overtones, though they're cleverly designed to go over the heads of children completely. Though if one of them asks you what the business with umbrellas was about, or what the pretty woman in one scene did for a living, be sure to have your answers prepared.
Compared to Your Name and A Silent Voice – "serious" films in many ways – In This Corner feels less like a commercial, industrial anime. Although plenty of anime have addressed World War II from a loser's perspective, it's still a prickly subject in Japan. Most unusually, part of the film's budget was raised not by investors but through a crowdfunding campaign. It was hugely successful, like the film itself: its cinema release was expanded due to demand, and it took around $20 million over a long run.
It also attracted Japanese critics whom we suspect might tend to avoid anime. Katabuchi's film beat Your Name and A Silent Voice to win the Japan Academy Prize for Best Animation of the Year. Even more impressively, In This Corner was named the year's Best Film (animated or live-action) by Kinema Junpo, a prestigious film journal that normally overlooks anime. Now the film's playing in Britain, you can judge for yourself if the critics got it right.
Andrew Osmond is the author of 100 Animated Feature Films.
In This Corner of the World opens on UK screens this week.