INU-OH, the new film from Masaaki Yuasa, joins the Anime Limited catalogue
June 17, 2020 · 0 comments
Glasgow (June 17, 2020) – Anime Limited, the UK and France's leading independent distributor of anime, is happy to announce the acquisition of distribution rights via Asmik Ace, Inc. for the UK, Ireland and France of the latest Masaaki Yuasa film, "INU-OH". The film features as part of the Work in Progress Features programme at Annecy 2020.
The acquisition of "INU-OH" marks the addition to the existing slate of Masaaki Yuasa's films at Anime Limited, including "Ride Your Wave", "Lu Over the Wall",  and "The Night is Short, Walk on Girl", to name a few, highlighting the long standing close ties between the distributor and Studio Science SARU.
"Masaaki Yuasa is a unique creative voice in the world of animation, and especially as a director, so we are thrilled to release his latest film, "INU-OH", theatrically in the UK and France."
– Andrew Partridge, CEO Anime Limited. 
Based on the novel Heike Monogatari: Inu-Oh no Maki ("Tales of the Heike: Inu-Oh") by Hideo Furukawa, the film sees Masaaki Yuasa reunited with "Ping Pong the Animation" collaborator and manga artist Taiyo Matsumoto, winner of 2008 The Will Eisner Comic Industry Award for "Tekkonkinkreet: Black & White", and celebrated at the 2019 Angoulême International Comics Festival on the occasion of a retrospective exhibition of his work.
SYNOPSIS
Inu-Oh was born with unique physical characteristics, and the adults cover every inch of his body with garments and make him wear a mask on his face. One day, he meets a boy named Tomona, a blind biwa player. Inu-Oh tells him, "Write a biwa song about me". Tomona makes a song about Inu-Oh's tangled fate and starts performing it with biwa.Inu-Oh and Tomona become business partners for their survival in society and develop an inseverable friendship. Helping each other unlock their talents, they produce one hit after another and climb the ladder to stardom. And Inu-Oh, who comes to mesmerize his audiences on stage, frees parts of his body one by one and achieves unequaled beauty.
Why is Tomona blind? Why was Inu-Oh born with unique physical characteristics?
It is a story about the friendship of Inu-Oh and Tomona, who dance and sing to get to the truth and break each other's curse.
LOGLINE
The animated feature "INU-OH" is a musical animation about Inu-Oh, a real-life Sarugaku Noh performer and playwright who enjoyed great success in 14th-century Japan. However, he is all but unknown nowadays because very few documents about his life have survived the times. Now around 600 years later, "INU-OH", full of music and dance sequences, portrays a tale of friendship between the legendary Inu-Oh who vanished from history and a Biwa player he befriended.
ABOUT MASAAKI YUASA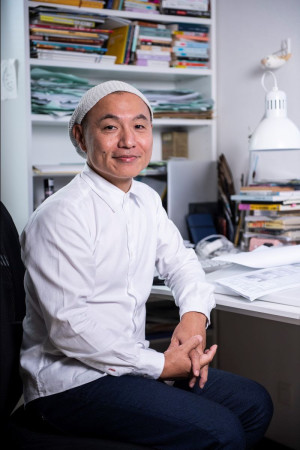 An animated feature director. Debuted in 2004 with "Mind Game". Won Grand Prize at the Animation Division of the 8th Japan Media Arts Festival, Ofuji Noburo Award at the 59th Mainichi Film Awards, as well as Best Film, Best Director, Best Script Awards and a Special Award for its Visual Accomplishment at the 2005 Fantasia International Film Festival (Montreal). The animated feature "Lu over the Wall" won Cristal du long metrage; a prize equivalent to gold at the 2017 Annecy International Animated Film Festival. The animated feature "Ride Your Wave" won the Golden Goblet Award for Best Animation Film at the 22nd Shanghai International Film Festival and the Award for Best Animated Feature at the 52nd Sitges – International Fantastic Film Festival of Catalonia. Other representative works include "Keep Your Hands Off Eizouken!", "Ping Pong the Animation", "The Night Is Short, Walk on Girl", and "DEVILMAN crybaby".
ABOUT Science SARU
Science SARU is a Production company founded by Masaaki Yuasa and Eunyoung Choi in 2013. In the same year, the TV series ADVENTURE TIME was nominated for Annie Award for Directing. An animated feature film NIGHT IS SHORT, WALK ON GIRLwas awarded The Animation of the Year at The Japan Academy Awards In 2017. The second feature film, LU OVER THE WALL was awarded with various prizes. Science SARU has also produced DEVILMAN crybaby, RIDE YOUR WAVE, SUPER SHIRO and Keep Your Hands off Eizouken. Currently, Science SARU is set to release Netflix original series Japan Sinks: 2020 worldwide on July 9, also directed by Yuasa.
ABOUT ASMIK ACE, INC.
Asmik Ace, Inc. was established in 1985. In 2012, Asmik Ace became part of J:COM Group (Jupiter Telecommunications Co., Ltd.), Japan's largest cable TV conglomerate, enabling it to open up new possibilities in the entertainment industry. Its recent animation line-up includes the theatrical version of Sumikkogurashi: Good to be in the corner which became a smash hit in Japan, and its live-action feature film line-up includes Ora, Ora Be Goin' Alone directed by Shuichi Okita.
ABOUT ANIME LIMITED
Based out of Glasgow, Scotland Anime Limited brings a fresh approach to distributing the best in anime direct from Japan. As an independent company the emphasis is both breathing new life into much loved classics and introducing the cutting edge of theatrical offerings including the works of auteurs Makoto Shinkai, Mamoru Hosoda, and Keiichi Hara. With a focus on bringing more anime to the big screen, releasing beautifully packaged collector's editions and trying new ways to reach fans digitally, Anime Limited is committed to offering a wide range of experiences for UK and French audiences.
KEY CREDITS
Director: Masaaki Yuasa
Screenplay: Akiko Nogi
Character Creation: Taiyo Matsumoto
Based on the novel by: Hideo Furukawa
"Heike Monogatari Inu-Oh no Maki"
(aka. The Tale of the Heike, Inu-Oh's Episode)
Published by Kawade Shobo Shinsha Publishers
Character Design & Chief Animation Director: Nobutake Ito
Production Designer: Hideki Nakamura
Key Animator: Norio Matsumoto
Produced and Distributed by: Asmik Ace, Inc.
Animation Production: Science SARU
©"INU-OH" Film Partners
Tagged with: