J-Novel Club and Denpa titles come to AllTheAnime.com online store
January 18, 2022 · 1 comment
While – as our name suggests – our core focus has always been on anime, all of us here at Anime Limited are of course just as enraptured by other key elements of Japanese media culture. You've already seen us releasing vinyl soundtracks, from both our own music label and partners like Tiger Lab and Sony Music, but today we're very excited to announce that we're expanding our AllTheAnime.com online store into another entirely new direction…
Manga and light novels!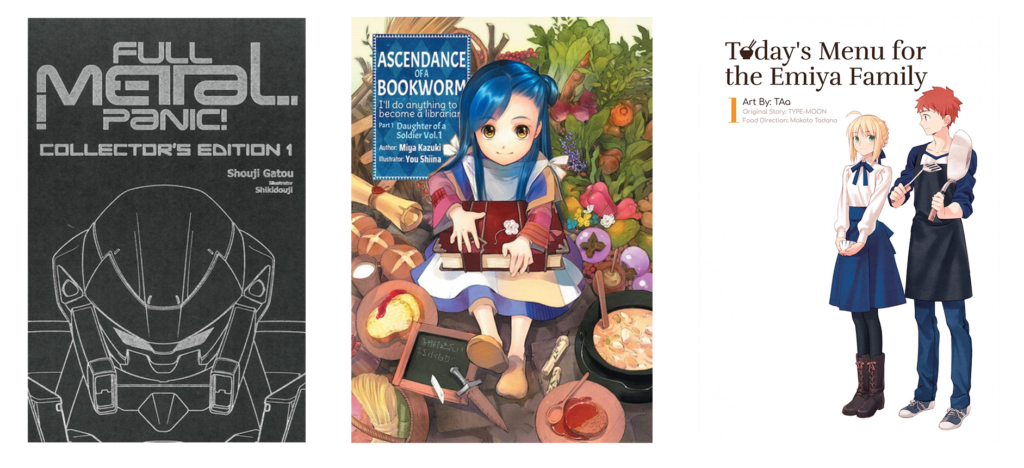 From today, you'll be able to find physical print copies of titles from two amazing publishers – J-Novel Club and Denpa – available to order alongside all of the other products at our online store, and with all of the same benefits and advantages on offer such as our Anime (Un)Limited subscription service.
Want to read the original story for Full Metal Panic as a companion to your Anime Limited Blu-rays? Now you can!
Maybe you want to explore the human condition via incredible creators like Shuzo Oshimi or Shintaro Kago? We have exactly what you need.
Or, perhaps you just want to spend some time immersed in the world of your favourite isekai adventure? Well, we have no shortage of possibilities to offer you as part of this expansion of our store.
The rest is self-explanatory, and you can peruse these new sections of our store using the links below to check out our range:
Over the years, we know that more and more of you see AllTheAnime.com as the essential destination for your anime purchases, which is why we're looking to expand what we can offer you – these additions are the start of these plans, so expect to see our range of titles from these publishers expand and stay up-to-date moving forward.
We'd love to hear your thoughts on this addition, and what you'd like to see from our online store in terms of offering manga and light novels for purchase, so be sure to let us know!
Tagged with:

1 comments
David Vaughan

January 22, 2022 2:57 pm

I'd like to make a suggestion, it would be better to list the manga/light novels by series rather than as individual titles because the current layout makes it very clumsy to browse.