By Jasper Sharp.
The Motion Picture Producers Association of Japan (Eiren) has just released its annual overview of the financial facts, figures and trends for the Japanese film industry for last year. For filmo-watchers, the 2018 statistics yield few surprises, but still merit further contemplation.
The list of top ten domestic hits presents a similar pattern to previous years. Seven of the titles were distributed by the behemoth Toho company, four were anime and the title at the number one spot, Code Blue: The Movie, was a spin-off from a Fuji TV series that first began airing about ten years ago. It is the kind of film that will barely register on any radar beyond Japan, but for those interested, it features a quintet of unfeasibly clean-cut airborne medics zipping around in a helicopter to disaster zones across the country.
I am just about old enough to remember a time when TV tie-ins didn't dominate the domestic box office in Japan, a development that began in earnest with the ensemble police comedy drama Bayside Shakedown back in 1998. The other familiar pattern from previous years, which is the prevalence in the rankings of the latest instalments of the same old anime franchises, is even more deeply entrenched.
The second highest-grossing Japanese film of 2018, Zero the Enforcer, was the 22nd entry in the series of manga adaptations about the celebrated boy sleuth Detective Conan. Released during the kids' spring vacation every April since 1997, these films have been constant fixtures in Japan's annual top ten (the 23rd in the series, The Fist of Blue Sapphire, is scheduled for release on 12th April 2019, so expect to see it check-listed in my annual box-office overview this time next year). The main point worth making about this latest offering is that its 9.18-billion yen takings are only marginally less than the 9.3 billion yen earnings of Code Blue, but also significantly higher than the 6.89 billion of its predecessor, Detective Conan: The Crimson Love Letter, which took last year's number one spot.
Similarly, Doraemon the Movie: Nobita's Treasure Island, sitting just one spot behind Detective Conan, just like last year, took 5.37 billion yen against the 4.43 billion taken by its immediate predecessor "Kachi-Kochi" Nobita's Great Adventure in the Arctic (2017). The Doraemon franchise stretches back even further than Detective Conan, right back to the first feature-length excursion in 1980 of the iconic robot cat who first appeared in manga in 1969.
And then there's Pokémon the Movie: The Power of Us at number 8 and Yokai Watch Shadowside the Movie: Wrath of the Demon King at number 12. Wedged between them at number 10 there's Mirai, which might not have provided its director Mamoru Hosoda with quite the financial returns as his previous films The Boy and the Beast (2015) and Wolf Children (2012), but it is a welcome reminder that quality auteurist animation from Japan can still be incredibly commercially successful – we might also expect Mirai to get another shot at climbing the box office charts this year, in the wake of its Oscar nomination.
Out of the six live-action titles in the top ten, two are colourful action-fantasy-historical dramas: Gintama 2: Rules are Made to Be Broken, at the number 5 spot, is the follow-up to last year's third top domestic grosser, and Destiny: Tale of Kamakura at number 6 is now screening across the UK as part of the Japan Foundation's touring film programme.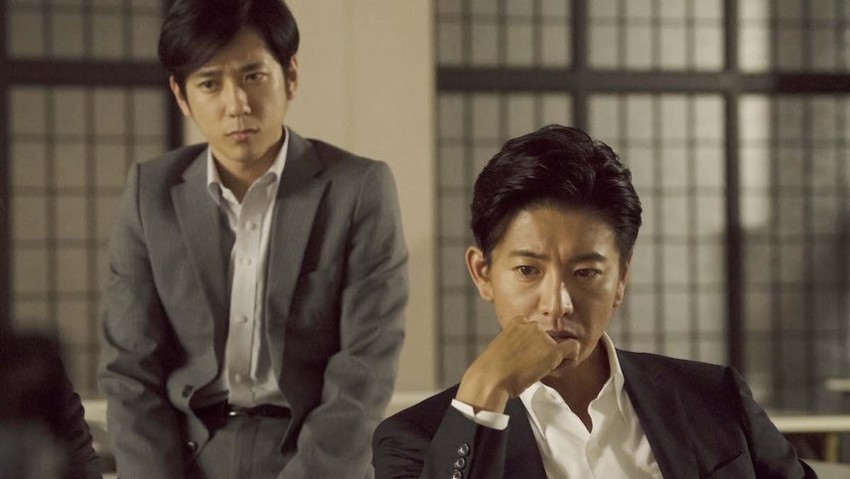 But returning to the idea of auteurism, the three remaining titles are worthy of a closer look. At number 9 is the most obviously commercially-oriented of these, the courtroom drama Killing for the Prosecution, a title somewhat characteristic of its director Masato Harada's output. For several decades, Harada has managed to pull off the tricky feat of balancing a strong sense of personal, political and social engagement with a fair degree of box-office success, with titles such as Kamikaze Taxi (1995), Bounce Ko Gals (1997), The Choice of Hercules (2002) and The Emperor in August (2015). Oliver Stone might be a good comparison: while his films can suffer from a certain heavy-handedness, Harada is nevertheless a director with something serious to say, and perhaps one who has never really received the international attention he deserves.
At number seven is a film that has given its director Shinichiro Ueda more attention than I am sure even he ever dreamt of. One Cut of the Dead is the 3-million-yen-budget indie smash hit zombie comedy that has so far made 3.12 billion yen on its home turf. Much has already been written elsewhere about this freak success story, and as it has just been released in the UK, there seems little real need to say much more about it here.
And finally that leaves Hirokazu Kore'eda's Shoplifters, most definitely a cause for celebration as the fourth highest earning domestic release of the year, and a seconf Oscar nomination. Kore'eda has now enjoyed over two decades in his role as Japan's reigning ambassador of transnational arthouse cinema, beloved of critics and film festival juries. Back in 2013, he achieved a surprise commercial hit with Like Father, Like Son, but the domestic success of his 2018 Cannes Palme d'Or-winner is all the more phenomenal when one considers the overtly political aspects to its portrait of a family in dire poverty in the capital of the third richest nation in the world. Politics typically don't play well at the Japanese box office, so it is exhilarating to see a title like this nestling between Doraemon and Gintama 2 in the rankings. It has also made a packet in many other countries across the world, including China, perhaps even more surprisingly for a film of this nature.
Taking a broader view of the year, while there have been no real hard-hitters like Your Name (2016) or The Wind Rises (2013) to completely dwarf the competition, the top two earners both took over 9 billion yen while last year's number one took less than 7 billion.
Unleashing my inner statistical nerd, I totted up the figures and calculated that the top ten Japanese films of 2018 together earned 47.36 billion yen, which is around 30% up on the 36.23 billion yen of 2017. It is a staggering result suggesting another massive boom year for Japanese cinema. However, this would be a slightly misleading way of looking at things. Another way of seeing it is that audiences gravitated towards a slightly smaller selection of titles than last year.
As Mark Schilling reported in a recent piece for Variety, Japan's overall box office was actually down 3% in 2018.  In 2017, there were 38 domestic releases and 24 imported films grossing over 1 billion yen, and 174,483,000 tickets sold. This year, a smaller figure of 31 domestic and 23 foreign films took over 1 billion yen, and attendances were down to 169,210,000.
Nevertheless, while total receipts have fallen successively since the Japanese film industry's high-point in 2016, when Your Name single-handedly took 23.56 billion yen, 2018 is still the third most lucrative year in Japanese cinema history.
The total number of releases grew by 5 to 1192, with the number of local productions rising from 594 to 613, while imports dropped from 593 to 574 titles. Japanese films therefore made up 51.4% of total releases but took a 54.8% market share, a figure pretty much the same as in 2017, and Japanese audiences have been favouring the local product every year since 2008 now. There's not many other national industries you can say the same about.
Looking at the top twenty list of imported titles reveals a similar lack of surprises as the domestic one. At the top end we get the latest franchise instalments like Jurassic World: Fallen Kingdom at the number two position taking 8.07 billion yen, Star Wars: The Last Jedi at number three, Mission Impossible: Fallout at number seven and Avengers: Infinity War at number 8. The Disney/Pixar/Dreamworks style of computer-generated 3D animation remains popular, with  Coco at number 5, The Incredibles 2 at number 6, and The Boss Baby at number 9.
On the other hand, I think it is fair to say that Hollywood's latest batch from its seemingly endless stock-in-trade of superhero movies all relatively underperformed in Japan. Venom, Black Panther, Ant-Man and the Wasp and Deadpool 2 all took around 1-2 billion yen apiece. It seems that music and laughter are what more people want, and CG-slathered, machine-tooled and po-faced power fantasies are looking distinctly passé. I for one can certainly sympathise with local audiences opting to go and watch a microbudget zombie comedy for an evening's entertainment.
Maybe Hollywood should take note that Japan's fourth grossing foreign title of the year, taking 5.22 billion, was The Greatest Showman, while the supersonic show-stealer was the Queen biopic, Bohemian Rhapsody. Its 10.46 billion yen takings echoed its global box-office success, and made it Japan's top grossing film of 2018.
Jasper Sharp is the author of the Historical Dictionary of Japanese Cinema.