Jin-Roh: The Wolf Brigade Collector's Edition details!
September 27, 2019 · 0 comments
Anyone who has been following us over the years will know that alongside our passion for the latest and greatest in theatrical anime, we also love to revisit and bring classic anime films to the UK, giving both existing fans the kind of Collector's Edition release they dream of while also introducing older works to a whole new generation of fans.
Today, we'll be talking about one such title, as Jin-Roh: The Wolf Brigade returns to the UK in Collector's Edition form, which also marks the film's first UK Blu-ray release. Based on a story by the legendary Mamoru Oshii (Ghost in the Shell) and directed by the incredibly talented Hiroyuki Okiura (A Letter to Momo), this film – which recently inspired a Korean-produced film on Netflix – is a must-have part of any discerning film fan's collection even beyond the realms of anime fandom.
What's more, pre-orders for our Collector's Edition release have just opened, so you can order your copy of the film right now, meaning the impatient amongst you can simply click this link and grab your copy ready for its retail release date of Monday, 28th October 2019.
If you want to know more about the film and our release however, let's get down to it and tell you everything you need to know…
---
ABOUT Jin-Roh: The Wolf Brigade
Director: Hiroyuki Okiura (A Letter to Momo)
Original theatrical premiere year: 1999
Synopsis: In an imagined alternate history of 1950s Japan, Kazuki Fuse works as a member of a special police unit in the midst of riots and social disorder that plague the totalitarian society he serves. Bearing witness to the horrific suicide of a young girl in the midst of a police operation, Fuse is haunted by what he's seen – a mental burden which sees him sent for re-evaluation by the police force for his inaction in the line of duty.
As he struggles to come to terms with the horrors he's witnessed, Fuse meets the sister of the girl whose life he saw snuffed out before him, bringing about an unlikely friendship that leaves him questioning not only what is right, but also the reality he sees before him. However, nothing here is quite what it seems, and he finds himself thrust into the midst of danger and conspiracy at every turn as events brought about by powerful forces spiral out of control around him.
To get more of a feel for the film, you can check out the trailer below – please note that this trailer was not created using remastered video footage of the film, so is not representative of the video quality of our Blu-ray release:
---
HOW WILL YOU BE RELEASING THE FILM?
As well as a Standard Edition DVD release, our new UK edition of Jin-Roh will, of course, also sport a Blu-ray/DVD Collector's Edition, which boasts a fantastic looking rigid case as well as a 44-page booklet. Let's take a peek at how this Collector's Edition set looks before delving into some of the specifics.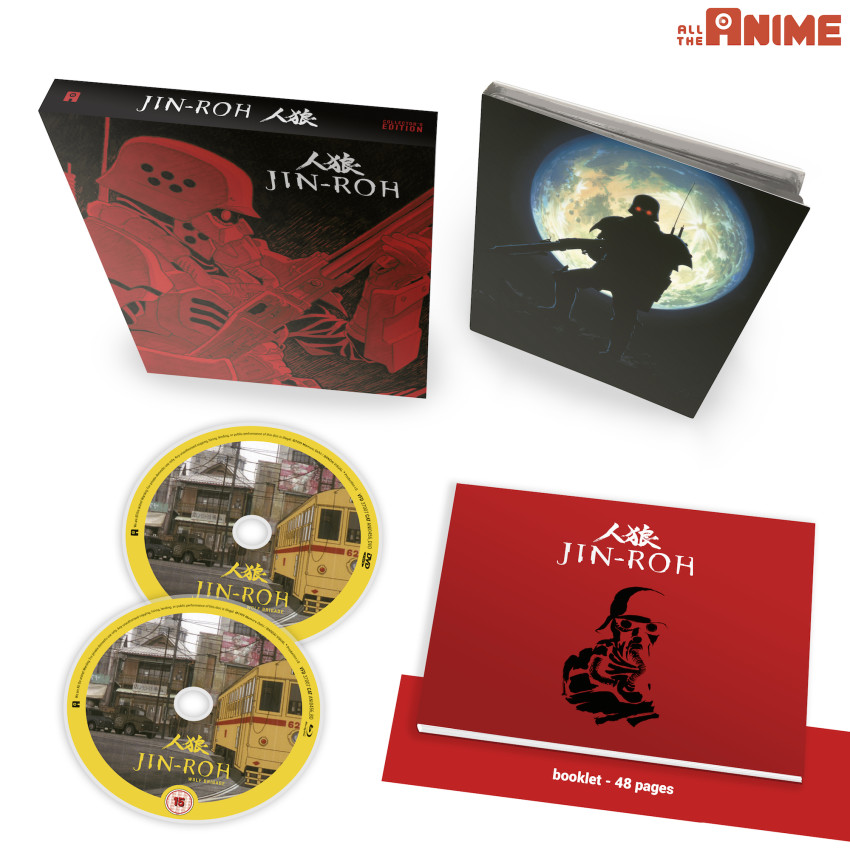 Firstly, let's just take a moment to drink in that rigid case, and it's striking fresh take on the iconic Kerberos Panzer Cop that is so instantly recognisable a representation of the film. It's a stunning piece of artwork, we're sure you'll agree.
The more traditional key visual for the series forms the basis of the Digipak for this Collector's Edition, wherein you'll find the film on both DVD and Blu-ray housed.
Last but certainly not least, we have a fantastic 48-page booklet that is packed with information and insight into the production of this fascinating film. The booklet features an article, "Jin-Roh: The Ultimate in Animation Cinema", investigating the history of the production and its place as the "last of the analogue animation"; "The Language of the Art", an article exploring the layouts for key scenes of the film and examining their visual language and intent in the context of the film; an interview with the film's director, Hiroyuki Okiura, and finally a selection of key visuals and line art illustrations from the movie. It's a smart, comprehensive read, and a perfect companion to the thought-provoking film itself.
This kind of attention to detail is also reflected on the discs themselves. The film is presented in its original 16:9 theatrical presentation in HD remastered form, sporting and English dub in Dolby Digital 5.1 as well as Japanese DTS HD-Master Audio 5.1 and LPCM stereo tracks on the Blu-ray edition, or Japanese Dolby Digital 5.1 on DVD. Full and sign-only English subtitle tracks are also included, naturally.
Both the DVD and Blu-ray discs sport a comprehensive set of bonus materials, most notably a 40-minute "Speculate About Jin-Roh" programme which includes interviews with Mamoru Oshii (Original Story and Screenplay), Hiroyuki Okiura (Director), Hajime Mizoguchi (Music) and Hiromasa Ogura (Art Director). A trailer is also featured on both formats, while the Blu-ray exclusively includes an additional series of TV spot trailers.
In short, we've included everything you'd ever want to know about Jin-Roh in a single package!
---
WHERE & WHEN CAN I ORDER THIS?
Pre-orders for our Collector's Edition Blu-ray/DVD and Standard Edition DVD – arriving on October 28th 2019 – are open… right now!

For a limited time, you can also pre-order from our AllTheAnime.com online store at a special price – until Thursday, 3rd October, our Collector's Edition version of Jin-Roh: The Wolf Brigade is available at the Early Bird price of just £19.99, compared to its SRP of £34.99. There's no better time to buy, so click the links above to pre-order!
It's also worth noting that our Collector's Edition is also available from other retailers, and you can find them below:
order at Amazon Order at Anime-on-Line Order at Base
---
So there you have it – we hope you're as happy with our presentation of this iconic film as we are! Don't forget to pre-order at our Early Bird price, so that you're all set for the product to hit retail on Monday, 28th of October.
Until next time, take care, and have a great weekend!
~Andy H