By Andrew Osmond.
According to the Anime Encyclopedia, Junjo Romantica has been distributed to China, Korea, Russia and the Arab world. Now, the debut of the TV version in Britain marks perhaps the first UK commercial release of an anime that's openly and explicitly a sexual love story between men – what's often called a "Boys' Love" anime.
For all of you wondering, we should say Junjo Romantica is only moderately explicit in its sex scenes. Certainly it doesn't show more than many "mainstream" live-action films and TV shows, including Oscar-friendly gay films like Moonlight and Call Me By Your Name. However, Junjo Romantica is unusual among TV anime in making clear that its characters have full, physical relationships, even if their sex mostly consists of torrid build-ups, lingering kisses, bare torsos and tangled bedsheets.
The anime was made by Studio Deen, which cut its teeth in the 1980s making Rumiko Takahashi adaptations for Kitty Film, including the landmark romcom Maison Ikkoku. Then in 2000, Deen animated the gay-themed TV music series Gravitation, from the manga by Maki Murakami. We're sure you know that "Boys' Love" is a vast genre in manga, sometimes animated in straight-to-videos. A memorable early case was the science-fiction Ai no Kusabi, first animated in 1992. But Gravitation and Junjo Romantica were most unusual in reaching Japanese television. Later on, Junjo Romantica would become the first Boys' Love manga to reach the New York Times bestsellers list.
Coming eight years after Gravitation;Junjo Romantica was based on a manga by woman writer Shungiku Nakamura. (Her manga had begun in 2003.) Junjo Romantica has multiple strands and male couples. But the heroes of the central story are Misaki, a teenager struggling with getting into college – like the protagonist of Maison Ikkoku – and the 28 year-old Akihiko, a novelist who writes highly-respected lit fic, and also writes pseudonymous sex books to pay the bills.
At the start of the series, Akihiko adores Misaki's older brother Takahiro – a fact that's obvious to Misaki when he first sees them together, and should be obvious to anyone with eyes. Takahiro, though, is oblivious; he sees Akihiko as just a trusted friend, and a suitable tutor for Misaki. On the first day of his private lessons, Misaki lets himself into Akihiko's plush apartment, and is scandalised to discover the author's "secret" fiction. (Some viewers may be more freaked out by the oversized teddy bears.) But Misaki is far more shocked by how things develop, as Akihiko pins him on a bed and touches him in the most private places.
Naturally, though, Misaki is compelled by Akihiko's softly domineering manner. Then the usually flip teenager is deeply moved when he witnesses an invisible tragedy. His brother Takahiro suddenly announces he's getting married, proudly showing off his bride to Akihiko, who congratulates him while showing no sign of the heartbreak he must feel. In reaction to this stoic display, Misaki goes to the opposite emotional extreme and has a meltdown. In floods of tears, he pours out his feelings to Akihiko, taking on the older man's hurt. The pair embrace, one thing leads to another, and in short order they're living together in Akihiko's apartment and trying their best to be a couple.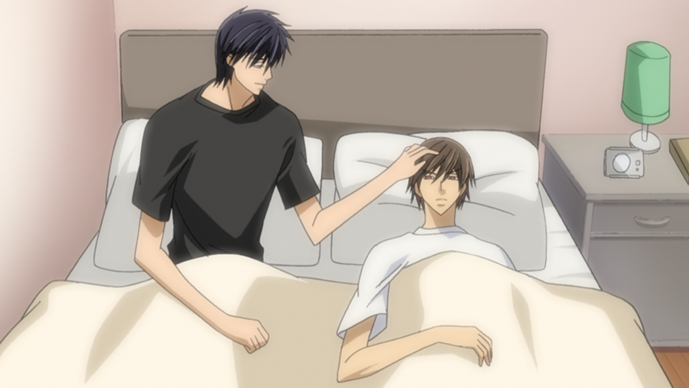 The Misaki-Akihiko story plays largely as a romcom, but is interspersed with other loose-linked plotlines that are less comedic. One involves a previous lover of Akihiko, a professor called Hiroki, who's now developing a new relationship. Later we focus on his academic colleague, Miyagi, who has a new relationship as well. As with Misaki and Akihiko, each of the couples involves a gap in age and authority, with Hiroki and Miyagi pursued determinedly by younger men.
These "unequal" relationships have been enshrined for decades in Boys' Love manga, where male couples conventionally consist of a seme ("top") partner and an uke ("bottom") one – for example, Akihiko is plainly a seme and Misaki an uke. Also typically for a Boys Love story, Misaki is the cute member of the pair, with oversized cartoon eyes. Akihiko is rakish, elegant and mature, suggesting a young Jeremy Irons, which might not be accidental. We learn later that Akihiko spent some of his childhood in England, that hotbed of repressed sexuality.
Of course, viewers may find the "unequal relationship" element of the series uncomfortable. We should stress, though, that the first encounter between Misaki and Akihiko, which feels anything but consensual, is not representative of the series. Moreover, unequal couplings have dramatic frisson, and what's a love story without tension and uncertainty? While the Misaki-Akihiko story is largely a romcom, the other romances sometimes foreshadow Call Me By Your Name, which paired a precocious teen and an older man.
That aside, the wider arguments about Boys Love manga are unlikely to go away. Junjo Romantica is, after all, a representative of a genre that's appropriation incarnate. Writing in Neo magazine, Jonathan Clements called it "carefully, adroitly self-referential – a book about books, written for readers who like writing, tapping into that strong subculture of active fangirls." In other words, Boys' Love is largely created by straight women and bought by straight women, about men in gay relationships who usually elide gay realities. Junjo Romantica's characters seem pathologically afraid of calling themselves gay, even in private conversations with their same-sex partners. Yet at the same time there's no serious depiction of the social repressions, the fears and dangers that come with being gay in a violently prejudiced world. An insulting fantasy, or a charming dream?
Andrew Osmond is the author of 100 Animated Feature Films.
Junjo Romantica is released in the UK by Anime Limited.