Kiznaiver home video release info
May 24, 2018 · 0 comments
Here we are, on the cusp of another MCM London Comic Con – you can almost feel the panic excitement! With two panels lined up across the weekend on top of all of our other activities we're going to have plenty to talk about at the show itself, but if you've been following our efforts over recent years you'll know that we like to start as we mean to go on by revealing new titles, or our plans for existing titles, in the run-up to the show.
That brings us to today, as we can finally unveil our – frankly very exciting – UK home video release plans for Kiznaiver! You could be forgiven for forgetting that we announced the title way back in May of 2016, but we're now finally ready to show off our release, which will be arriving in our typical Limited Collector's Edition style during the latter end of Q3 2018.
With a script written by Mari Okada (Anthem of the Heart, Maquia: When the Promised Flower Blooms) and production from animation studio Trigger (Kill la Kill, Little Witch Academia), we shouldn't need to say much more to sell you on the series, but here's a brief synopsis to bring you up to speed.
---
ABOUT "KIZNAIVER"
An original TV anime series by acclaimed animation studio TRIGGER (Kill la Kill) and the renowned writer Mari Okada (Maquia: When the Promised Flowers Bloom, The Anthem of the Heart).
Synopsis: "Even within the confines of the futuristic Sugomori City, Katsuhira Agata is a very unique high school boy – someone who simply cannot feel any pain whatsoever. Bullied and isolated, his world is set to shift seismically when he meets a strange girl named Noriko Sonozaki.
Before he knows it, Agata has been linked to a number of his classmates as part of a group created to share any pain each of them feels via a system known as "Kiznaiver". Tasked with various trials by Sonozaki as they serve as guinea pigs under the Kiznaiver system, could Agata and his new comrades' experiences be the key to their own self-discovery?"
Check out a subtitled preview trailer (originally published by Crunchyroll when the show was airing) below –
---
WHAT'S PLANNED FOR OUR RELEASE OF KIZNAIVER?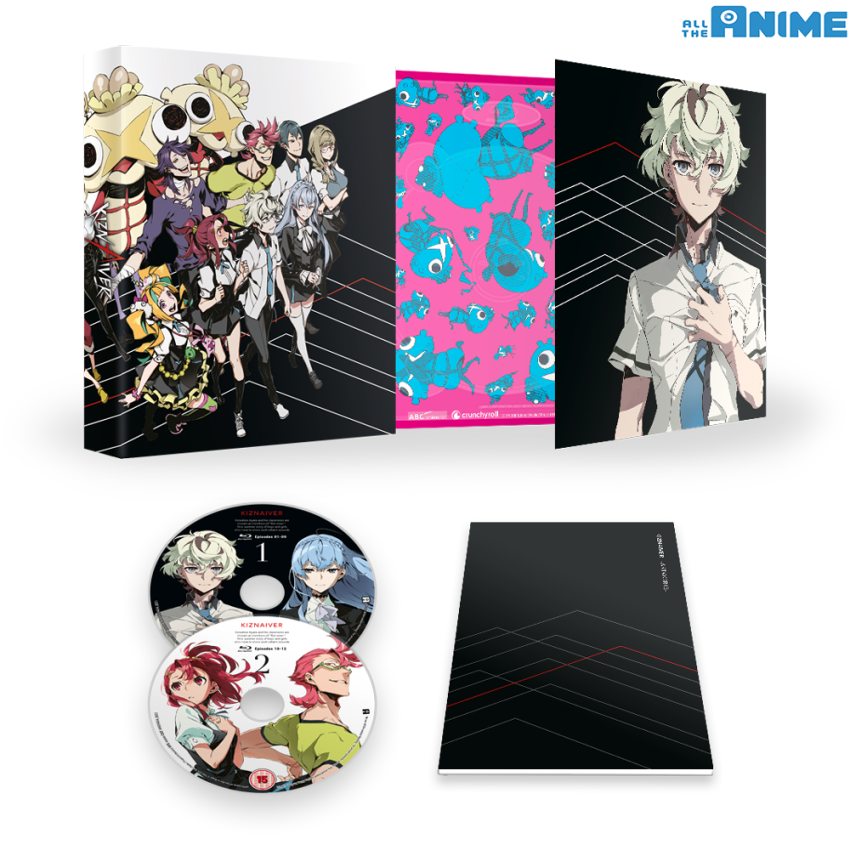 Kiznaiver will be released as a Complete Series Collection (containing all 12 episodes of the series) on standard DVD and Limited Collector's Edition Blu-ray (pictured)during the latter end of Q3 2018. It will include both English and original Japanese audio, with English subtitle language options.
The Limited Collector's Ed. Blu-ray version will come packed in a rigid case featuring the full cast of characters from the series (plus some not at all creepy Gomorin – don't have nightmares) with a Digipak to hold the two Blu-ray discs. Inside will also be 40-page art book showcasing a host of location artwork from the series.
Now, you might have noticed that the image above is captioned as the general retail version of our Collector's Edition. Whatever could that suggest?…
---
ALLTHEANIME.COM SHOP EXCLUSIVE COLLECTOR'S EDITION
If, like us, you're a fan of Kiznaiver who wants to delve even deeper into the fantastic artwork depicted throughout the show, then we wanted to go the extra mile for you and give you something even more impressive to add to your resplendent collection in the form of our AllTheAnime.com Shop Exclusive Collector's Edition, which will only be available for purchase directly from ourselves.
While the basic format of the Collector's Edition itself remains the same regardless of where you purchase it, this Shop Exclusive Edition will also ship with a substantially expanded, comprehensive white cover art book alongside the black cover 40-page book within the box itself – it's bigger (B5 in size, to be precise, so it will sit on your shelf or coffee table separate to the rest of the package), and contains a vast amount of additional character artwork and illustrations totalling 116 pages overall! The additional book created for this Shop Exclusive release is, in effect, a full-blown artbook similar to those you'll often find sold in Japan, and it's the first and most comprehensive collection of Kiznaiver artwork for a western audience you'll find.
We'll be opening pre-orders for our AllTheAnime.com Shop Exclusive Kiznaiver Limited Collector's Edition set closer to its release date, but for now you'll be able to find our initial product listing appearing on our site very soon!
---
WHERE CAN I BUY THIS?
As well as the exclusive edition above, you can pre-order your copy of the regular Collector's Edition of Kiznaiver right from all of the usual retailers – pre-order links will follow.
Don't forget, our Kiznaiver Complete Series Collection will be available on Limited Collector's Edition Blu-ray and standard DVD during the latter end of Q3 2018.. We hope you're as excited as we are to see it in the flesh!
Until next time, take care, and we'll see you at London Comic Con!
~Andy H
---
EDIT: Date amended to highlight this will be released during latter stages of Q3 2018.