By Jasper Sharp.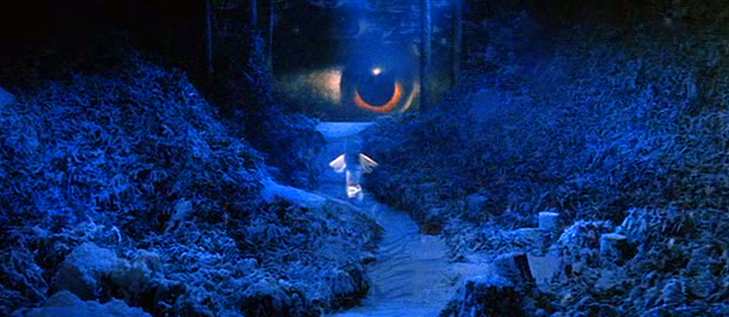 Kwaidan, Masaki Kobayashi's classic compendium of ghostly Japanese folktales has just been given the Blu-ray treatment for UK audiences, with a bumper new package released on Eureka's Masters of Cinema label, following Criterion's high-definition US release in 2015.
Kwaidan (1964) is a collection of four stories, originally collected, transcribed for Western consumption at the turn of the twentieth century by one of the Meiji era's most famous Occidental expats, Lafcadio Hearn (1850-1904). The Black Hair tells of a down-at-heel samurai who abandons his marital hovel when the opportunity to advance to a better station presents itself, later learning that his first wife's devotion is strong enough to reach from beyond the grave. The Woman of the Snow is another tale of an impossible love that goes cold, this time between a woodcutter and the icy emissary from the spirit world, his first encounter with whom one snowy night long ago he seems to have banished from his memory, with not so much a glimmer of recognition when she later turns up mysteriously on his doorstep years later. This story is the only one of the four in Kwaidan to have been filmed separately elsewhere, with a version by Tokuzo Tanaka in 1968 and another more recently by the actress/director Kiki Sugino. Hoichi the Earless is about a blind monk whose enchanting musical ability attracts attention from the fallen warriors of the Heike clan, wiped out in the legendary battle of Dan-no-ura of 1185, while In a Cup of Tea sees the haughty attendant of a powerful feudal lord hounded by the face of a much younger warrior he sees in reflected in his tea bowl.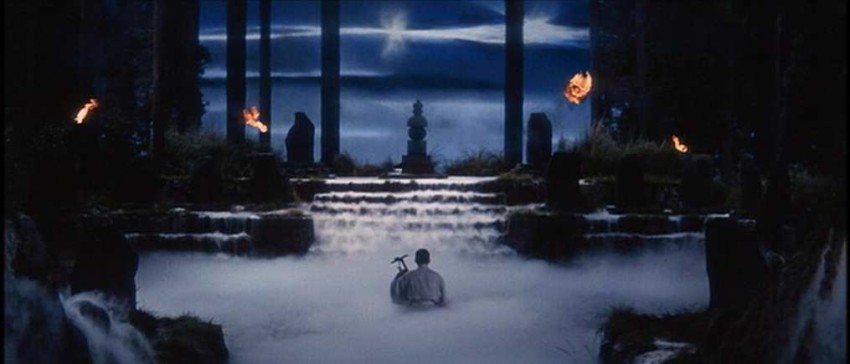 By the standards of Japan's other cinematic renderings of classic ghost tales of this era, Kobayashi's film is a very well-known one, and undeniably the most impressive in visual terms. I certainly remember being wowed by the expressive hues, the painterly backdrops and bold art design by Shigemasu Toda (who later worked on Merry Christmas Mr Lawrence), and the sheer opulence of the production when I first encountered it 30 years or so ago on a late-night BBC television airing. It is served as well one could dream of by this new Blu-ray release.
Kwaidan was not only the first colour feature by the director behind the epic anti-war trilogy of The Human Condition (1959-61) and the meticulously-composed denunciation of the Bushido code of Harakiri (1962). Filmed in widescreen TohoScope over more than a year, Kwaidan was also the most expensive film ever made in Japan up until this point, with a budget of 350 million yen (that is just under a million dollars, by my calculations). To put things in perspective, ten years previously the most expensive Japanese production, Akira Kurosawa's Seven Samurai (1954), had cost 125 million yen, almost five times the then 26-million-yen average for a typical Japanese studio picture. This was eclipsed but a few years later by The Emperor Meiji and the Great Russo-Japanese War (1957), directed by Kunio Watanabe. Of course, budgets were as part of the publicity machine back in the Golden Age of Japanese cinema as they ever were anywhere. The fact that Toho's own pre-release bombast for Kwaidan glosses over the alleged 700 million yen, cited in the publicity material put out by rival studio Daiei, spent on its production of Japan's first ever 70mm film, the now largely forgotten Buddha (1962), really highlights that size is not everything.
Nevertheless, in this case, budget is relevant to discussions of Kwaidan, particularly with regards to its international reputation as the zenith of the Japanese period ghost film. Despite the argument put forward by Craig Ian Mann in his liner essay on the film, Kwaidan does not fit comfortably within the "entire cycle of horror films produced in Japan during the 1950s and 1960s, many of which also employed period settings and drew on traditional folktales" (then again, neither do independent productions like Onibaba or Kuroneko that some see as characteristic of this cycle). It is in another realm from the potboilers Nobuo Nakagawa made for Shintoho in the late 1950s, or the Toei kaidan eiga of the 1960s, which were essentially made for domestic consumption by studios with little hope or ambition of successfully permeating foreign markets. Nor is it "actually quite typical and representative of anthology horror as a whole", as represented by such contemporary works as Mario Bava's Black Sabbath (1963) or the Freddie Francis-directed Dr Terror's House of Horrors (1965), which are invoked in comparison.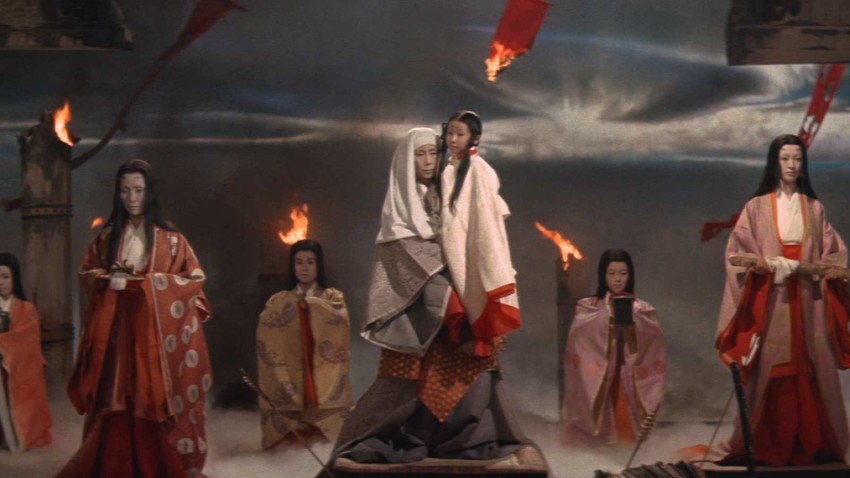 This is international arthouse cinema through and through, made by a director who had already established a name for himself globally, with the first Human Condition film winning a prize at Venice in 1960 and Harakiri playing in competition at Cannes in 1963, and who had enough clout in the local industry, like Kurosawa, to get away with making a film double the average running time of the main feature on the double bills then common in the local industry. Kwaidan is better known globally than other horror films of ostensibly the same genre of the same time because of its anomalous approach and its production background, which is ultimately why it was much more widely circulated outside of Japan than any of its contemporaries.
Indeed, some Japanese critics at the time did hint that its decorous aesthetic approach might have been more than a little calculated to turn the heads of foreigners with a taste for Eastern exoticism, although it was voted second best of 1964 by the critics of Kinema Junpo magazine, who placed it just behind Hiroshi Teshigahara's Woman in the Dunes. If I'm truly honest, I have never been quite as smitten with Kwaidan as some seem to be. I hesitate to use as strong a word as turgid, but if we can compare Kobayashi with a Western counterpart such as David Lean, then this might be seen as his Doctor Zhivago. The pace seems that little too languorous, the content that little too sparse to justify a 183-minute work, and the mise-en-scene that little too calculated to impress.
The trailer (included on the discs) promises a film that presents "The essence of the Japanese people as it comes down to us through countless legends is here brought to life as a protest against the chaos of the modern age". One might respond that this essence seems very much diluted compared with the more pure-blooded jolt of Nakagawa's films like his 1959 take on The Ghost of Yotsuya. The tales in Kwaidan are, after all, drawn from transcripts of Japanese folktales and supernatural beliefs collected by a Westerner, and presented as fables recounted with a universal, fairy-tale simplicity to for a Western readership who would have had little more than a superficial knowledge of Japan or the Japanese.

That said, I'm not completely immune to the film's many charms. Kobayashi's decision to shoot virtually the entire film on the largest soundstage at the time built in Japan – the scale of which is apparent in the on-disc teaser showing filming in process – was primarily motivated by the necessity for an extremely tight degree of control over the lighting for his first colour film. This degree of control stretches to every aspect of the world evoked onscreen. Kwaidan may be paced slower than a Noh performance, but we should remember that the concepts of 'mu' and 'ma' in Japanese aesthetic tradition, in which pauses and spaces are not seen as something lacking but as part of the content itself. In other words, the parts in which seemingly nothing happens play a vital part in conjuring up a vision of an alternate spirit world seeping into the material world depicted on the screen. Kwaidan is full of slow floating camerawork through empty locations animated by elemental forces, the wind rustling reeds, banners, branches and bamboo fronds, leaves billowing across the set and lots and lots of dry ice.
Most impressive in this regard is the highly experimental soundtrack by Toru Takemitsu, full of percussive sounds that both echo what we see onscreen (the icicle-sharp fue flute shrieks of The Woman of the Snow, for example), or meld with the rhythms of the action like the galloping horses or the screams of the spinning loom. As is revealed in David Cairns and Fiona Watson's impressive new 35-minute video essay included with the release, 'Shadowings', Kobayashi worked closely with Takemitsu to create a haunting musique concrete that complemented the visuals without mirroring it exactly. This working relationship is further detailed in an interview with Kobayashi conducted in July 1993 by Linda Hoaglund and Peter Grilli and reprinted in the 100-page collector's booklet.
Aside from the addition of the aforementioned essay by Craig Ian Mann, entitled 'A Haunted Nation: Kwaidan, Horror, and Post-occupation Japan', the booklet itself has the same content as the 72-page one included with Eureka's 2006 DVD release: there are reprints of Hearn's original stories alongside the Hoaglund/ Grilli interview. On the disc, besides a selection of original teasers and trailers carried over from the earlier release, there's a new and fairly lengthy interview with the critic and author and Kim Newman about where Kobayashi's film sits in Japanese horror history, and the aforementioned 'Shadowings' essay, which is by far the strongest in putting the film, its production and its source into context. But in a nutshell, this is a great release from a Eureka, especially if you like the film enough to want to see it in again in HD.
Though Kwaidan can be counted among the selection of truly monumental works contained within Kobayashi's oeuvre, we can attribute the relatively neglected profile of its director to even before the setback of its relatively disappointing performance at the local box office. The escalating budgets due to the extended production period ended up bankrupting its production company. Though released by Toho, Kwaidan was actually produced by an enterprise called Bungei Production Ninjin Club (literally 'The Literary Production Carrot Club'), which as Irene Gonzalez-Lopez and Michael Smith point out in the introduction to their wonderful recent anthology on the career of the Japanese actor and pioneering female  filmmaker Tanaka Kinuyo: Nation, Stardom and Female Subjectivity, was founded by the actresses Keiko Kishi, Yoshiko Kuga and Ineko Arima who were "seeking to protect actors' freedom of work against the constraints of the studios." This disproportionately powerful (for its size) enterprise financed titles like Tanaka's final film Love Under the Crucifix (1962) and Masahiro Shinodo's Pale Flower (1964), as well as Kobayashi's work since Black River (1957), including the Human Condition films, which were all released by Shochiku, the company by whom he was technically employed during this time (Kinuyo Tanaka, incidentally, was Kobayashi's cousin). Not only did Kobayashi end up sinking his own money into the production as it looked like it was about to spell the demise of Ninjin Club, but so did Keiko Kishi, who appeared in the film. It therefore seems a particularly cruel irony that The Woman of the Snow episode in which she took the titular role was the one that was cut from the version of the film that played at Cannes and originally circulated internationally.
Sadly, despite the local and international acclaim with which Kwaidan was met, its release also coincided with Shochiku deciding to terminate Kobayashi's contract, after which the director's output dropped off considerably. We might consider this as symptomatic of the problems besetting the Japanese industry as a whole. Kobayashi's contemporary Akira Kurosawa, for example, made his last work of the decade in 1965 with Red Beard – Toho just didn't have the resources to let him loose making the likes of Seven Samurai again at this point. Basically, nothing Kobayashi made post-Kwaidan is currently available for home-viewing outside of Japan.
We might argue that Kwaidan has had a similarly effect on the reputation of Lafcadio Hearn, the Irish-Greek journalist with a predilection for the irrational. Though he is best-known for his output during the final years of his life living in Japan, where he took the family name of his wife to become "Koizumi Yakumo", it should be remembered that his 14 years in the country between 1890 to his death in 1904 were merely the last phase of his writing life. All-but overshadowed in the wake of his writings on Japanese esoterica are his sensationalist crime stories during his early-career stint as a journalist in the 1870s, prior to getting run out of the city for violating its anti-miscegenation law when he married the 20-year-old African American Alethea Foley, his ten-year stint writing about creole culture in New Orleans, or his two years spent in the French colony of Martinique in the West Indies.
Kwaidan always whets my appetite for exploring the life of this truly fascinating character in much more detail. I think I'm going to track down his writings on voodoo and his 1885 creole cookbook right now…
Kwaidan is released on UK Blu-ray by Eureka. Jasper Sharp is the author of the Historical Dictionary of Japanese Cinema.