Leiji Matsumoto (1938-2023)
February 20, 2023 · 0 comments
"Manga artist Leiji Matsumoto has departed for the sea of stars."
That was how his daughter Makiko Matsumoto, who heads his office Studio Leijisha, announced Matsumoto's death on 13th February of acute heart failure in a Tokyo hospital, at the age of 85.
Born in 1938, during the Second Sino-Japanese War, Matsumoto grew up on Kyushu. The third largest of Japan's four main islands, the closest to Korea, and the place where European missionaries and traders based their business before the closure of Japan to the outside world. Matsumoto took great pride in being a Kyushu native. He felt that Kyushu folk had a certain independence of outlook, a determination to steer by their own stars.
His early family life bore this out. The Matsumotos fell far down the economic scale when his father, a leading fighter pilot trainer during the war, gave up flying as a result of seeing so many of the men he trained die too young. To keep his family, Akira Matsumoto sold vegetables door to door and worked on charcoal kilns. Far from resenting the loss of a comfortable house, a home movie projector and his chance at university, young Matsumoto venerated the father who showed him that status and wealth are insignificant compared with honesty and integrity, and that the purpose of life is not to kill, but to live. These are the guiding principles of his most beloved creations.
Matsumoto's greatest hits were undoubtedly his space operas, where the classical music fan showed an instinctive ability to meld the sweep and scope of Wagnerian storytelling and the possibilities of cinema with inventive yet convincing technology and what would later be called steampunk sensibility. Yet it took him many years to establish himself in the field of science fiction. His early professional career was in girls' comics. As he said himself, the established superstars like Osamu Tezuka, ten years his senior and a lifelong friend, commanded the attention of all the top editors on the boys' magazines, and newcomers had to take what work was going.
He became adept at writing for girls and young children, sometimes working in conjunction with the gifted manga creator Miyako Maki, who became his wife. He never forgot his female audience, and created a distinct style of female character, often pivotal to his works with male heroes. The two most famous, Queen Emeraldas and Maetel, both led their own sagas and played key roles elsewhere in Matsumoto's vast universe.
In advancing age, he not only kept his artistic multiverse spinning through reprints, collaborations and crossovers into other art forms, but travelled to see fans all over Japan and in Europe. His Japanese events were also visited by American and European aficionados, and he gave generously of his time and attention to these travellers from distant lands. His sketches for fans are treasured in many collections around the world. He was conscious of the possibilities opened up by new technology, and eager to take advantage of them where time allowed. But time is never on anybody's side. It can't be bought or won or traded. It can only be navigated, and Matsumoto did his level best. The Wheel of Time anchors his multiverse. Characters cross and recross it with a freedom he must have come to envy.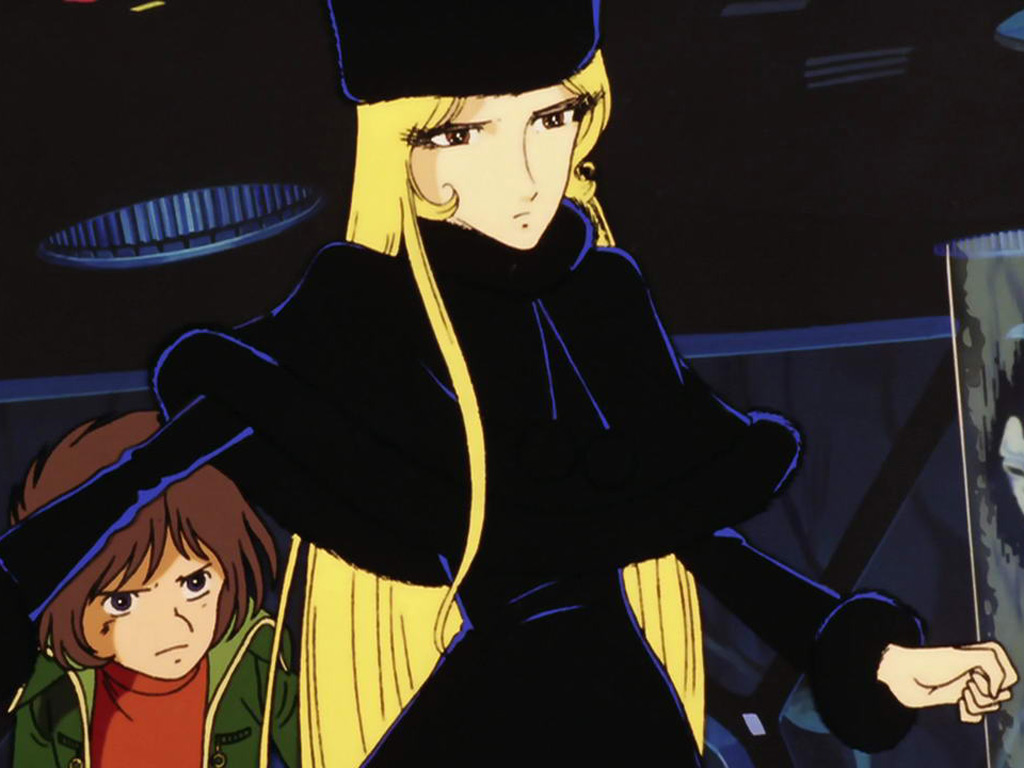 The European audience knows Matsumoto primarily through Space Pirate Captain Harlock and Galaxy Express 999. America owes its anime and manga fandom to the huge TV impact of Star Blazers, the US edit of Space Battleship Yamato. This resumé ignores an immense and almost unexplored hinterland of Matsumoto works, from I am a Man (Otoko Oidon) the gritty tale of a penniless student from the provinces scraping to get by in a cheap Tokyo boarding house, and his first SF manga, the spy-fi adventure Sexaroid, to girls' manga Natasha and Miime the TabbyCat about one of his beloved cats, who also appears in Captain Harlock. There are his manga biographies of musicians, including David Bowie for RecoFan magazine, and many stories on the pain and pointlessness of the Pacific War. To see Matsumoto purely through the space opera lens is to miss so much of his range and depth.
That space opera lens is, inevitably, the limit of vision in a culture where our knowledge of a creator is limited to their availability in English. Variety's obituary led with Space Pirate Captain Harlock and Matsumoto's Daft Punk collaboration; Le Monde followed suit. Reuters and Associated Press highlighted Space Cruiser Yamato and "epic space sagas." Agence France-Press quoted from a 2013 interview citing the randomness of war, and how the trauma of the atomic bombings formed part of Matsumoto's creative inspiration. Yet it's a marker of the spread of anime and manga fandom, and of Matsumoto's importance in creating that fandom, that Britain's newspapers, from Scotland's Herald and BBC News to smaller locals including the Herts Advertiser and Norfolk's Dereham Times, were able to run detailed pieces within hours of the announcement, and considered it well worth their while to do so.
I never met Leiji Matsumoto, and yet I know him thanks to his work: a playful, mischievous, erudite imp of a man who never left his Kyushu roots far behind, who knew the importance of both principle and survival. A good friend who still missed his old pals Osamu Tezuka and Shotaro Ishinomori when interviewes twenty years after their deaths, and could laugh over their brush with the police and the jokes they played in their early days. A gifted raconteur whose sometimes erratic recall of date and detail never impeded a good story. A dreamer whose one great unfulfilled longing was to go into space, to see for himself the sea of stars he had so often sailed in imagination.