By Paul Browne.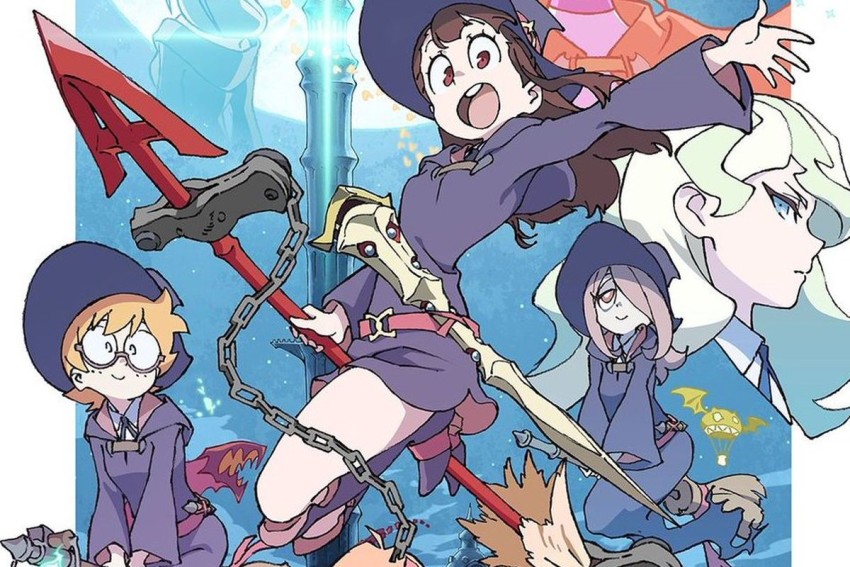 For trainee witch Akko Kagari, things never appear to go as planned. Inspired at a young age by the spectacular public shows hosted by professional witch Shiny Chariot, Akko enrols at the Luna Nova Magical Academy in a bid to emulate her idol.
But the fledgling witch struggles to keep up with lessons, is clumsy in her efforts to ride a broom and appears incapable of keeping out of trouble. Akko also manages to embroil her best friends Lotte and Sucy into her ill-advised antics. Meanwhile, she has to contend with Diana, the school's top student, who takes a very dim view of both Akko's clumsiness as well as her faith in the showy antics of Shiny Chariot. When her class is tasked with exploring a dungeon beneath the school, Akko finds a threat to the school that only her faith in Shiny Chariot is capable of defeating.
There's a long tradition of supernaturally themed anime titles, and Little Witch Academia proudly carries the torch here. With elements of Negima and Studio Ghibli classic Kiki's Delivery Service (and more than a passing nod to Harry Potter), Little Witch Academia puts a big emphasis on slapstick and humour wrapped up in a visually attractive style.
Originally appearing as a 26-minute anime short in 2013 from Kill la Kill studio Trigger, Little Witch Academia was spawned from a project to train young animators, featuring the output of several studios. Created and directed by Yoh Yoshinari (Gurren Lagann), Little Witch Academia was written by Masahiko Otsuka with music by Michiru Oshima (Full Metal Alchemist). A Japanese release picked up a favourable response, while an English-subbed version clocked up an impressive 850,000 views on YouTube.
As a result of the success of the first outing, Trigger announced plans for a follow-up. Taking advantage of the large fanbase that was growing around the title, the studio opted for a crowdfunding project to expand the second chapter The Enchanted Parade into a lengthier 50-minute episode. The resulting Kickstarter campaign smashed its $150,000 goal within hours of going live (the final tally took in over $600,000).
With an expanded running time, Little Witch Academia : The Enchanted Parade benefits from a little more breathing space this time around – and also gives supporting characters Sucy and Lotte more crucial roles in the story.
With the trio once again landing in trouble, the threat of expulsion looms over Akko's head. Tasked with organising the annual Witches Parade for the nearby town as a punishment detail, Akko, Sucy and Lotte are teamed up with 3 other delinquent witches to dream up a successful event.
Naturally, plans don't go quite the way that Akko intended. Friendships are tested and supernatural threats are again unleashed. Once again, the pluckiness of the amateur witches is called upon to save the day in a thrilling climax.
As an anime, Little Witch Academia cuts straight to the chase in establishing its setting, characters and story. If you're fed up with anime titles that take seemingly endless episodes to advance the plot, then Little Witch Academia will serve you nicely.
The heart of the story is belief – belief in yourself as well as belief in your friends. Despite Akko's inept nature, she always manages to find the belief in herself to overcome her troubles.
Visually, Little Witch Academia has a loose, fluid style to both the character design and the animation itself. There's an engaging quality to the direction of the anime, and the choreography of the action scenes gives it a widescreen feel that could give more established titles a run for their money. Meanwhile, Michiru Oshima's musical score has a broad orchestral sweep to it that brings the dynamic setpieces in the anime to vivid life.
Little Witch Academia manages to sidestep much of the standard anime tropes in its execution. By leaving the complicated world-building to other anime, it manages to craft a self-contained story – one that combines thrills and charm in equal measure.
Little Witch Academia is currently running on Netflix.