By Shelley Pallis.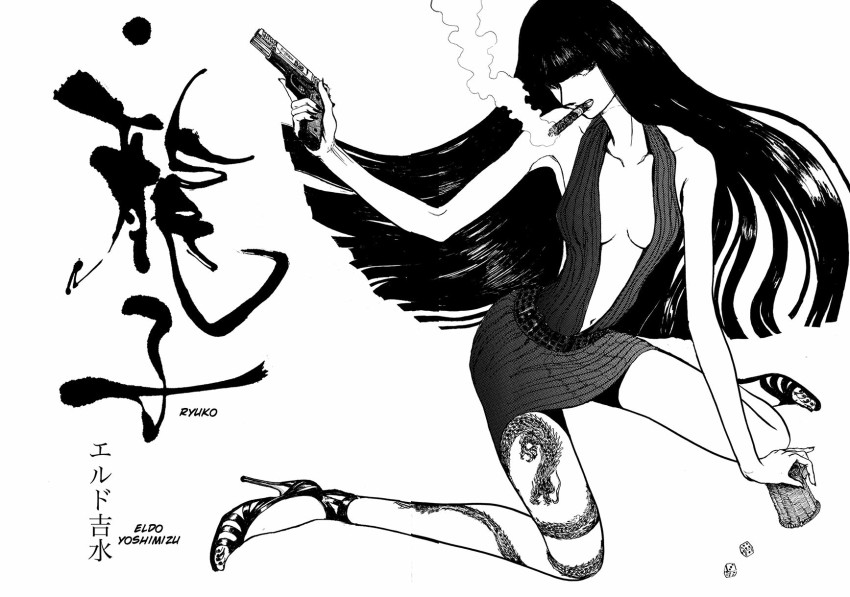 "The Middle East is great," chuckles an evil gangster in Eldo Yoshimizu's manga Ryuko. "It smells of blood all the time. You'll love it." There are a bunch of opportunities to be had as the Soviet Union collapses, and cartels from former Communist states duke it out over surplus arms, artificial revolutions and the copious profits from international drugs deals. But that's all in the past… or is it?
Ryuko leaps ahead to the present-day, as Tokyo gangsters fight to hold onto their turf after an incursion of Chinese rivals. The inheritors of the Black Dragons syndicate are locked in a turf war with the Yajima gang, over businesses both legal and illegal, while the Chinese Triads sneak up on them both. A bunch of long-standing vendettas reach bloody resolution on the streets of Tokyo, but as the bodies pile up, we start to realise that we are watching the end of a long, long cycle of retribution, that chases its origins back a generation or more.
The icy-cool Ryuko is the uncrowned queen of Japanese gangland, a free agent exiled from the underworld after murdering her own father. "You don't take power with justice," we see him boasting to her in yet another flashback. "You take it by winning." Former gang-boss Garyu doesn't have time for adopting strays or doing right by old friends. He just wants to get out while the going's good, shutting down his gun-running operation to Central Asia just ahead of the coup that's going to ruin everything. But his daughter Ryuko is cut from a different cloth, a ruthless businesswoman with a sense of loyalty and honour so overwhelming that she is prepared to kill him over it. By the time she finds out it was a misunderstanding and she didn't have all the facts, she has already kicked off another round of violent retributions.
Long-term manga fans may discern something of an old-school element in Ryuko, evocative not only of the Chinatown warfare of Crying Freeman, but the vengeful furies of many a work by the late Kazuo Koike. Nowhere is this more notable than in one of the opening set-pieces – a prolonged heist crying out for a big-budget Hollywood remake, in which two scantily clad beauties hijack a train somewhere in the former Soviet Union. They are Ryuko's wayward step-daughters, Valer and Sasori, taking teen rebellion to noisy, explosive heights after childhoods spent amidst guns and gangsters.
This is conspicuous criminal consumption – the spoils of the illicit drugs and arms trades have given gangster syndicates the reach and power of small countries, along with operatic vendettas to match. But in a masterful condensation of grand, wide-screen drama into small, intimate motivations, Yoshimizu tracks his unwieldy, sprawling drama back to the events of just a couple of days in the distant past – a 1990s coup in a forgotten republic; a promise made to an old friend, and a chance encounter on a dusty road. The impact of these events spirals gradually out of control in the years that follow, until they erupt into car chases and gunplay on the streets of contemporary Tokyo.
Amid flashbacks, flash-forwards and revisits, we come to understand that Ryuko is trapped in the middle of a karmic whirlwind. Revelations in the second volume, forthcoming later this year in English, allude to the Dharma Seals of Buddhist scripture, and take the storyline all the way back to invasion of China by the Manchus in 1644, when secret societies became the last redoubt of Chinese heroism. That's merely the latest in a series of moments where Yoshimizu backtracks in his own story, as if suddenly remembering something he really ought to have mentioned before. Some readers may find this to be an intriguing, nested form of oriental story-telling – an Arabian Nights-feel in which no tale is quite over before another has begun to take its place. A cynic might think that Yoshimizu, a newcomer to the manga form, is making things up as he goes.
Sometimes it's hard to keep track of all the heroines on offer. There's not just Ryuko herself, the unflappable empress of the yakuza subculture, there's Valer, her adopted daughter (the orphaned child of a Middle Eastern despot), and Sasori, her other adopted daughter (described as "nothing but a ghetto bitch"), and Tatiana the Russian assassin who moonlights as a stripper (and turns out to be a general's daughter)… It's as if Yoshimizu develops an artist's crush on each new poster-girl in a cowboy hat and hot-pants – an affection that lasts long enough for a chapter of unclothed combat and booby action, only for her to fall by the wayside as a new heroine grabs his attention. Certainly, by the later chapters, the cast of Ryuko starts to look awfully crowded – there's at least one, possibly two gun-toting, bike-riding leading ladies who could probably be dropped without losing the drama. But as Yoshimizu's biography in this lurid, visceral translation from Titan Comics freely admits, it's the pictures that came first, and his story is something of an afterthought, bolted onto his improvised imagery of beautiful femmes fatales, and his elaborate saga of the deeds of the dead returning to haunt the lives of the living.
Ryuko, volume 1, by Eldo Yoshimizu is published by Titan Comics.