MCM Manchester this weekend
July 22, 2019 · 0 comments
Manchester! We know every July MCM Comic Con rolls into town and we're delighted to say that we'll be at the event too, taking place this weekend (27-28th July 2019) at Manchester Central.
This year our AllTheAnime Shop will be there in full force, plus we've teamed up with some great friends of ours to offer something different from what you'd normally find at our stall! Have a read on below for the details:
WHERE ARE WE IN MANCHESTER CENTRAL?
A very good and logical question to ask. At time of writing the map/layout of the venue has not been published but we can tell we're not that far form the front entrance to the building. Our stand number is #420, feel free to insert your own joke here, and we believe we'll pretty much next door to the MCM Live stage as well, for a point of reference.
Once the map has been made available to the public, we'll be sure to update this post accordingly with that.
Update: 23rd July – Map has now been made public by MCM. See below for where we are.

---
WHAT WILL YOU HAVE ON THE ALL THE ANIME SHOP?
If you're a Gundam fan wanting stock up on Blu-rays, or perhaps you're someone wanting to start your Gundam Collection, this weekend will be a great place to start as we'll have the following titles available to purchase ahead of their general release dates –
Plus we'll have our release of the Oscar Nominated Mirai available to add to your collection, if you haven't already! I've also been told there will be some units of the Blu-ray/DVD Ltd Collector's Edition set on hand too; which are the likely the very last units we have.
Plus we'll have a slew of other recent releases of ours such as
and many more from our catalogue of titles including Your Name, Kill la Kill, Durarara!! and many more!
---
PLAY KOEI TECMO EUROPE'S NEW ATTACK ON TITAN GAME
You read that right folks! Our good friends at KOEI-TECMO EUROPE have just released their new Attack on Titan game, A.O.T. 2: Final Battle on Playstation 4, Xbox One, Switch and Steam, and we'll be giving you the chance to go hands on with the game as we'll have a few stations setup for you to try the Playstation 4 version of the game! It's not something we've ever been able to offer on our stand at any event before, and we're delighted to help celebrate the game's release by partnering with them!
---
QUICK REMINDER THAT ALL OF ATTACK ON TITAN IS ON CRUNCHYROLL!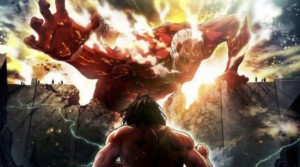 We mentioned Attack on Titan a moment ago, so it's the perfect opportunity to remind you lovely people that you can watch all three seasons of Attack on Titan on Crunchyroll!
So if you've been meaning to catchup or perhaps experience the show for the first time, new subscribers get a 14 day free trial of Crunchyroll's premium membership! That's plenty of time to not only watch every single episode but also check out some of the latest simulcasts the service has to offer from the new Summer season of anime!
Visit the link below for details
---
And that's what you need to know about our involvement in the MCM Manchester Comic Con this weekend! And just to clarify before wrapping up, as we know some of you will be wondering given we haven't mentioned any, we won't be involved in any panels this time around; it'll be strictly our booth that pertains to our involvement this weekend. But you never know we might still have some news to roar about before the week is up. We're really looking forward to seeing so many of you! Be sure to swing by our booth and say hi!
See you this weekend.
Signing out~!
Jeremy