Kakegurui director Yuichiro Hayashi is MCM Anime Guest of Honour
May 2, 2019 · 0 comments
Now that we've entered the month of May, no doubt much like ourselves your thoughts are turning towards the end of the month and MCM London Comic Con, which takes place as per tradition at London's ExCeL Centre from Friday 24th – Sunday 26th May 2019. If you haven't bought tickets to the event yet, then there's still time to do so, and this may be the moment to secure your place at the show using the link below!
Book MCM London Comic Con tickets now
As I'm sure you can imagine, we have plenty of exciting products, events and activities in planning, both from ourselves and in conjunction with our good friends at Crunchyroll, that will make a trip to the event well worth your while. We'll be able to talk more about all of our plans over the coming weeks, but as our starting point today we're thrilled to announce the fruits of our regular collaboration with MCM Comic Con to bring a notable Anime Guest of Honour to the event.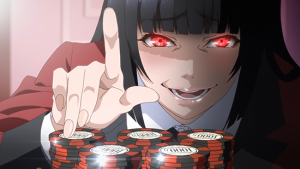 London Comic Con's guest for May 2019 comes courtesy of renowned studio MAPPA, and we're thrilled to welcome director of Garo: The Animation and hit Netflix series Kakegurui to the UK as Yuichiro Hayashi makes his way to London to talk about his career and his work on the show!
For more information about the man himself, and how and when you can see him during MCM London Comic Con, read on below!
---
THE MCM ANIME GUEST OF HONOUR: YUICHIRO HAYASHI
ABOUT Yuichiro Hayashi:
Yuichiro Hayashi has been involved in numerous major productions as a storyboard artist, episode director as well as series director. Some of his most well-known works are 009 RE:CYBORG (2012; Storyboard Artist), GARO: The Animation (2014; Series Director), and GARO: Divine Flame (2016; Movie Director, Storyboard Artist, Episode Director). On Kakegurui (2017), he not only served as Series Director, but also played major roles as Storyboard Artist and Episode Director. Most recently, he directed Kakegurui xx (2019) in collaboration with Kiyoshi Matsuda.
---
PANEL AND SIGNING SESSIONS
PANEL
As per MCM London Comic Con tradition, we will of course be holding an Anime Guest of Honour panel at the event, giving you a great opportunity to see Mr. Hayashi talking about his work, with a focus on his roles as a series director, storyboard artist and episode director over the years. There may even be time for you to ask him a question yourself!
You can join us for this fascinating discussion yourself at the following time and location – we've also linked to the MCM guest announcement page in case you need it:
MCM London Comic Con Guest of Honour Panel
When: 1:30PM-2:30PM, Saturday 25th May 2019
Where: Centre Stage
Entry to this Guest of Honour panel is absolutely free for all MCM London Comic Con attendees, so please come along and be a part of this fascinating discussion!
SIGNING SESSIONS
You will also have the opportunity to meet the man himself as he will be taking part in two free signing sessions across the weekend – one on Saturday and one on Sunday.
At the time of writing (2nd May 2019), the precise times of signing sessions are still to be confirmed. We'll update this article with times as soon as we have them, so keep checking back!
Update: 20th May 2019 – Signing session times now added!
2:45pm – 3:45pm on Saturday 25th May 2019
11:45am – 12:45pm  on Sunday 26th May 2019
As always, both signing sessions with this guest are absolutely free! Signing cards will also be provided to anyone who wants a signature, and signing sessions will be taking place in the official MCM Comic Con signing area. We look forward to seeing you there!
---
As we mentioned, this is only the start of us revealing our full MCM London Comic Con plans for this month, so stay tuned as we still have a lot to talk about that we're excited to share with you!
Until next time, take care, and don't forget to book those Comic Con tickets!
~Andy H