"Mirai" UK Home Video Release Details
June 14, 2019 · 0 comments
The time is nearly here! The Oscar nominated Mirai  is coming to Blu-ray and DVD on 15th July! Today we're here to give you a rundown on what to expect from our Blu-ray/DVD Ltd Collector's Edition release – which we're now taking pre-orders for at our AllTheAnime online shop!
Read on below for the details.
---
ABOUT MIRAI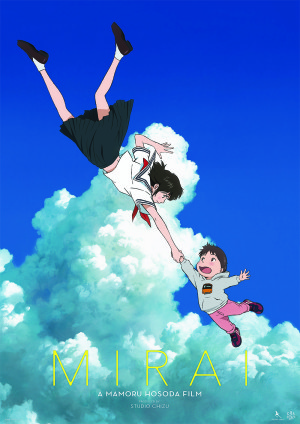 From acclaimed director Mamoru Hosoda (SUMMER WARS, Wolf Children) comes an Oscar-nominated tale of the importance of family across generations.
Synopsis: When four-year-old Kun meets his new baby sister, his world is turned upside down. Named Mirai (meaning "future"), the baby quickly wins the hearts of Kun's entire family. As his mother returns to work, and his father struggles to run the household, Kun becomes increasingly jealous of baby Mirai… until one day he storms off into the garden, where he encounters strange guests from his family's past and future – including his sister as a teenager.
Together, Kun and teenage Mirai go on a journey through time and space, uncovering their family's incredible story. But why did Mirai come from the future in the first place?
You can watch our brand new UK Exclusive trailer for Mirai below:
---
WHAT'S PLANNED FOR THE RELEASE?
Our Blu-ray/DVD Ltd Collector's Edition set will all come packed in a rigid case. Inside you'll find a digipack that stores the discs that come with this set: 1 x Blu-ray, 1 x DVD and the CD Soundtrack! That's right, in case you didn't hear we were given clearance to include the soundtrack CD with this release – which is the reason the release date shifted to July.
Additionally inside you'll find Art Cards that depict specific locations from the film, an A3 replica of a Japanese poster for the film and a packed 40-page booklet! The booklet has the theme of the Making of Mirai, starting from the beginning right through it's theatrical release and beyond. So it's perfect companion to go behind the scenes into how it all came together. You get an extended interview spanning majority of the booklet with some key figures behind the scenes, Yuichiro Saito (producer at Studio Chizu) & Nozomu Takahashi (producer at Nippon Television), that is split into 6 sections: How the Project Started, A Simple Story, The Key is in the Details, Towards the Release, Cannes Film Festival And Out to the World, and To the Future.
But that's not all. As part of the story being told of the film's production throughout the extended interview, the booklet also features a short column by Daigo Ikeda (Line Producer at Studio Chizu), a production timeline of the film, a copy of the third draft provisional proposal for the film, a look at particular locations, production designs and even at look at the evolution of the characters from their initial designs to how they finally appeared in the film and more! It's a packed booklet and one we know you'll love reading to get a broader picture on how this entire project came to be.
On the Blu-ray and DVD discs you'll get the film with both English and original Japanese with English subtitles viewing options. You'll also find trailers for the film on the discs too.
The CD Soundtrack is pretty self explanatory; it's the soundtrack to the film!
---
WHERE CAN I ORDER THIS?
We're delighted to say that we're now taking pre-orders for this at our AllTheAnime,com online shop! And we've got a limited time special offer to celebrate this too.
AllTheAnime.com Special Offer
Until Thursday 20th June you can pre-order this for £24.99 (SRP: £39.99)
You can also order from retailers including the following –
Order at Amazon UK Order at Base Order at Anime-On-Line
---
And that concludes this preview of our release or Mirai! We really hope you're looking forward to owning this delightful film and adding it to your collection!
A quick final mention that we appreciate the date was previously noted as 1st July, but this has been shifted by a few weeks to the 15th July to allow additional time for delivery of parts. This date shift has been made to accommodate retailers in general, but worth adding that if you order from us at AllTheAnime.com it will be shipped as soon as stock is available.
Signing out~!
Jeremy