'Mirai' to premiere at BFI London Film Festival Family Gala
August 30, 2018 · 0 comments
It's all set to be the year's biggest theatrical anime experience, and we know that many of you simply can't wait for your chance to see Mamoru Hosoda's latest film Mirai for yourselves. While the film is being screened widely across the UK, with subtitled screenings on Friday, 2nd November and English dubbed screenings on Sunday, 4th November, if you simply can't wait that long then we're thrilled to announce that the BFI London Film Festival will be the home of Mirai's UK premiere in October!
What's more, the film will head up the London Film Festival's prestigious Family Gala, wherein you'll have two opportunities to catch the film in Japanese with English subtitles.
The UK premiere of Mirai takes place on Saturday, 13th October at 3:30PM at the BFI Southbank's NFT1 cinema, while the film's second screening can be enjoyed the following day on Sunday, 14th October at 5:45PM and takes place at the BFI IMAX cinema.
Please note that tickets for both screenings go on sale to the public from 10AM on Thursday 13th September – you can find more details from the BFI themselves at the link below.
MIRAI SCREENINGS AT THE BFI LONDON FILM FESTIVAL
Commenting on the announcement, President of Anime Limited Andrew Partridge says:
"All of us here at Anime Limited fell in love with Mirai the moment we first saw the film. It's a beautiful and charming work with themes that will be recognisable to anyone, and to have it premiere in the UK as the Gala film for Family at the BFI Film Festival London is a dream come true for us."
If you haven't heard about the film yet, here are some more details for you to get you up to speed:
---
ABOUT MIRAI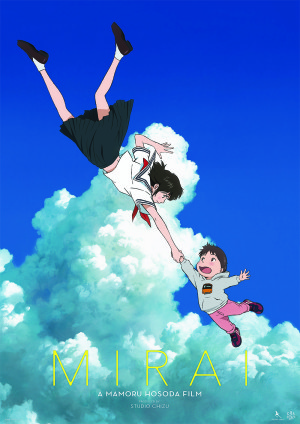 Ingenious and heartfelt, Mamoru Hosoda's charming fantasy was received with a standing ovation at its world premiere at the Cannes Film Festival. The truest definition of a family film, "Mirai" will inspire the imaginations of young and old alike.
Synopsis: "The birth of a sibling is a joyous time for many, but not for Kun. Four years old and spoilt rotten, he sees the arrival of baby sister Mirai as competition for his parents' love. That is, until magical encounters with an older Mirai and family past, present and future send the siblings on an intimate journey through time and space, to confront Kun's uncertain feelings and prepare him to become the big brother he needs to be."
---
If you can't make it to either of these gala screenings of the film, then don't fret – as mentioned above you'll be able to watch the film across the country just a few weeks after the UK premiere on November 2nd (with English subtitles) or November 4th (with an English dub) – all of the details and ticket booking links you need can be found on the official Mirai web site.
Whether you can make it to the gala screenings at the BFI or are planning to enjoy the film in November, we look forward to hearing your thoughts on this incredible film from Mamoru Hosoda, and we simply can't wait for all of you to see it! We'll also have more exciting news relating to Mamoru Hosoda over the coming weeks, so stay tuned…
Until next time, take care!
~Andy Hanley
Tagged with: