Mobile Suit Gundam The Origin
February 4, 2015 · 0 comments
For all of you Mobile Suit Gundam fans out there we've got some exciting news for you relating to the forthcoming Mobile Suit Gundam The Origin project in that we are the UK distributor! What does this mean? Well it's pretty simple, you'll be able to pre-order the Blu-ray Collector's Edition [Export Version] of each part of Mobile Suit Gundam The Origin I: Blue-Eyed Casval direct from our AllTheAnime.com web store prior to its release on 24th April 2015.
(NOTE: You can read the full press release at the conclusion of this post.)
Synopsis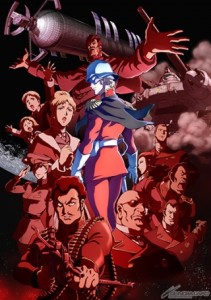 Universal Century 0068, Side 3 – The Autonomous Republic of Munzo.
Zeon Zum Deikun, preaching the reformation of humanity through advancement into outer space, has been attempting to declare Munzo's complete independence from the Earth Federation government. Suddenly, he collapses and dies in the middle of a speech to the Diet.
Upon Deikun's death, his aide Jimba Ral begins spreading conspiracy theories about the Zabi family. But despite his efforts, the Zabi family, led by Degwin Sodo Zabi, intensifies its secret maneuvering to seize control of Side 3.
As we witness for the first time the untold chaotic history of the Universal Century, Casval and Artesia, Deikun's orphaned children, must face destinies just as tumultuous as the era itself.
Check out the official English Language trailer for Mobile Suit Gundam The Origin I: Blue-Eyed Casval below.
WHAT DOES THE BLU-RAY COLLECTOR'S EDITION [EXPORT VERSION] CONTAIN?
This is a Japanese export package that has been designed with a worldwide audience in mind. So the release includes the main feature with both the original Japanese audio (with English subtitles) along with English language audio that has been produced by the fine folks at NYAV post (as previewed in the trailer above.)
Contents
Mobile Suit Gundam The Origin I: Blue Eyed Casval Blu-ray disc (73 mins approx)
Storage box illustrated by Yoshikazu Yashuhiko (original writer and illustrator of Mobile Suit Gundam The Origin)
Storyboards & Setting Art Book (296 pages)
Japanese booklets
Sleeve (O-card) illustrated by Yoshikazuk Yasuhiko
Trailers
TV Commercial
WILL THIS BLU-RAY WORK ON A UK BLU-RAY PLAYER?
Yes, this disc will be playable in all UK Blu-ray players.
HOW CAN I PRE-ORDER THIS? WHAT'S THE DATE TO PRE-ORDER BY?
You can pre-order this right now exclusively from our AllTheAnime.com web shop HERE.
HOWEVER, please note that this is an item only available through pre-ordering.
You must have placed your order by Monday 13th April to secure your pre-order, otherwise you will have missed your chance to order this set. This item will not available to order at all through our site after 13th April.
The SRP for this wonderful set is £69.99. As this is being shipped from Japan, the cost includes shipping as well. (For those of you who may have order items from Japan before, you know this can be quite a hefty addition to any order.)
Please note: we have not set the price and are simply coordinating with Bandai in Japan to be able to make this available as easily as possible to anyone in the UK who wants to order it.
If you've never ordered through our shop site before, please note that money is taken immediately once the ordering process is complete.
And for those of you worried about possible UK customs charges, fear not as we are clearing the legalities to make sure that no UK orders are hit by this.
WILL THIS BE AVAILABLE IN ANY OTHER WAY?
No. The only way you'll be able to get Mobile Suit The Origin I: Blue-Eyed Casval is by pre-order through our AllTheAnime webshop.
This will be available via VOD, however we are not handling that side of things so can't comment on distribution plans for that. (Though we are looking into how we can possibly still provide a VOD version of this for you. More details as and when that information becomes available.)
So what are you waiting for Gundam fans? Don't delay and pre-order this wonderful set today! If you have any questions about this please post them in the comments below (or via our Twitter and Facebook) and we'll do our best to answer them for you.
Signing out~!
Jeremy
=-=-=-=-=-=-=-=-=-=-=-=-=-=-=-=-=-=-=-=-=-=-=-=-=-=-=-=-=-=-=-=-=-=-=-=-=-=-=-=-=-=-=-=-=-=-=
FOR IMMEDIATE RELEASE Contact: International Sales Section
"MOBILE SUIT GUNDAM THE ORIGIN" TO BE
RELEASED WORLDWIDE SIMULTNEOUSLY WITH JAPAN
Tokyo, Japan, February 4, 2015 – Bandai Visual Co., Ltd., a leader in the development and production of Japanese animation announced the simultaneous worldwide debut of "Mobile Suit Gundam The Origin".

A highly recognized franchise worldwide with its rich 35-year history, "Gundam" continues with the latest anime OVA series "Gundam the Origin" and will be released simultaneously worldwide with Japan on Blu-ray disc and On-Demand Internet streaming. Japanese Blu-ray Disc Collector's Edition Volume 1 will be released with impressive specs on April 24, 2015 and Internet streaming will begin on February 28, 2015. A total of 4 volumes are currently planned for production.
"Mobile Suit Gundam The Origin" Volume 1
Blu-ray Disc Collector's Edition (Export Version)
Release Date: April 24, 2015
Audio*: Japanese, English
Subtitles*: Japanese, English, French, Korean, Traditional Chinese (Taiwan),
Traditional Chinese (Hong Kong), Simplified Chinese
Regions to Be Released: Worldwide including USA, Canada, UK, France, Australia,
New Zealand, Singapore, Korea, Taiwan
© SOTSU, SUNRISE
ACJ (Anime Consortium Japan Inc.), an affiliated company of BANDAI NAMCO Holdings, Inc., will begin taking orders and ship products from Japan for all countries and regions except Japan. Customers in USA, Canada, UK, France, Australia, New Zealand, Singapore, Korea, and Taiwan can also pre-order the product through their local distributors.
Local Distributors;
USA & Canada: RightStuf.com / UK & France: Anime Limited / Australia & New Zealand: Madman / Singapore: ODEX / Korea: Mirage Entertainment / Taiwan: Top-Insight
*This products is a Japanese original product and to be exported from Japan. English audio and multi-language subtitles are for main feature only.
In addition to Blu-ray Disc release, on-demand streaming are scheduled to start on February 28, 2015. Besides Japan, the available countries and areas are worldwide except for mainland China by ACJ and other selected distributors.
About "Mobile Suit Gundam The Origin"
Created by Yoshikazu Yasuhiko, character designer and animation director for the 1979 TV hit "MOBILE SUIT GUNDAM"; "MOBILE SUIT GUNDAM THE ORIGIN" is a mega-hit manga boasting a total of 10-million copies printed. The manga is now being adapted to an anime produced by SUNRISE Inc.
For more information, visit: http://www.gundam-the-origin.net/en/
About Bandai Visual Co., Ltd.
Bandai Visual Co., Ltd., founded in August 1983, is a Japanese company that develops, produces and distributes film, TV and home entertainment media. As a pioneer of the Japanese animation scene Bandai Visual has consistently held the top-class market share in the genre and continues to lead the market. Bandai Visual has also proven its expertise in creating and delivering quality home entertainment media packaging in Japan. Using such key strategies, Bandai Visual hopes to expand and emulate its success in North American and other international markets. Bandai Visual Co., Ltd. is a wholly-owned subsidiary of Namco Bandai Holdings.
Tagged with: