By Tom Smith.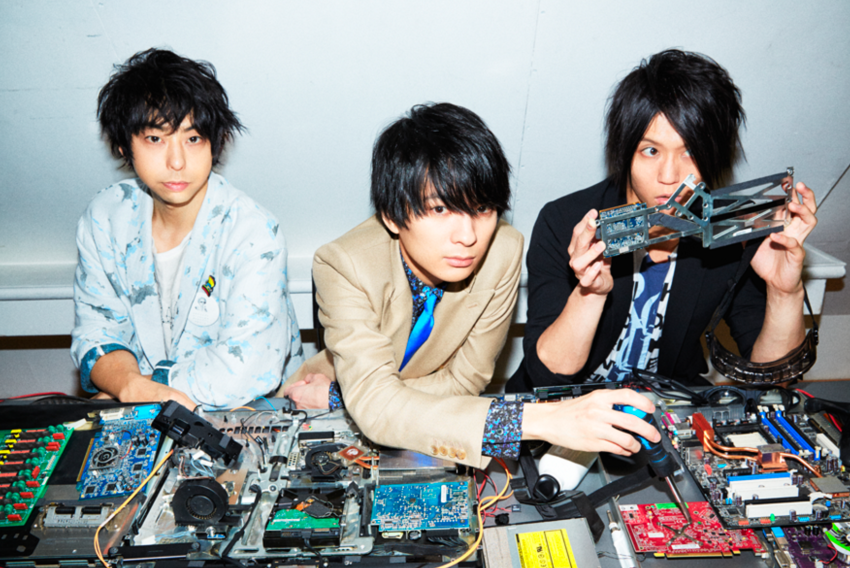 An impenetrable bubble encases New York, trapping locals and monsters inside. The latter have been warped in from other dimensions and it's down to a secret society known as Libra to try and keep the confined chaos under control. Thankfully, at the end of every 20-or-so minute outing in Hellsalem's Lot, the new name for the city, a bit of light, aural relief is blasted courtesy of UNISON SQUARE GARDEN's tenth single "Sugar Song and Bitter Step".
Blood Blockade Battlefront already starts strong on the music front. Japan's mega popular BUMP OF CHICKEN supply the opening theme with "Hello,world!", their 24th single, and their first in almost three years. As with almost every single they've ever released, it rode high in the charts, reaching number two in the national weekly charts as well as number one in the Billboard Hot Animation chart for three consecutive weeks.
UNISON SQUARE GARDEN's ending theme matched that, also staying atop the Billboard Hot Animation chart for three weeks and peaking at the fifth position of the national charts, the highest ranking single from the trio since landing a major label deal in 2008.
In fact, the opening and closing tracks of Blood Blockade Battlefront were among the most popular anime songs of 2015, even outselling releases from Love Live!, the ever popular schoolgirl idol series about the fictional group μ's (pronounced "muse") who have more than 20 very real top-five singles.
The two BBB tracks even sold more than themes from One Piece, Duel Masters VS R, The Heroic Legend of Arslan and The Seven Deadly Sins combined. Give yourselves a pat on the back, BUMP OF CHICKEN and UNISON SQUARE GARDEN, you done good! I'll almost forgive your ALL CAP name stylings.
UNISON, as they're often called by fans, first broke into the top 20 charts in 2011 with "Orion wo Nazoru". The track, currently their most popular according to the band's UK iTunes best seller listing, was also their first tie-in with the anime TIGER&BUNNY. Follow up hit single "Linear Blue wo Kikinagara", used as the ending theme for TIGER&BUNNY movie The Rising went one further and awarded UNISON with their first single to break into Japan's top ten.
The video to that last track (as well as pretty much any of UNISON's videos) shows why the band's bass player Tomoya Tabuchi has picked up the title "Best Partially Seen Bassist in Japan", as he hops, headbangs and flails around the stage as if he's just chugged a pitched of Red Bull. He's also a massive anime fan, and when he's not bouncing around with UNISON, he's usually composing for other artists, many of which have careers close to anime, such as the J-pop singer LiSA, and anime voice actress super group sphere.
Blood Blockade Battlefront is released in the UK by Anime Ltd. UNISON SQUARE GARDEN's music is also available from iTunes, along with Blood Blockade Battlefront single Sugar Song and Bitter Step.