By Meghan Ellis.
Does the idea of a near-future romance sound like something created especially for you, or was that just me? If the answer is a resounding yes, then you should check out Hal. Anyone familiar with the girls' comics sub-genre in Japan will almost certainly recognise the character design, carefully created by manga creator Io Sakisaka, of Ao Haru Ride and Strobe Edge fame. Sakisaka's trademark fluffy-haired, starry-eyed youths are more commonly known from these series, but Kurumi and the titular Hal are anything but the school-going, innocent students that inhabit the pages of her other recent works.
Their difference from her usual characters is probably helped by the fact that even in Japan, there aren't many robot high-schoolers (or high-schoolers in their twenties, for that matter). For Kurumi and Hal, their story is a tale of living through the loss of a loved one in a very unusual way: with the therapeutic help of a hyper-realistic robot companion that mimics the deceased. It's hardly a common plotline in manga for girls, but Sakisaka's beautifully rendered characters never look out of place, as director Ryotaro Makihara and writer Izara Kizumi weave together a plot that allows their innocence to flourish while maintaining their adult behaviour.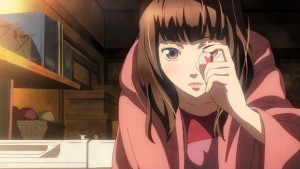 One of the reasons this works so well is likely because it's not Makihara's first foray into the near-future genre. He also worked on Summer Wars, a movie that focuses on the connections between people, both in the real world and online, with a definite feeling of "this could be us, soon". What this movie shares in common with Hal (his directorial debut) is not only the subtle sci-fi elements, but its thoughts on how people can relate to each other in our future. The characters in Hal experience a new way of interacting with one another – person to robot, and vice versa – and it's handled in a way that evokes the very best of girls' comics: the exploration of a relationship between two people over the course of the story, with the required moments of surprise throughout. With robots. And giant giraffes.
Surprisingly, Hal manages to feature a robot main character without feeling overly sci-fi, something it shares with another near-future romance, Time of Eve. While Sakisaka's characters have a more girlish, ethereal air than the main cast from Time of Eve, in which androids and humans interact in an environment where you don't know who is what, they both pull off the existence of robots in a decidedly slice-of-life fashion. Of course, there's nothing wrong with romances that are out and out sci-fi: it's worth noting that the character designer for Eve, Ryusuke Chayama, also designed the characters for Patema Inverted. It's not near-future (unless we're counting a few hundred years as near, in the grand scheme of things) but this movie also uses sci-fi as a vehicle for exploring how people form relationships in a changed world.
I think it's a great way of really pushing the boundaries of the romantic anime genre, which can sometimes blend into one long school drama, and if there are more collaborations like Hal in the works, I'll be watching from the front row seats. Go watch it – it'll convert you to the wonders of both fluffy-haired pretty boys and robot therapy, without those seeming a weird combination.
HAL is available in the UK from Anime Ltd.