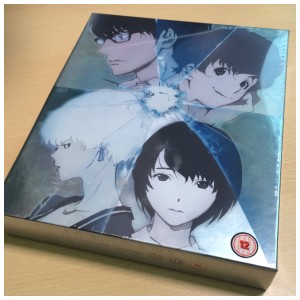 It's time for another edition of the Anime Limited Newswire. Read on below for the latest updates direct from Anime Limited HQ.
~ First of all, we're now just 5 days away from the arrival of our Terror in Resonance release! It'll be available as an Ultimate Edition Blu-ray/DVD set (pictured left) as well as standard DVD. We posted an unboxing of this yesterday, you can check it out HERE.
If you've not seen the show before, it's from the director of Cowboy Bebop and Space Dandy, Shinichiro Watanabe. You can watch the trailer below.
~ Also out this Monday is Kill la Kill Part 2 standard edition on Blu-ray and DVD. However in a late change to proceedings the standard Blu-ray and DVD of Miss Hokusai will not be released this Monday. We're very sorry for the lateness of this change and we'll have more details about this soon as possible for you.
~ In case you missed it on Friday last week, Durarara!! x2 Shou has been pushed to a tentative new date of 30th May. We posted a bonus edition of the Newswire to explain (and show you) why. You can find that HERE.
~ Following Terror In Resonance and Kill la Kill Part 2 next week, the next date for your calendars when it comes to releases from us is 2nd May as we'll be releasing the wonderful film A Letter To Momo. We're anticipating finished samples to arrive at our HQ any day and as soon as they do we'll share and unboxing with you. If you're not familiar with the film check out the trailer below.
~ Speaking of films, don't forget that if you're in Glasgow next week (Thursday 28th April) there'll be a very special screening of The Case of Hana & Alice that will feature a Q&A with the director of the film, Shunji Iwai at the Glasgow Film Theatre. If you haven't booked your tickets yet there's still time. Book yours HERE.
Check out the trailer for the film below.
~ For those of you looking forward to our release of Lord Marksman and Vanadis, we have an update about on-disc content for you. Obviously you know that our release includes the entire series in both English and Japanese with subtitles, but there is extra content too. These extras are 13 "Tigre and Vanadish" chibi theatre shorts, episode commentaries, a preview of the first episode, promotional video and the clean opening and closing title sequences to the series. We'll be releasing the series on a Limited Collector's Edition Blu-ray and standard DVD. You can order your copy from our web shop HERE.
~ We know a lot of you are wondering what we have planned for a number of our upcoming releases. Rest assured that there will be details coming very soon about these.
~ If you're going to MCM London Comic Con next month it was announced yesterday that the European Premiere of Gundam The Origin III will be taking place at the event! If that wasn't enough there will also be a special guest from Sunrise, the Japanese rights holder of Gundam, as Mika Akitaka, mechanical designer on a variety of Gundam titles, including Mobile Suit Gundam ZZ, and many other titles such as Martian Successor Nadesico. You can read about this at the MCM website HERE with more details to be confirmed soon.
We know a few of you have been asking and we can confirm this is a standalone screening and not part of an MCM Loves Anime type of event that was held during MCM London Comic Con last October. We are investigating whether another event like that might be possible at a future event.
You can watch a trailer for this below.
REPLACEMENT SCHEME UPDATE
Kill la Kill Part 1 [for units purchased at MCM London Comic Con in October 2014 only]
NOTE: This only applies to units purchased at MCM London Comic Con in October 2014. (Following the event the general retail release of this product was delayed and the error of the English dub being out of sync by 0.4 seconds during one of the episodes was corrected.)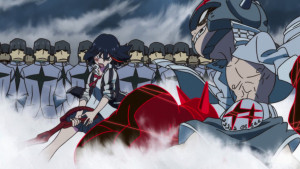 To apply for a replacement we ask that everyone who purchased this at MCM London Comic Con in October 2014 please do the following:
Send an email with the subject "KLK1 Replacement – MCM October 2014" to Jeremy@AllTheAnime.com
In this email please include:
– You full name (as it would be written on a parcel being posted to you)
– You full postal address
– a photo of your copy of Kill la Kill Part 1.
NOTE: We appreciate that some people may have sent emails to other Anime Limited personnel regarding wanting a replacement, but due to the length of time that has passed we ask that everyone who will have previous enquired about a replacement please send a new message to Jeremy. We apologise for any inconvenience, but this is to ensure we can fulfil these as quickly as possible.
UPCOMING EVENTS
Here you'll find a list of events we'll be attending during 2016. The looks small at the moment, but trust us it'll start looking packed very soon.
MCM London Comic Con @ Excel London, 27th-29th May
More events to be added soon!
And that concludes this edition of the Newswire. Be sure to keep an eye both here at our blog and on our social media channels for the latest news regarding Anime Limited along with some great reading material too.
Signing out~!
Jeremy