It's time for your latest edition of the Anime Limited Newswire. Bringing you up to speed on the latest happenings direct from Anime Limited HQ.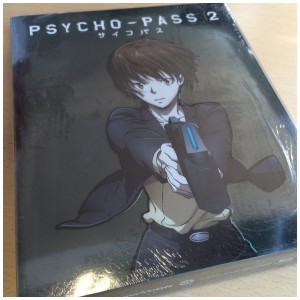 ~ First of all we're now only 5 days away from our release of Psycho-Pass 2 on Ltd Collector's Edition Blu-ray and standard DVD. We posted an unboxing of this earlier today, you can see that HERE.
~ Speaking of Psycho-Pass, tickets for the BFI Anime Weekender in London went on sale earlier today and the lineup features Psycho-Pass The Movie plus the UK Premiere of Project Itoh's Harmony, that will also feature a Q&A with the co-director Michael Arias, and a screening of The Empire of Corpses. You can buy tickets for these HERE.
~ Our next releases following Psycho-Pass 2 next week will be on 30th May in a packed lineup. That day sees the release of
Durarara!! x2 Shou (Ltd Collector's Edition Blu-ray, standard DVD)
Psychic School Wars (Ltd Collector's Edition Blu-ray, standard DVD)
Assassination Classroom (Ltd Collector's Edition Blu-ray, standard DVD)
Aldnoah.Zero Season 1 (Ltd Collector's Edition Blu-ray, standard DVD)
Following that, June 6th sees the arrival of
Rage of Bahamut: Genesis (Ltd Collector's Edition Blu-ray, standard DVD)
Lord Marksman and Vanadis (Ltd Collector's Edition Blu-ray, standard DVD)
After that on 13th June
Tokyo Ghoul √A [Season 2] (Ltd Collector's Edition Blu-ray, standard DVD)
~ We'll have more details on what to expect from our Collector's Edition of Rage of Bahamut: Genesis release very soon, but in the mean time we do want to make it known for those wondering that both the Blu-ray and DVD versions will include the entire series (12 episodes) with the English language and original Japanese audio with subtitles. As we say, more details to follow soon. If you're wanting to get your pre-order in early you can do at Amazon UK HERE.

~ With regard to Tokyo Ghoul √A, we'll have more info about this later this week for you. Stay tuned!

~ Following the news last week, we can now confirm the new tentative date for Lord Marksman and Vanadis is 6th June.

~ With regard to Aldnoah.Zero Season 1, SEE HERE for announcement late last week, for following our weekend pre-order special we're having another pre-order offer until 5pm this Friday. You can get the details of this offer at our web shop HERE.

~ Looking ahead to MCM London Comic Con, it's going to be a busy weekend for all of Team Anime Limited. At this time we can confirm there will be not one but two All The Anime panels across the weekend. The first being on Friday and the second on Sunday. There will be some additional things to keep track of across the whole weekend too, but we'll have more details on all of this closer to the event itself.

Also don't forget that the European Premiere of Gundam The Origin III will be taking place on the Saturday of the event! In addition to that there will be special guests from Sunrise in Japan, Mika Akitaka and Osamu Taniguchi, who will be taking to the stage the same day for a panel. You can read more about this HERE.

A reminder that this special event is free for all attendees of MCM London Comic Con on Saturday on a first come first served basis.

We do want to take a moment to note that this is an event being run by MCM Comic Con, so in terms of times and such it will be MCM who'll be confirming these details. Though at this time as far as we're aware it's likely that the Gundam The Origin III screening will be late morning/early afternoon and the panel with the guests will likely be at a time close to the conclusion of the screening. As soon as the details have been confirmed/announced we'll be sure to share them on our channels as well.

~ To help keep track of everything we'll be doing at MCM London Comic Con, we're going to be setting up a Facebook event at our Facebook page that will be going live tomorrow (Thursday 12th.) Be sure head over there and say you're attending so you can keep up with the latest news leading into event and during it as well.

~ Sword Art Online fans! We have some news concerning Part 1 of our Sword Art Online II Part 1 release. The first print run of our Ltd Collector's Edition Part 1 set that comes with the storage box is now out-of-print. You should still be able to get it from retailers for now, but we do want to make it known that this will be out of circulation soon.

However, don't worry you will still be able to get your hands on Part 1 Ltd Collector's Edition, except it will be without the box. For those of you keep track of such information, this reprint version will have a different catalogue number to the first print version. This will be ANI0165. You should start to see this version being available soon.
UPCOMING EVENTS
Here you'll find a list of events we'll be attending during 2016. The looks small at the moment, but trust us it'll start looking packed very soon.
MCM London Comic Con @ Excel London, 27th-29th May
– All The Anime panels on Friday and Sunday (times TBA)
– Gundam The Origin III European Premiere screening on Saturday +  Panel (Times TBA)
More events to be added to the lineup during this month.
And that concludes this edition of the Newswire. Be sure to keep an eye both here at our blog and on our social media channels for the latest news regarding Anime Limited along with some great reading material too.
Signing out~!
Jeremy
UPDATED: 12th May
Date updated on Tokyo Ghoul Season 2.