By Tom Smith.
Music and anime often go hand-in-hand. Watched Pokémon? Then it's your destiny to know the theme song, instinctively. Been keeping up-to-date with PSYCHO PASS or Tokyo Ghoul? Chances are that "Ling tosite sigure" means something to you, even if you are unsure how to pronounce it. Then, it is not too surprising that Studio Trigger chose a record label's YouTube channel to premiere the trailer for its latest production; Ninja Slayer From Animation.
The anime started life as a science fiction novel series penned by American authors Bradley Bond and Philip Morzez, and found its way to Japan via the wonders of the internet ­­– or more precisely, Twitter. The duo was propositioned (using a mere 140 characters!) to have their work translated into Japanese. After accepting, Ninja Slayer was swiftly picked up by publishing supremoes Enterbrain in September 2012, the magazine house behind the highly respected video game publication Weekly Famitsu. Since then Ninja Slayer has spawned three manga adaptations and now a 26-episode anime from Trigger, best known here for their gloriously zany series about school uniforms, Kill la Kill.
Ninja Slayer's trailer made its debut on King Records' YouTube account, the label which idol giants AKB48, Momoiro Clover Z (who recently collaborated with KISS) and K-pop group B.A.P. belong to. As well as being the first time the series had been shown off, the trailer contained another first: the first extract of new material from Japan's electronic pioneers Boom Boom Satellites (who, coincidently, are not part of King Records).
Much like Ninja Slayer, Boom Boom Satellites didn't enter into music in the conventional manner. Despite being based in Japan, the pair first really started gaining attention when they signed with Belgium's R&S Records towards the end of the 90s. The label was famous for electronic music, and suddenly Boom Boom Satellites were being thrust forwards by Europe's music media as the new electro heroes while still unknown in Japan. Even the famous British publication Melody Maker were leaving the pair raving reviews, comparing them to the likes of Chemical Brothers and The Prodigy while remaining utterly unique at the same time.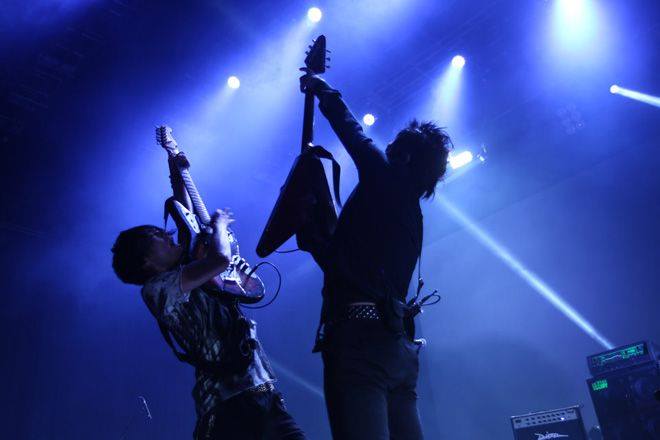 Boom Boom even had a brief romance with tie-ins, which included a track in Ridge Racer, as well as in a handful of anime, including Vexille, Xam'd and Appleseed, as well as the live action film Death Note: The Last Name.
More recently the band were picked up by JPU Records who released their previous album EMBRACE with a never before released bonus track. The album also featured songs used in Gundam UC as well as Starship Troopers: Invasion. They also recorded a concert entirely with 360 degree viewing angles, that when watched through an iPad or mobile device allows the viewer to navigate around the venue by simply moving their screen, way before YouTube started releasing 360 degree videos.
This year the band were due a return to Europe courtesy of Moshi Moshi Festival in Paris. Unfortunately, mere weeks before the event the group had to pull out due to vocalist Kawashima experiencing a relapse with an existing health problem. Sadly, it killed him this month, leaving the future of the Boom Boom Satellites in serious doubt.
The Boom Boom Satellites have plenty of music available from Amazon.