By Tom Smith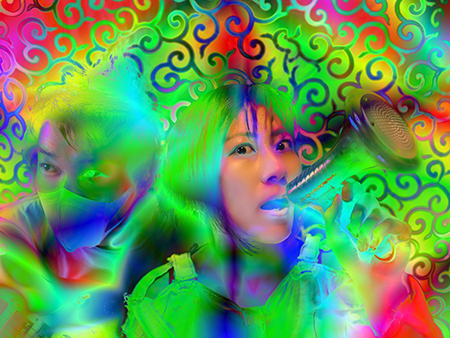 These days the boundaries of being an indie band can be difficult to define. Acts like England's own Enter Shikari, despite being signed to their own label, manage to achieve mainstream chart positions without the need for a major record company's backing. Yet, if you look at them, their site, their merchandise, their videos, they're every bit as well polished as anything the majors can dish out. Then there's Japanese punk-noise legends Melt Banana, with their Geocities homepage which hasn't changed in their 20-something years as a band.
Another thing that hasn't changed in over two-decades is the group's violent assault of avant-garde mixed with hardcore. iTunes claims the band is best enjoyed in small doses, which may explain their vast catalogue of singles and EPs, and their 2005 compilation 13 Hedgehogs which collected a massive 56-tracks of material not found on albums. This year saw Return of 13 Hedgehogs, another large collection of off-album material, including their take on Devo's Uncontrollable Urge.
2015 also saw Melt Banana tour America again, as well as contribute a song for Ninja Slayer from Animation. The track, cheekily named Halo of Sorrow from Animation, is an explosive, fast-paced punk romp featuring their usual aggressive, hard-hitting electronics matched with guitarist Agata manic riffs and Yako's high pitched vocals.
Melt Banana is, and always has been, centred around Agata and Yako. Agata takes care of programming the majority of backing tracks as well as guitar duties, while Yako pens the lyrics and some of the music. They also have buddies occasionally help them out, both on stage and in the creative process. Their Geocities site lists at least 14 different musicians that have helped them at various stage through Melt Banana's history, and states that many others have also been involved.
They've also managed to accumulate a throng of high-profile fans, including Steve Albini, Kurt Cobain and Lou Reed, as well as John Peel, whose show the band's tunes were regularly played on. Despite their underground sound and mentality, Melt Banana were also influenced by a number of big names (as well as a "bowl of asparagus soup they once had in Germany"), and often covered these tracks on record or during live shows. Most notably several covers from punk legends The Damned, to some not so obvious covers, like Bing Crosby's White Christmas and Louis Armstrong's What A Wonderful World.
Ninja Slayer has a fantastic line-up of classic and up and coming indie bands from Japan. The series kicks off with another noise legend from Japan; Boris, who also return with another track in episode 11. There's also Taffy, Ling tosite sigure, 8otto, MOJA and Lillies and Remains, who have all played in the UK various times, as well as 80KIDZ, 6EYES and loads of other great bands. Ninja Slayer: The Album? Sign me up.
Ninja Slayer is set for release in the United Kingdom on Blu-ray/DVD by Funimation. (This is a title being distributed by Anime Limited.)