Podcast – 6th April 2020
April 6, 2020 · 0 comments
ALL THE ANIME PODCAST – 6th April 2020
"Surface Level Mr. Benn"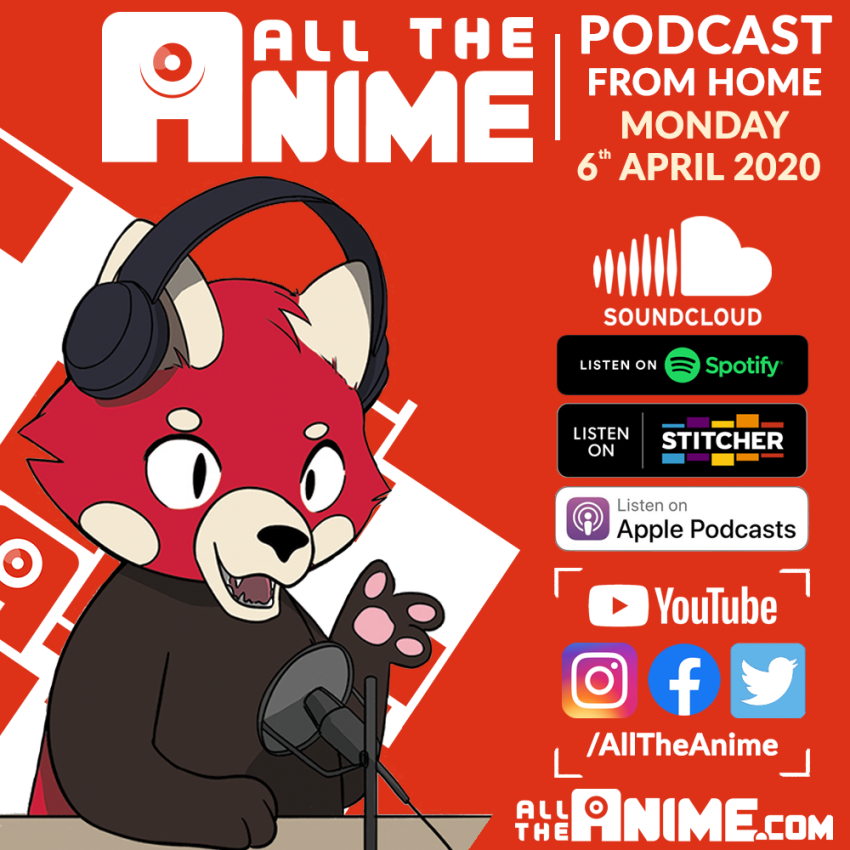 It's the start of a new week, which means Jeremy Graves and Andy Hanley are back to bring around 50 minutes or so of fun times in the world of anime!
Today on the show, the focus is very much on what they've been watching over the weekend with some first impressions on Mobile Suit Gundam 0083, before heading into the world of new shows that have started simulcasting as part of the Spring Season!
There's talk on the first episodes of Tower of God, Gal x Dino, Gleipnir, Sakura Wars: The Animation and Kakushigoto! (You can find the corresponding streaming service links in the show notes section below.)
Then before we wrap up there's time to quickly delve into the questions from the community pot, with the selection today being about credit being translated or not translated on anime releases.
—-
WATCH-A-LONG DISCUSSION EPISODE TOPIC FOR FRIDAY: Escaflowne episodes 1-3!
That's right, on the show this Friday we'll be talking about the the first three episodes of this classic series that you can stream dubbed completely for free on Channel4's All4 service, and/or purchase on Blu-ray/DVD from our AllTheAnime.com online shop today!
—-
If you want simply add to the pool of questions already submitted for when we dive into them, you can do so via Twitter/Facebook/Instagram and be sure to including the tag #AskAllTheAnime so we know it's a comment directed for the podcast and we'll be reading any feedback/comments receive on our next podcast, being recorded on Wednesday!
APPROX TIME CODES FOR THIS EPISODE –
00:00 – 06:29, Intro, details on Easter Sale at AllTheAnime.com and upcoming releases.
06:30 – 18:03, Discussion on Mobile Suit Gundam 0083
18:04 – 42:12, What we've been watching from the start of the Spring Season: Tower of God, Gal x Dino, Gleipnir, Sakura Wars: The Animation and Kakushigoto
42:13 – 49:54 [END], Question from community on credit translations, show close incl. announcing next Watch-a-long topic.
---
SHOW NOTES / REFERENCES –
Watch Escaflowne on Channel 4's All4 service HERE
Details on AllTheAnime.com Easter Sale HERE
Pre-order our Blu-ray release of Mobile Suit Gundam 0083 HERE
Watch Tower of God on Crunchyroll HERE
Watch Gal.x Dino on Funimation HERE
Watch Gleipnir on Funimation HERE
Watch Sakura Wars: The Animation HERE
Watch Kakushigoto on Funimation HERE
Order the FLCL CD Soundtrack from our AllTheAnime online shop HERE
Order the Persona5: The Day Breakers OVA Blu-ray from our AllTheAnime online shop HERE
---
NOTE: As always please note this podcast may contain strong language and any views expressed by individuals in this podcast do not reflect those of Anime Limited.

(To download the podcast as an mp3, click on the arrow pointing down in the top right corner of the player above.)
There is also a Soundcloud app available on both iTunes and Google Play, so you download and listen to our podcast through there as well.
---
Have a nice weekend everyone and we'll speak to you on Monday!
Signing out~!
Jeremy