Podcast – 5th May 2020 (Re:ZERO "The Frozen Bond" OVA)
May 5, 2020 · 0 comments
"Super Dragon"

Jeremy and Andy are back to discuss the Re:ZERO "The Frozen Bond" OVA on Crunchyroll, plus talk about anime productions this season announced as completed and more.
---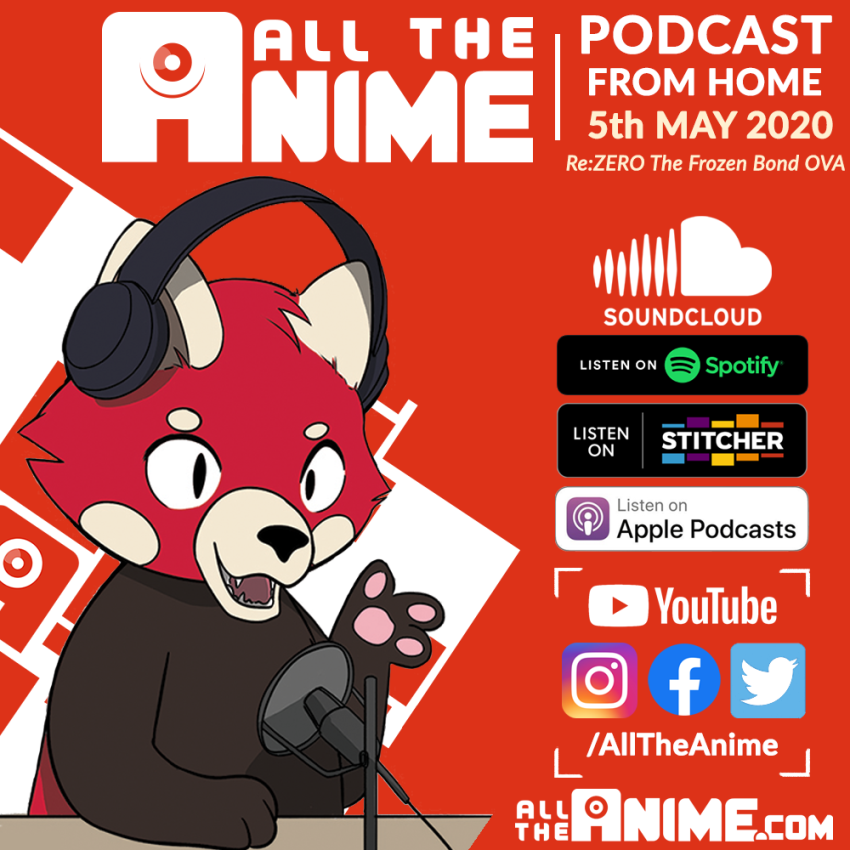 Jeremy and Andy are back with the first show of the week!
Today, after some brief discussion on Gankutsuou: The Count of Monte Cristo as well as an update on our release of Never-Ending Man: Hayao Miyazaki, they go into detail on the anime series from the current season that are confirmed as having completed production and not being impacted due to COVID-19, plus some talk on other productions and companies that may completed certain elements of their productions.
After that discussion switches to what they've been watching. The primary focus of today if the Re:ZERO "The Frozen Bond" OVA that debuted on Crunchyroll last week and we get onto that in quite some detail, but not before we also talk about the third episode of My Next Life as a Villainess: All Routes Lead to Doom. So we get into detail with thoughts on that episode.
Then we get onto Re:ZERO "The Frozen Bond", we split our discussion into two sections, starting off in a spoiler free way, before talking in more specific detail (i.e. spoilers) about particular elements of the story in this OVA.
——-
QUESTION FOR LISTENERS: We talk about this during the close of the show, but in an effort to potentially evolve the podcast in some the other way, would people be interested in us doing a live stream video podcast via our YouTube channel?
It's something we're considering, but obviously any feedback on if this would be something people are interested in would be very helpful.
——-
A fun show as always! We'll be back on Friday with our next episode!
If you want to share you thoughts with us on anything discussed, or simply add to the pool of questions already submitted for when we next dive into them, you can do so via Twitter/Facebook/Instagram and be sure to including the tag #AskAllTheAnime so we know it's a comment directed for the podcast and we'll be reading any feedback/comments receive on our next podcast. Or post your thoughts in the comment section below.
APPROX TIME CODES FOR THIS EPISODE –
00:00 – 07:09, Intro, brief talk on Gankutsuou (as it's on special offer),
07:10 – 22:12 , An update on anime productions that have not been pushed back due to COVID-19
22:13 – 32:50, Discussion on My Next Life as a Villainess: All Routes Lead to Doom
32:51 – 46:01, Our experiences with the Re:ZERO franchise, Spoiler Free discussion on "The Frozen Bond" OVA
46:02 – 56:28 , Spoiler based discussion on Re:ZERO "The Frozen Bond",
56:29 – 59:21, Show close; would people be interested in a video podcast from us?
---
SHOW NOTES / REFERENCES –
---
NOTE: As always please note this podcast may contain strong language and any views expressed by individuals in this podcast do not reflect those of Anime Limited.
(To download the podcast as an mp3, click on the arrow pointing down in the top right corner of the player above.)
There is also a Soundcloud app available on both iTunes and Google Play, so you download and listen to our podcast through there as well.
---
Have a nice weekend everyone and we'll speak to you on Monday!
Signing out~!
Jeremy