Some of you eagle eyed folks out there have likely noticed that this title has had a listing on our online shop and other retailers for a fair few weeks at this point, but today we've got our dancing shoes on and are putting the spotlight on our upcoming release Welcome To The Ballroom: Part 1, that'll be arriving as a Ltd Collector's Edition Blu-ray set on 26th June 2019… just a few weeks from now!
If you're not familiar with the series, don't fret as we'll give you an introduction before diving into what you can expect from our release – which it's worth noting that we're the first English-speaking territory in the world to bring this series in any form to home video!
---
ABOUT WELCOME TO THE BALLROOM
Synopsis: "Middle school student Tatara Fujita is a young man living a directionless existence – desperate to change and find a true calling to pursue though he is, there's simply nothing in his life to provide the spark that he needs to ignite his passions.
All of this changes one day when Tatara spots a fellow student entering the door of the Ogasawara Dance Studio. Saved from bullies by a cool, calm and collected stranger, the next thing Tatara knows he's dragged into the studio for an impromptu trial and is transfixed by a whole new world – a world of supreme confidence borne from an upright posture… of almost inhuman body movements and gyrations… of talented dancers shouting out to the world to look at them.
There's no doubting Tatara's determination to look good on the dance floor, but does he have what it takes to make a name for himself in the cut-throat realm of professional ballroom dancing? With professional and personal rivalries to deal with, and a cornucopia of new demands both mental and physical providing plenty of new challenges, it's going to take more than sheer will to reach the heights of the competitive ballroom scene. As he makes friends and mentors along the way, Tatara soon learns that it takes far more than two to tango."
Director: Yoshimi Itazu (Pigtails)
Studio: Production I.G (Ghost in the Shell, Haikyu!!, Kuroko's Basketball)
You can check out a subtitled trailer for the series, originally published prior to it's Japanese broadcast, below
---
WHAT'S PLANNED FOR THIS RELEASE?
As we mentioned earlier, Part 1 will be available as a Blu-ray Ltd Collector's Edition set from 26th June 2019. We're the first English speaking territory in world to be giving this series a home video release of any kind, so we're very excited about this! Here's a look at what Part 1 will look like: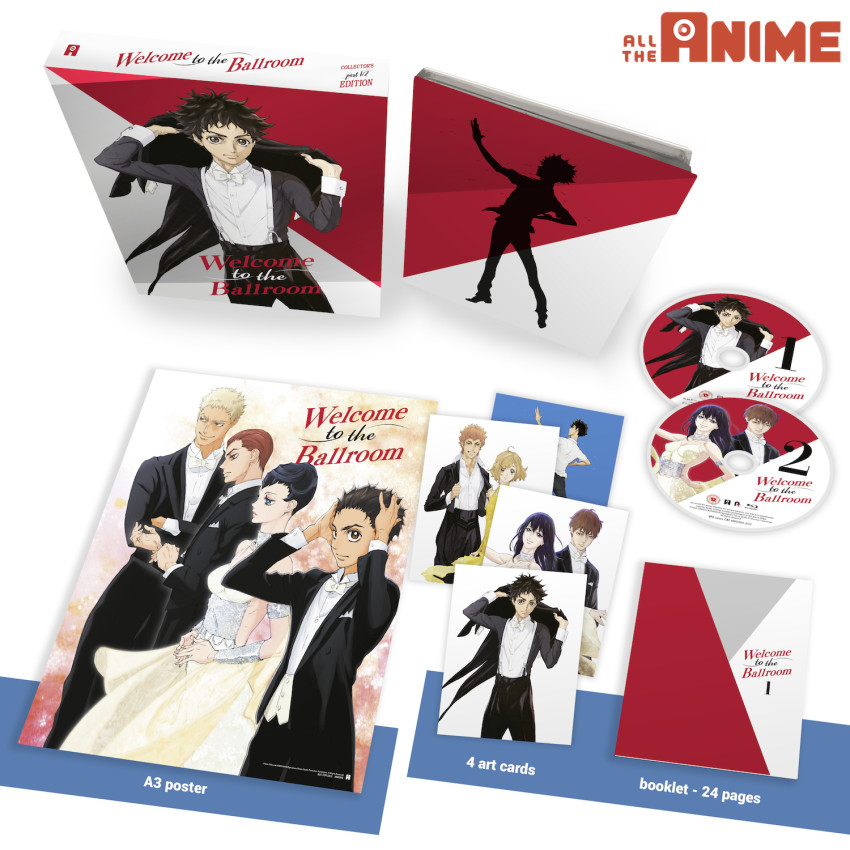 As you can see, following in our traditional Collector's Edition formula, the set will come packed in a rigid case. Inside that you will find a Digipak that holds the two Blu-ray discs. Additionally inside you'll find an A3 poster, a set of art cards and a 24-page booklet that includes character art & information, a gallery of images from the series, an interview with director Yoshimi Itazu commenting on the opening title sequence to the series and an interview with Masako Sato (ending theme storyboard and director for episodes 1-11) commenting on the ending title sequence.
On the two Blu-ray discs themselves – which for those of you curious are both BD50s – you'll get the first half of the series (episodes 1-12). Worth noting that the series has never had an English dub produced, so the series is in Japanese with English subtitles only.
---
WHERE CAN I ORDER THIS?
We're happy to say that we're taking orders for this right now at our AllTheAnime.com online store right now, so don't miss your chance to grab it early at a special price!
~ AllTheAnime.com Special Offer ~
Until Thursday 13th June 2019 pre-order Welcome to the Ballroom for £34.99 (SRP: £59.99)

You can also pre-order this from retailers right now including the following –
Order at Amazon UK
Order at Zavvi.com
Order at Anime-On-Line
---
That concludes this preview of our release of Welcome to the Ballroom: Part 1. We hope you're looking forward adding this series to your collection!
Signing out~!
Jeremy