PROMARE Comes to Blu-ray & DVD on 29th June
May 8, 2020 · 3 comments
It's hard to believe it was back in November last year that we brought PROMARE, the first full length feature film from Studio Trigger, to cinemas around the UK. Since that cinema release we've received and seen so many comments from people excited for our home video release of the film, and more specifically excited to see what we have planned!
Well, today is the day we can finally tell you exactly what we have planned and when to expect our release, which is a little later than previously announced but with very good reason!
So let's cut to the chase; our Collector's Edition, standard Blu-ray and standard DVD versions of PROMARE will now be arriving on Monday 29th June – about 4 weeks later than originally intended. While this is partly due to the current circumstances, more importantly this date has shifted as we've been able to secure the opportunity to add something extra special into our Collector's Edition set that we're genuinely super excited about, and we're sure you guys will be happy about too.
If you're feeling impatient, then you can pre-order your copy from our AllTheAnime shop right now, but once you're done be sure to read on for all the juicy details on what's included!
ORDER AT ALL THE ANIME SHOP HERE
All set? Read on below for all the details.
---
ABOUT
PROMARE
The first feature-length film from the acclaimed studio TRIGGER, creators of the hit series KILL la KILL and Little Witch Academia, and director Hiroyuki Imaishi (GURREN LAGANN, KILL la KILL), Promare uses a bold cel-shaded visual style to tell a blistering action-adventure story, and is the spiritual successor to many of director Imaishi's former works.
Studio: Trigger (Kill la Kill, Little Witch Academia, Kiznaiver)
Director: Hiroyuki Imaishi (Gurren Lagann, Kill la Kill)
Synopsis: Thirty years has passed since the appearance of Burnish, a race of flame-wielding mutant beings, who destroyed half of the world with fire.
When a new group of aggressive mutants calling themselves "Mad Burnish" appears, the epic battle between Galo Thymos, a new member of the anti-Burnish rescue team "Burning Rescue," and Lio Fotia, the leader of "Mad Burnish" begins.
Check out a trailer for the film (originally published ahead our UK/Ireland theatrical screenings back in November) below.
---
WHAT'S PLANNED FOR YOUR RELEASE?
There will be three versions available on 29th June 2020: Collector's Edition; standard Blu-ray and standard DVD. Let's kick things off with the Collector's Edition.
~ COLLECTOR'S EDITION VERSION ~
Product: PROMARE
Format: Blu-ray Ltd Collector's Edition
Release date: 29th June 2020
Cat. No.: ANI0559
Suggested Retail Price*: £39.99
*Suggested retail price is the maximum price a retailer could charge for the product. However, once retailers factor in their own discounts, the regular price will be cheaper. 
We know a lot of you will opting for this limited edition version of the film to add to your collection so we've done our best to go all out as much as we can to bring you a product we're truly proud of! So much so that there is a fundamental change we need to make mention of from the outset.
Originally this was to be a Blu-ray+DVD Collector's Edition set. However, the DVD will no longer be included. This is now a Blu-ray Collector's edition because… we got clearance to be able to include the official CD soundtrack of the film by Hiroyuki Sawano (Attack on Titan, Kill la Kill, Mobile Suit Gundam: Unicorn) in our release! (This is the other additional awesome reason why the release date was moved to June we hinted at) You have no idea how delighted we are that we have been able to get clearance to be able to include this!
But now that we've spoiled that part of what's included, let's give you a full rundown.
The set will come packed in a rigid case with an embossed element to it – a first for one of our products – inside that you'll find a foldout digipack that will house the Blu-ray and CD soundtrack discs.
Additionally inside you will find a 52-page booklet that is packed with Character & Rescue Gear profiles, a look behind-the-scenes at particular elements of the film, interviews with Hiroyuki Imaishi (Director), Kazuki Nakashima (Screenplay), Shigeto Koyama (Character Design) and Hiroyuki Sawano (Music), and a gallery of promotional art.
And as if that wasn't enough, there will also be a 128-page English script book (yes,128-pages) containing the script for the entire film in English that Studio Trigger were directly involved in adapting!
And because even that wasn't enough for us, to round things off there will also be a PROME POLIS decal sticker and a poster of the key visual for the film included too! So with all that being said, here's a visual of how everything will look for you –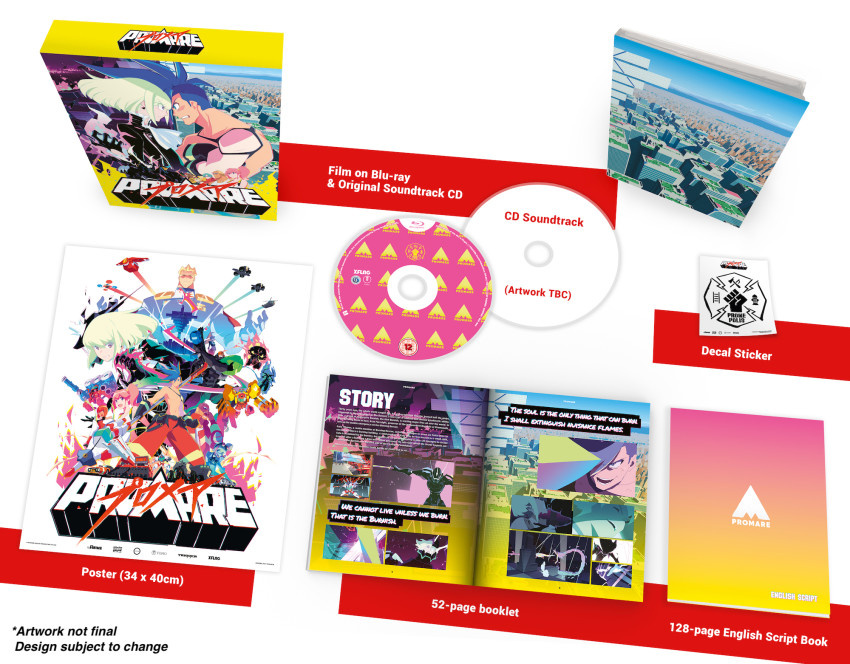 Please note that at time of writing we're waiting for final sign off on the art that will be used on the CD Soundtrack.
On the Blu-ray disc, you'll of course get the entire film in both English and original Japanese with English subtitles. Extras wise on the Blu-ray there will be –
An interview With Director Hiroyuki Imaishi
Studio TRIGGER Roundtable
"Side: Galo" And "Side: Lio" Short Films with both English and original Japanese with English subtitle viewing options *These were not shown in UK cinemas!
Behind The Scenes With The English Cast
So as you can see from the above, and as we put a little note next to the mention of it as well, YES the two "Side: Galo" and "Side Lio" shorts will be included as extras on the discs – both can be watched dubbed and subtitled!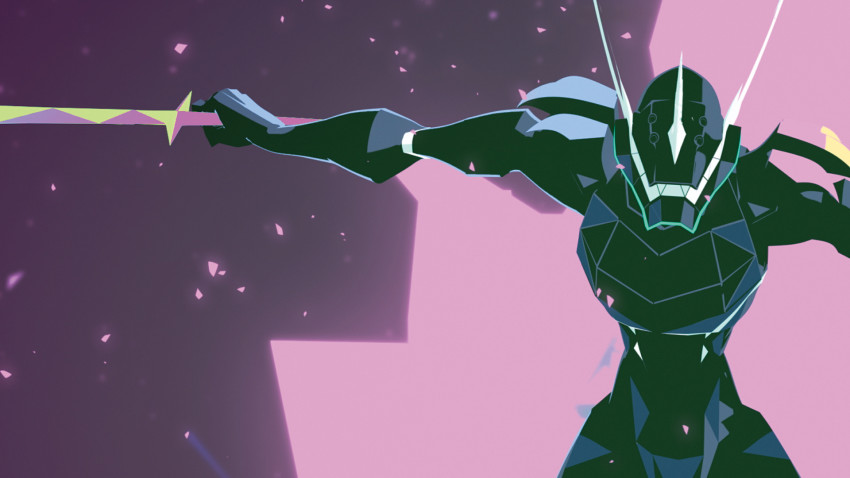 For those curious, the track listing of the CD soundtrack is as follows –
INFERNO
PRO//MARE
GAL-OTHY-MOS
ASHES
WORLDBIGFLAMEUP
PROMARETHEME
BANGBANGBUR!…N?
NEXUS
BAR2TSUSH
DEUSPROMES
FANFAREPIZZA
ASHES -RETURNS-
BURNING RESCUE
BURNING FORMATION
904SUITE
REG-GIRT
RE:0
PIROMARE
GALLANT ONES
STRE:0INGS
HINOYOUJIN
And finally, for those of you wondering, here's what both sides of the rigid case will look like –
So, to quickly summarise the contents –
The film on Blu-ray plus the on-disc extras noted above
The soundtrack by Hiroyuki Sawano on CD
52-page booklet
128-page English script book
PROMARE POLIS decal sticker
Poster (34cm x 40cm)
We hope you're looking forward to showing your burning passion for PROMARE and adding this to your collection! Details reflecting the information noted above will be getting updated with other retailer listings accordingly, so if they aren't showing this information at time of writing there's nothing to worry about on that front.
Pre-order your copy today!
---
~ AllTheAnime.com Special Pre-order Order Offer ~
It's a special release, so we've got an extended duration offer for you! Until Thursday 21st May 2020 (or while stock lasts) pre-order the Ltd. Collector's Ed. Blu-ray set for £24.99
(SRP: £39.99)
---
~ STANDARD BLU-RAY AND DVD VERSIONS ~
Product: PROMARE
Format: Blu-ray (standard edition)
Release date: 29th June 2020
Cat. No.: ANI0560
Suggested Retail Price*: £19.99
—–
Product: PROMARE
Format: DVD
Release date: 29th June 2020
Cat. No.: ANI0561
Suggested Retail Price*: £17.99
*Suggested retail price is the maximum price a retailer could charge for the product. However, once retailers factor in their own discounts, the regular price will be cheaper. 
Of course, if you're someone who's simply wanting a regular Blu-ray and DVD of the film, we will have you covered on that front too!
You can pre-order both of these versions right now from retailers, and of course you can pre-order them from our AllTheAnime.com online shop too!
---
And that's everything you need to know about our release of PROMARE! We hope your fired up for it; it'll be well worth the wait!
As mentioned you can pre-order this right now from our AllTheAnime.com online shop, as well as other retailers including Amazon, Zavvi, Base, HMV Online and Anime-On-Line.
Have a good weekend everyone.
Signing out~!
Jeremy
3 comments
Emanuele Barone

May 8, 2020 4:38 pm

Yeah, I didn't even wait to see this blog post, I got the newsletter and it was ordered in a snap of the fingers. You guys are so bad for my wallet. XD

Alissa Calkins

May 9, 2020 5:36 am

Same xD

Marine

May 9, 2020 12:52 pm

For the blu-ray, I'm in the B zone. Can my player read it? Everything looks so cool ! :D