By Andy Hanley.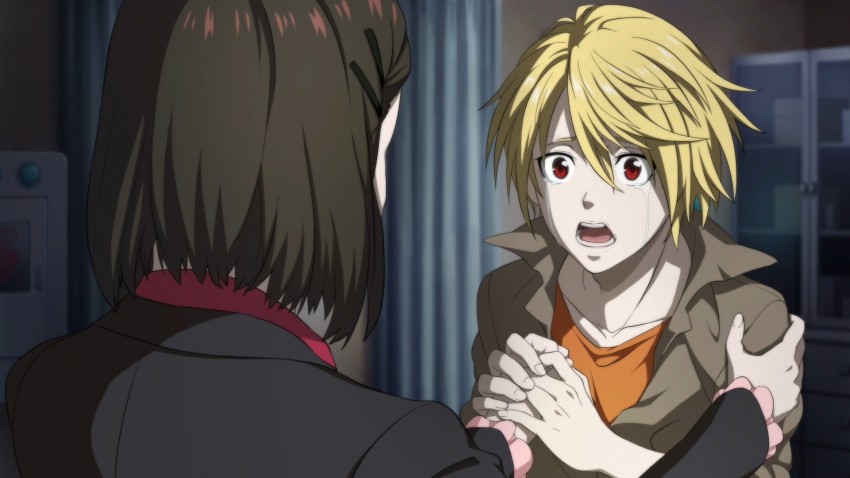 Over the course of two TV anime series and one movie, Psycho-Pass has done plenty to explore its imagined dystopian future where the Japanese populace's mental state is constantly monitored and checked for the slightest hint of criminality. But, for all of its efforts, there is still no shortage of other elements of this fascinating, terrifying future to delve into, and that's where "visual novel" Mandatory Happiness comes into play.
Slightly confusingly for existing fans, the game is set up as an aside of sorts somewhere in the midst of the TV show's first season – Akane Tsunemori is already ensconced as an Inspector, Kogami is present and correct as one of the team's Enforcers, and Shogo Makishima might not yet be a name on the lips of the MWPSB but he's certainly at large as he puts in an appearance from time to time.
Into the midst of this group we're introduced to two new individuals, both of which serve as our player characters. First there's newly qualified Inspector Nadeshiko Kugatachi who has somehow landed the job in spite of severe memory loss issues. Then we have new Enforcer Tsurugi Takuma, who joins the MWPSB in the hope that his role can give him some clues to find a missing female friend, the disappearance of whom was largely responsible for the clouding of his Hue to the point where he was classed as a latent criminal.
It doesn't take a detective mastermind to figure out the relationship between these two characters, so the main thrust of the story actually resides elsewhere. More specifically, our antagonist for the game is Alpha, a state-of-the-art AI gone rogue in a storyline more reminiscent of Ghost in the Shell than Psycho-Pass. Alpha has somehow decided that his role in the world is to make everybody happy – but how to go about that in the world of the Sibyl system and both the strains and benefits inherent to it? The answers he comes to are logically sound become increasingly distressing, and the fallout from his escalating efforts quickly become priority number one for Division 1's members.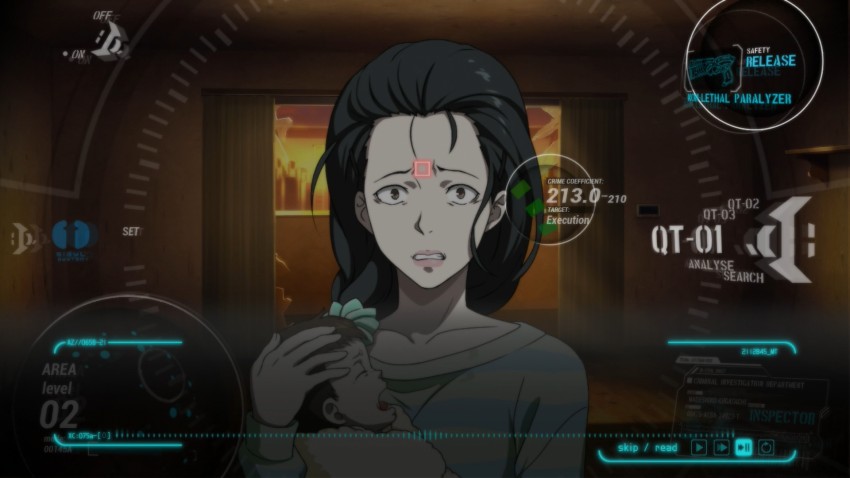 While the question "how would an AI interpret the Sibyl System's rules and goals?" is clearly the main thrust of Mandatory Happiness' narrative, it's actually the opportunity to dig more deeply into the wider world of Psycho-Pass that offers up the tastiest morsels for fans of the franchise. For example, we get to ponder the impact upon monitoring the mental state of the populace has upon relationships and dating, especially for teenagers and the tempestuous relationships that tend to underpin those years of your life. Psycho-Pass has previously dropped hints that the Sibyl system can offer dating advice (a dystopian analogue to OK Cupid, you could say) as readily as it does career and lifestyle guidance, but here we see this state of affairs played out in a far more disturbing fashion.
Similarly, the game also offers other glimpses into the struggles of life when your mental state is constantly monitored, whether it's a mother trying to cope with a new-born child, the dangers of the medication culture which the Sibyl system has created and encouraged, or even the simple act of being offered a home-cooked meal. This offers a depth of experience that the anime inevitably never has the time to cover.
This even extends to the player's own experiences within the game – while your main job throughout is to play detective and shape how Division 1 investigates, you're also tasked with keeping your own Psycho-Pass in check via regular prompts to evaluate your Hue and take medication if necessary. Get your self-medication wrong, and things might take an undesirable turn…
Even if its core story isn't always the strongest – and it certainly doesn't offer up many surprises – the broader experience of Mandatory Happiness offers a fascinating insight into its world that you won't find anywhere else. Whether you enjoy the sci-fi angle of the series and what it has to say about our own society, or whether you're simply a sucker for a good crime procedural and want to live out a case for yourself, this game offers a new dimension to Psycho-Pass that succeeds in elevating the franchise as a whole in some decidedly interesting ways.
Psycho-Pass: Mandatory Happiness is available on both the PlayStation 4 and PS Vita from NIS America