By Andy Hanley.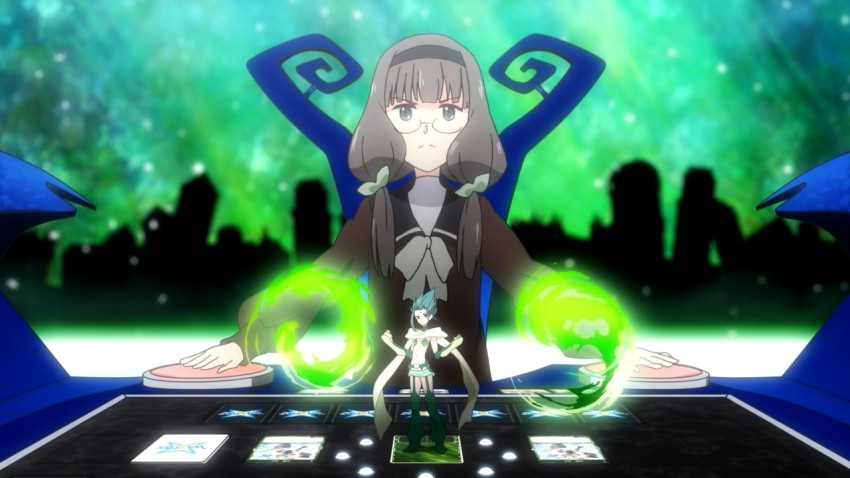 We've probably all heard – or perhaps even used – disparaging remarks around an anime series that refer to it as a "glorified trading card commercial" or "blatant toy advertisement". It's an accusation that can have some merit at times, but it also forgets that the very foundations of anime are its ability to market various goods, be it the source material in the form of a manga, light novel or game, or other merchandising goods such as model kits, figures or card games.
This kind of cheap shot also ignores the fact that you can build an anime merchandising powerhouse while still creating works that hold up to critical scrutiny – Mobile Suit Gundam is more than just an advert for model kits to those who watch it, as a prime example of a franchise that juggles marketability with decidedly grown-up ideas and narratives.
If ever a series could serve as the poster child to dispel that "glorified trading card commercial" put-down, it's Selector Infected WIXOSS. Yes, this series was commissioned to promote Takara Tomy's WIXOSS (pronounced "Wick-Ross", by the way) card game, but rather than take the easy route of spending week after week following sweet girls having fun and making friends playing the game, things couldn't be much more different.
Instead Selector Infected WIXOSS' story, penned by the acclaimed Mari Okada, takes its most obvious inspiration from Puella Magi Madoka Magica, crafting a dark tale where deeply-held desires come back to haunt their holders in the most horrifying ways possible.
The lead is Ruko Kominato, a quiet girl who leads a simple (albeit slightly lonely) life living with her grandmother. An opportunity to make some new friends presents itself in the form of a WIXOSS card set, within which she finds a highly unusual card – a nod towards the drive to discover the rarest cards amongst players – which is more than just some foil-backed masterpiece but an actual sentient girl contained within its laminated boundary.
The card is known as a LRIG, yes, that is simply GIRL written backwards. She names it Tama, and becomes a "Selector" – a chosen one amongst WIXOSS players who holds in her hand the ability to have any wish she desires granted, provided she can beat enough fellow Selectors to qualify.
Of course, this is where the Madoka Magica comparison really kicks into overdrive – without spoiling too much, there's a rather large catch to this promise of wish fulfilment, affecting not just the Selector in question but also those she battles against. Nonetheless, Ruko's involvement as a Selector does help her make new friends, even if their bonds are tested to their limit as they begin to learn just what they have become embroiled in, often in distressing fashion.
Make no mistake though, this is more than just a rehash of SHAFT's magical girl megahit with a trading card-based coat of paint, and Selector Infected WIXOSS is arguably more interested in its characters and the personal cost of the world they're immersed in than the machinations of that world itself. Whether it's the vanity of an upcoming fashion model or the heart-rending despair of a girl in love with her brother (which plays very differently from the slew of incestuous fare sloshing around the anime industry), the series creates relatively believable young teenage characters. It puts psychological pressure on them until they break, making for uncomfortable but compelling drama that equally believably pushes the girls away from the kind of parental assistance that would normally resolve such problems in two minutes flat.
There's also something to be said for Selector Infected WIXOSS' visual treatment. It's a frequently moody affair that becomes more bleak and drab. As its players become mired in their unique circumstances, it is frequently broken only by the kinetic swathes of noise and colour that break into the series to represent the battles between Selectors.
At the end of this first season you'll have to steel yourself for more in Selector Spread WIXOSS, which moves things in even more drastic directions, as well as a forthcoming film scheduled to arrive in Japan some time in 2016. But even without these additional layers to its tale, Selector Infected WIXOSS is a well-written piece of psychological drama that rises far above its origins. In fact (and don't tell Takara Tomy this), it's sufficiently believable in the supernaturally-tinged reality it depicts to make me never want to buy a pack of WIXOSS cards, just in case…
Andy Hanley is the Editor in Chief of UK Anime Net. Anime Limted will be releasing Selector Infected WIXOSS on Blu-ray and DVD in February 2016.