Silver Spoon UK Blu-ray details!
May 3, 2019 · 0 comments
The time is near! Many of you have been wondering when you might (finally) be able to get your hands on the popular agriculture anime Silver Spoon and today we're delighted to announce that season 1 will be getting released on 3rd June 2019, with the second season to follow in July 2019!
We're very excited about releasing this show for a number of reasons: the first being that's is a really great fun show conceived by the creator of Fullmetal Alchemist, Hiromu Arakawa! But the second because we (AllTheAnime) will be the first English speaking territory in the world to release the series on Blu-ray!
Both seasons will be getting released as Limited Collector's Edition Blu-ray sets, and we'll delve deeper into what they'll look like and such below. But before we go any further, a quick introduction for any of you not familiar with the series.
---
ABOUT SILVER SPOON
Original Creator: Hiromu Arakawa (Fullmetal Alchemist)
Director (Season 1): Tomohiko Ito (ERASED, Sword Art Online)
Studio: A-1 Pictures
Synopsis: "The only reason why Yugo Hachiken decided to attend the Oezo Agricultural High School (a.k.a Ezono) was simply because the school had a dormitory. Entering Ezono was a way for Yugo to run away from the stifling academic pressures in the city, however, it didn't take long for him to realize that life is not that simple.
Yugo is soon forced to face more hurdles in his new environment surrounded by all the farm animals and the magnificent Mother Nature. He also begins feeling a different kind of pressure as he deals with his classmates who, unlike him, all have a clear view of what they want for their futures. Even so, as Yugo overcomes one challenge after another at Ezono and deepens his bonds with his classmates, he begins to grow stronger both physically and mentally.
This is a coming-of age story filled with sweat, tears, and literally a lot of dirt!"
Here's a quick trailer for you:
---
WHAT'S INSIDE SEASON 1? WHAT'S ON THE DISCS?
Let's begin with Season 1. As we mentioned it'll be getting released as a Limited Collector's Edition Blu-ray set. Here's what that will look like –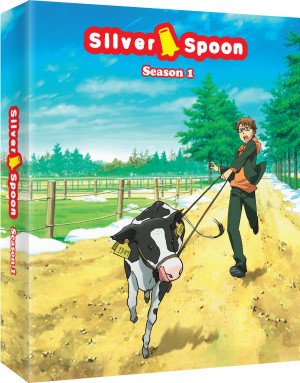 As you can see, following our traditional Collector's Edition style it'll all come packaged in a rigid case (top left) and inside that will be a digipack to house the two Blu-ray discs (top right). (Both discs being BD50s, for anyone wondering.) Additionally there'll be 5 art cards as well as an A3 sized poster!
Across the two Blu-ray discs you'll get the entire first season (11 episodes), with episodes 1-6 on the first disc, and episode 7-11 on the second. It's worth noting that the entire series was never dubbed into English, so this is a subtitled only release, in Japanese with English subtitles. (The audio being Linear PCM 2ch for anyone curious.)
Additionally you get some promotional videos for the series plus textless opening and ending title sequences as extras across both discs.
---
~ AllTheAnime.com Special Pre-order Offer ~
Until Thursday 9th May 2019 you can take advantage of a limited-time pre-order offer on Season 1 of Silver Spoon! You can order it from our AllTheAnime online shop for only £34.99 (SRP: £59.99)
---
WHAT'S INSIDE SEASON 2?
Now that you know what Season 1 will look, we're sure you're curious about what the second season will look like when it's released in July 2019? So here's a first look at that –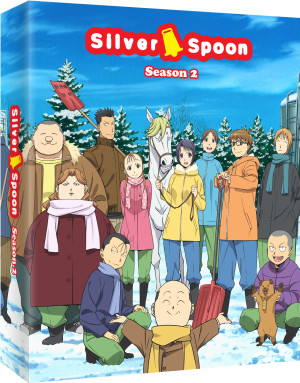 In keeping with the same theme set with Season 1, Season 2 will come packed in a rigid case with a winter theme to it; to match the setting of the second season. Inside you'll find a digipack to house the two Blu-ray discs, and you'll find 5 art cards and an A3 poster inside too!
Disc wise, once again the season will be spread out over two BD50 Blu-ray discs. Slight peek behind the curtain here, but we're currently in the process of finalising these discs, so we don't have the exact episode split locked in yet, but probably fair to assume it'll match Season 1. Extras are unconfirmed at time of writing.
Season 2 will be coming in July 2019 (exact date to be confirmed soon) with pre-orders for this commencing nearer the time of release. But in the interim you can checkout the listing for this at our AllTheAnime online shop HERE.
---
And that about wraps up this preview of our releases of Silver Spoon! We hope you're (finally) looking forward to adding this to your collection!
Signing out~!
Jeremy