By Andrew Osmond.
Sound! Euphonium might be subtitled This is not K-On!, and not just as a joke. This series really isn't another K-On!, though the parallels are obvious. Both shows focus on schoolgirls in music clubs; both were animated by the feted Kyoto Animation with the same broad "look" and palette, and they share numerous staff. But whereas K-On! was a happy ode to meandering, a celebration of daily details rather than a cumulative "plot," Sound! Euphonium is very different indeed.
By design or accident, there's an early moment in Euphonium which flags that up. Taki is the male teacher of the high school concert band, its membership dominated by girls. He's soft-spoken, boyish, and voiced in Japanese by Takahiro Sakurai, the heroic Suzaku in Code Geass. In part 2, Taki gives his students a simple choice. On the one hand, they can just play in the band for fun, to make good memories – which was pretty much the ethos of K-On! Or they can opt to play seriously, with the intent of competing in the national school competition. This second option will involve lots of hard work and heartache (this innocent-seeming show is full of heartache). The students, though not all of them, vote to play seriously, and so the die is cast.
It's not the only way in which the show seems to play with expectations formed by K-On! We're led into the series by three girls, all first years. One, Midori, is so cute that it feels almost impossibly fitting that her Japanese actress is called Moe Toyota. Another of the trio, the cheery Hazuki, is at least moderately cute. But intriguingly the main girl, whose voiceovers run through the show, has the fewest "cute" affectations. She's Kumiko, a girl who already has some musical prowess, playing the titlular brass euphonium.
Unlike K-on!, the show won't just stay with a few friends. Instead, it introduces other players and their issues with the narrative sweep that you'd expect in an epic space opera, not a high school drama. There are the older girls for one; the band includes students from three different year-groups, and we find that much happened before Kumiko and her friends joined the club. One especially intriguing senior is Asuka, who's amusingly eccentric and deeply mysterious, particularly in her insistence on a Swiss-style neutrality when other girls fall out. She's voiced in Japanese by Minako Kotobuki, who was a K-on! band-member – the keyboardist Tsumugi – though you may know her better as Blue Rose in Tiger & Bunny.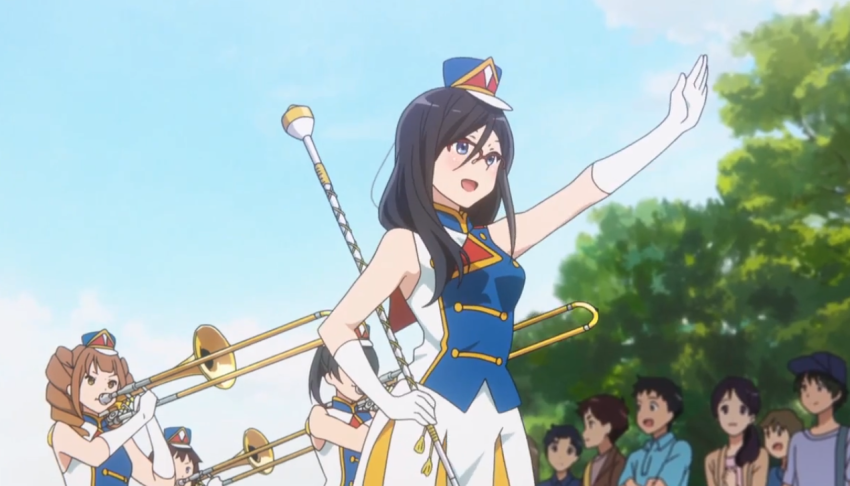 Then there's an even more important character in the story, who we'll leave for you to discover. In the early episodes, you might think the key character will be Taki; the conflict seems to be between the students and their teacher, who's taken their vote seriously and is bent on training them to the highest level possible. Taki won't suffer fools nor sloppy music, yet even his "scoldings" are delivered in a soft, kind voice. If you've ever seen the film Whiplash, you'll find it irresistible to start creating mash-ups in your head, substituting the quiet Taki for Whiplash's monster music instructor played by J.K. Simmons. A quick search of YouTube confirms other fans thought the same….
As the show goes on, though, the big conflicts come from the students themselves. As an anime music drama, Sound! Euphonium doesn't have the sexual frankness of Beck or Nana, or the tragic threat of Your Lie in April. But it doesn't need them to become extremely emotional. A standout scene, and a tonal turning-point in the series, takes place at that most clichéd setting of Japanese teen drama, the summer festival; it rings very big changes on what you'd expect. The scene is open to more than one interpretation, and might have been designed to cause fan flamewars.
The show is based on a light novel series by woman author Ayano Takeda, who also wrote a manga version; her first Euphonium novel is available in English. It was adapted for the screen by Jukki Hanada, who also scripted much of K-On! The show was helmed by probably the two best-known directors at Kyoto Animation. Tatsuya Ishihara, who's the credited "Director" of Euphonium, had previously helmed Clannad, Haruhi Suzumiya and Love, Chunibyo & Other Delusions. Meanwhile, Euphonium's "series director" was Naoko Yamada, midway through her journey from K-On! to A Silent Voice. She's hardly renounced Euphonium, though. Only this April, Yamada directed the cinema film Liz and the Blue Bird, involving two other girls at the same music club, though it's designed to work as a stand-alone as much as a spinoff.
Andrew Osmond is the author of 100 Animated Feature Films. Sound! Euphonium is available in the UK from Anime Limited.