By Chris Perkins
Arriving just months after the first season wrapped up, Space Dandy season 2 landed in July 2014. Thanks to a deal with the US broadcaster Toonami, fans in the west got to see it even before fans in Japan. Although fans have begun to take simulcasts for granted in today's anime scene, Dandy broke new ground. It even arrived complete with a quality English language dub courtesy of US Licensor FUNimation, produced alongside the Japanese version. All this gives off the overall impression that the series is, in many ways, Shinichiro Watanabe's thank-you gift for all the love showered on his earlier Cowboy Bebop by western fans.
The true joy of Space Dandy however, remains in its astonishing variety. Both visually and in terms of storytelling, almost every episode is distinct. Although loosely hung over an 'alien of the week' premise, the series is essentially an excuse for the writers, directors and design team to let their imaginations run wild. Watanabe has again assembled an enviable ensemble of talent and let them loose in Dandy's colourful universe.
Cowboy Bebop had a great deal of variety, but Dandy ramps it right up to eleven. Such a set-up runs the risk of coming off as indulgent, where the creators are clearly having much more fun than the audience. Luckily with chief director Watanabe marshalling some of the foremost talents working in anime today, that's never an issue. If anything, season 2 is more consistently entertaining than the first. A quick glance over the rap-sheet of the people behind season 2 will help you see just why.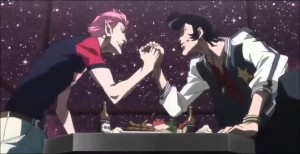 Watanabe's one-time Samurai Champloo colleague Sayao Yamamoto returns to direct "Rock 'n' Roll Dandy, Baby"- her second Dandy episode. Best known for Michiko & Hatchin, and reimagining an icon in Lupin The 3rd :The Woman Called Fujiko Mine, Yamamoto is considered a talent to watch. The episode sees Dandy team up with his new friend Johnny to start a rock band named the Dropkix. Johnny's name and musical inclination is a tip of the hat to his US voice-actor Johnny Yong Bosch – underlining just how closely the Japanese and US sides worked together on this show. There's echoes of Fujiko's distinctive look in the episode's visuals, which frequently riff on imagery based on music posters and pop-art.
Veteran scripter Dai Sato is justifiably lauded for his screenplays for series including Ghost in the Shell Stand Alone Complex, Wolf's Rain and, of course, Cowboy Bebop. He only wrote one episode this time around, after three in the first season, but it's a doozy, slowing down the usual mad-cap pace for a surprisingly serious court-case based tale.
Not everybody is a returning champion, and Space Dandy sees a number of new faces. Joining for the first time this season is Tatami Galaxy's Masaaki Yuasa, who contributes script, storyboards and animation supervision to the third episode. Yuasa made waves in the animation community with works such as Mind Game and Genius Party, enough to bag a director gig on an acclaimed episode of US cartoon Adventure Time. Here, he contributes an appropriately strange (and visually inventive) tale of a planet of fish facing annihilation.
Not to forget Watanabe himself, who this time contributes a pair of scripts, as well as serving as chief series director. Although not directing any episodes this time, his episodes still remain stand-outs. His first script "A world with no Sadness, baby" is a gorgeously designed and atmospheric- if atypically dark- trip to the afterlife. Meanwhile his script for the season finale, "Never-Ending Dandy, Baby" takes the series into full-blown Macross style space-opera territory. Tying together everything rather beautifully, it even finally sees the Gogol Empire subplot/running joke pay off. It's all a rather fitting conclusion – if indeed that's all there is. The series leaves us with a teasing "to be continued?" suggesting that maybe, just maybe, that pompadour will rise again.
Chris Perkins writes about anime for MyM magazine and is the editor of Animation For Adults. Space Dandy Season 2 arrives on collector's edition Blu-ray and standard DVD in August 2015.