Studio Khara's Japan Animator Expo
March 19, 2015 · 0 comments
By Andy Hanley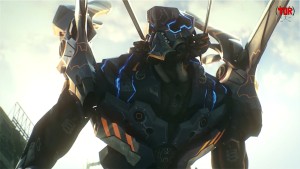 I'm sure we all have moments when we cast a cynical eye over the ceaseless light novel adaptations, sequels and the like which dominate every new season of TV anime, sigh wistfully and ask "where has all the creativity gone?"
Thankfully, there are still places where an animator or director can turn to find the creative freedom that they might desire – the Young Animator Training Project (or so-called "Anime Mirai Project") has boasted a number of successes such as Little Witch Academia and Death Billiards, and now Studio Khara has opened the door to anyone with the desire to do something different within the anime industry with their own Japan Animator Exhibition, a project that will accept original works, spin-offs, music videos and more besides. With twelve short films added to the project's web site at the time of writing – all complete with English subtitles – and more to come after a brief hiatus, now seems like a perfect time to delve into some of the fascinating content which has surfaced in its name, from a collection of Gundam key animation cels through to an unexpected Evangelion spin-off.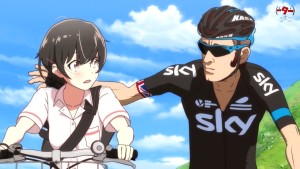 The project opened in early November 2014 and exhibited its strengths right out of the gate with a quartet of short films over the course of the month animated by Khara themselves. The surreal yet fascinating The Dragon Dentist was followed by the charming Hill Climb Girl, in which Studio Khara's digital division showed both the strengths and weaknesses of current CG animation in anime. This comes via the tale of a girl spurred on to victory in a bicycle race against a schoolmate thanks to the confidence-boosting powers of Bradley Wiggins. Yes, you read that right, British Olympic gold medallist Bradley Wiggins (and his sideburns) are in an anime.
It was with their third short that the expo really caught the eye of the wider fandom, courtesy of Me! Me! Me! This strange and visually spectacular piece, accompanied by a track from DJ Teddyloid (of Panty & Stocking with Garterbelt fame), has garnered no shortage of discussion with its rampant sexuality, disturbing and gruesome imagery and what outwardly seems to be a complete evisceration of the obsessive otaku lifestyle – a debate which shows no signs of stopping.
After a Tarantino-esque, western style revenge story in Carnage (directed by A Letter to Momo's assistant animation director Akira Honma) and that aforementioned collection of Gundam key animation, we have (take a deep breath for this title) 20min Walk From Nishi-Ogikubo Station, 2 Bedrooms, Living Room, Dining Room, Kitchen, 2mos Deposit, No Pets Allowed. Its title may be long but its premise is simple, following a girl who finds herself in rather a tight spot as she awakens from her slumber to find herself naked, miniaturised and – most importantly – appearing to her boyfriend as a terrifying cockroach. It's a surreal but smart and beautifully animated piece directed by Mahiro Maeda, whose credits stretch from key animation for Wings of Honneamise through to Kill la Kill with plenty more in-between.
Given the studio at the helm of the project, and with Hideaki Anno himself as its executive producer, it's no surprise to see Evangelion making a number of appearances within the expo – aside from the collection of figures displayed by the protagonist of Me! Me! Me!, we also have a short (and frankly unremarkable) continuation beyond the end of Evangelion 3.0's story in the form of until You come to me, while Shinji Aramaki (of CG Appleseed movie fame) and his SOLA Digital Arts studio imagines the world of Evangelion in full 3D CG which, as you might expect, is visually spectacular yet somehow soulless.
It isn't simply Studio Khara doing all of the heavy lifting for this expo however as well as SOLA's work on Evangelion: Another Impact, Studio Trigger have handled animation production on two of the shorts published thus far. Firstly we have Denkou Choujin Gridman, an unashamed love letter to the tokusatsu genre in animated form from director Akira Amemiya (whose long list of credits include episode direction on Kill la Kill). Then, perhaps most notably for fans of Time of Eve and Patema Inverted, we see Yasuhiro Yoshiura and his studio, Rikka, collaborating with Trigger on Power Plant No. 33 – a short film which oozes Yoshiura's sense of imagination courtesy of a world where kaiju are used as living, breathing power plants; at least, until a huge robot shows up and spoils the whole thing. It's the kind of fun, inventive and impeccably presented fare which represents the Japan Animator Expo as a whole – a breath of fresh air, free from the normal demands of anime production and the toll they can take upon artistic creativity. With its second half promising even more imagination and insanity over the coming months courtesy of additional notable creative forces, this is a project that any fan of animation should keep a close eye on.
Andy Hanley is editor-in-chief of the UK Anime Network.