Tag:
Mobile Suit Gundam 00
May 8, 2020 · 0 comments
Podcast – 8th May 2020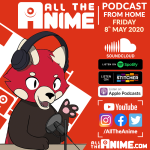 "Do you take jam with your tea?" Jeremy and Andy conclude the week with details on our home video release of PROMARE, plus discussion on watching Sakura Wars and Mobile Suit Gundam 00. Jeremy and Andy are back to bring some anime related discussion to take you into the weekend! After some unplanned talk about bubbles, they […]
September 20, 2019 · 3 comments
Gundam 00 coming to Blu-ray in November!
It's one we know a lot of people have been waiting for, and today we're (finally) delighted to tell you our plans for bringing the series Mobile Suit Gundam 00 to Blu-ray for the first-time in the United Kingdom! We've got all the information you need to know below. Just to say it from the […]