Podcast – 8th May 2020
May 8, 2020 · 0 comments
"Do you take jam with your tea?"

Jeremy and Andy conclude the week with details on our home video release of PROMARE, plus discussion on watching Sakura Wars and Mobile Suit Gundam 00.
---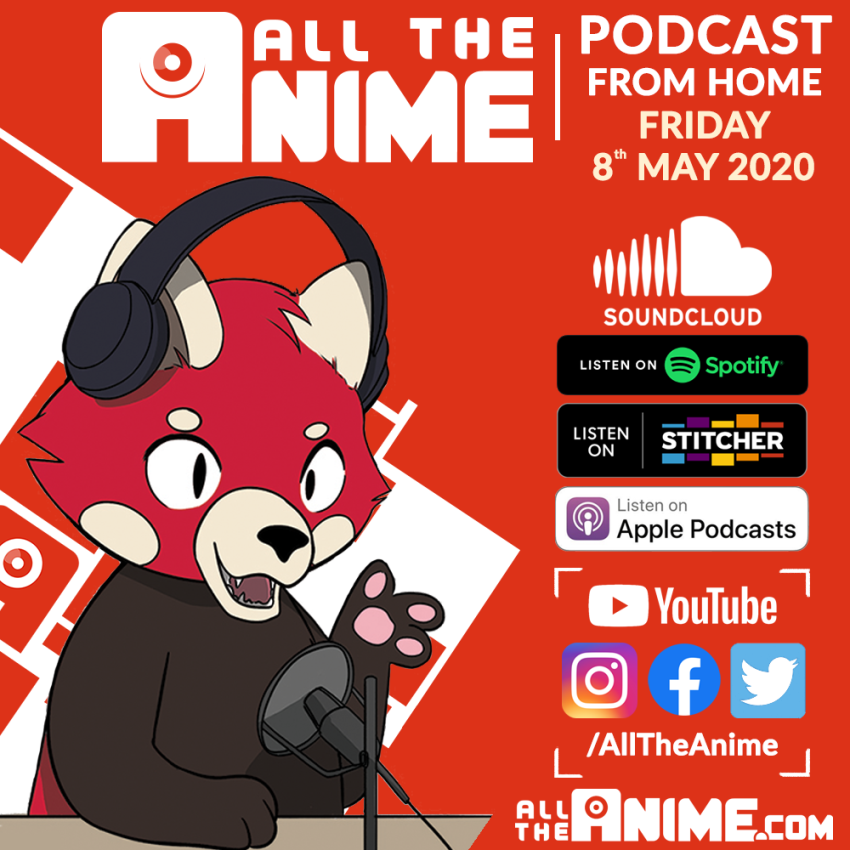 Jeremy and Andy are back to bring some anime related discussion to take you into the weekend!
After some unplanned talk about bubbles, they fire straight into giving you the full lowdown on what to expect with our stacked home video release of Studio Trigger's first full length feature film, PROMARE! Which you can pre-order right now at our AllTheAnime online shop!
After gushing over all the details of that upcoming release of ours, Jeremy talks about his viewing experience of episodes 2-5 of the currently airing series, Sakura Wars – he spoke about the first episode on a previous episode.
Following on from that, Andy brings Mobile Suit Gundam 00 into the conversation, but perhaps not in the way expect as he talks about his viewing experience with the first of the "Special Edition" recap films that will be included in future release of the Gundam 00 film, A Wakening of the Trailblazer. Has hasn't seen the series before, so we discuss how this film was a literal first-time viewer of Gundam 00 – including an interesting observation Andy has about it in relation to another particular anime.
A fun show to end the week! We'll be back on Tuesday with our next episode.
Enjoy your bank holiday weekend everyone!
If you want to share you thoughts with us on anything discussed, or simply add to the pool of questions already submitted for when we next dive into them, you can do so via Twitter/Facebook/Instagram and be sure to including the tag #AskAllTheAnime so we know it's a comment directed for the podcast and we'll be reading any feedback/comments receive on our next podcast. Or post your thoughts in the comment section below.
APPROX TIME CODES FOR THIS EPISODE –
00:00 – 16:28, Intro, details on our home video release of PROMARE!
16:29 – 29:56, Discussion on Sakura Wars episodes 2-5
29:57 – 50:07, Discussion on Mobile Suit Gundam 00 Special Edition Film #1 / Season 1
50:08 – 52:02 [END], Show close, some brief talk on Your Lie in April.
---
SHOW NOTES / REFERENCES –
Pre-order our Collector's Edition release of PROMARE HERE — on special offer at our AllTheAnime online shop until Thursday 21st May 2020
Watch Sakura Wars on Funimation HERE
Order the series of Mobile Suit Gundam 00 on Blu-ray HERE
---
NOTE: As always please note this podcast may contain strong language and any views expressed by individuals in this podcast do not reflect those of Anime Limited.

(To download the podcast as an mp3, click on the arrow pointing down in the top right corner of the player above.)
There is also a Soundcloud app available on both iTunes and Google Play, so you download and listen to our podcast through there as well.
---
Have a nice weekend everyone and we'll speak to you on Monday!
Signing out~!
Jeremy