Terror in Resonance
April 21, 2016 · 0 comments
By Andrew Osmond.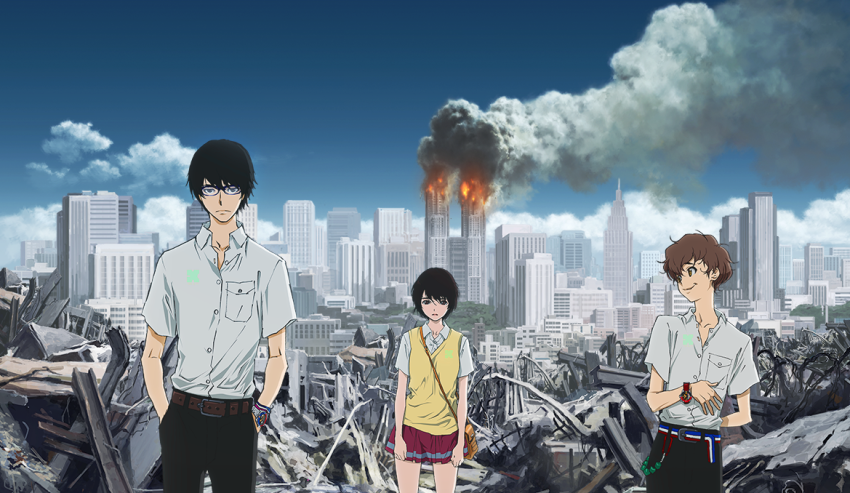 "We had a weekly script meeting which gradually turned into something like a terrorism planning session," laughs Shinichiro Watanabe. He's talking about his new series Terror in Resonance, set in a  realistic, hyper-detailed modern Japan, about two teenagers who go around blowing up Tokyo. Watanabe concedes it's an edgy subject, to put it mildly. "We were walking on a tightrope as to whether the anime could even be broadcast… Because the subject was tricky, it had to be a proper entertainment and then we would cut into it with some sort of edge."
Watanabe knows a bit about creating proper entertainment in anime. He's famed worldwide as the man who made Cowboy Bebop, one of the most iconic titles in Japanese animation. Lesser creators would have been tempted to rest on that reputation. Not Watanabe, who seems determined to try a bit of everything. Before the contemporary spectacle of Terror in Resonance, he's made space operas (Cowboy Bebop, Space Dandy), period dramas set in the recent past (Kids on the Slope) and also in souped-up samurai times (Samurai Champloo). Intriguingly, Watanabe has said he'd love to make a western; certainly the Wild West would suit the genre-blending, free-minded characters who populate the director's work.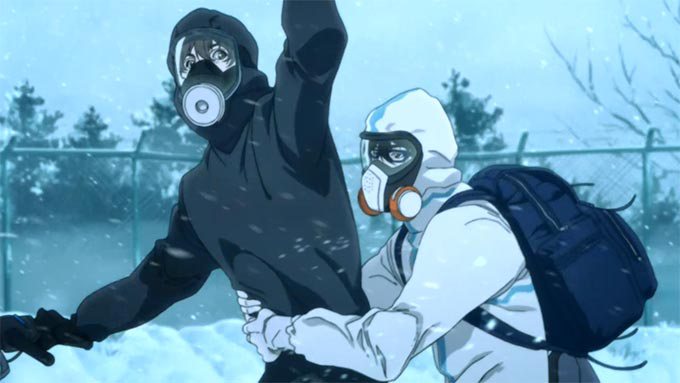 True, Watanabe has spent much time with science-fiction. Even Terror in Resonance can be seen as SF; Japan has been lucky in having little real-life experience of domestic terror. "Japanese people seem to be under the impression that these are things that happen in countries far away," Watanabe told Funimation. Watanabe first fired up the SF genre back in 1995 when he co-directed the lavish romantic miniseries Macross Plus, a landmark in its own right. However; it was Cowboy Bebop which made Watanabe's name. It's the laconic, farcical, hardboiled, existential, melancholy, jazzy saga of Spike Spiegel, a lanky gunfighter traversing the lawless galaxy in 2071; we've profiled it in depth here. As well as the 26-part TV series, Watanabe helmed the Cowboy Bebop feature film (subtitled Knockin' on Heaven's Door); this is a 'midquel,' set between parts 22 and 23 of the series.
Following Cowboy Bebop, Watanabe's name was well enough recognised for him to be invited to contribute to Animatrix, Warner Brothers' authorised animated spinoff from The Matrix franchise. We'd dare suggest it's much the best of the Matrix sequels. Watanabe directed two segments, the exciting 'Kid's Story,' in which a skateboarding teenager busts out of his fake reality, and 'Detective Story,' Watanabe's own invention. The latter is a witty SF noir, with obvious overtones of Cowboy Bebop, and beautifully-shaded monochrome urban backgrounds.
Watanabe followed this by hip-hopping back a few centuries to Samurai Champloo, a 'hip' samurai show. It often seemed to owe less to bushido than breakdance, with another lanky, wandering hero and his motley allies. The word 'champloo,' Watanabe explained, comes from an Okinawan word for 'something mixed' – the approach he used not just for Samurai Champloo but also Cowboy Bebop, which had mixed SF, westerns and film noir with abandon. As hinted in Bebop's 2070s setting, Watanabe has a special fondness for 1970s movies, citing American directors like Don Siegel (Dirty Harry) and John Carpenter (especially his early SF comedy Dark Star, which Watanabe says is an influence on Space Dandy).
Watanabe's next show after Samurai Champloo was the delightful teen drama Kids on the Slope, focusing on the friendship between two music-loving boys in the 1960s. Although the series was adapted from an existing comic, Watanabe says he felt a personal link to the material. He told the Anime News Network site that, "Kids on the Slope is about a good boy and a bad boy coming together… In my case, I was the good boy, and I found friendship with the baddest boy in my school." Rather than jazz, Watanabe and his delinquent friend bonded over the group KISS.
That takes us up to Watanabe's two newest projects, which push anime to opposite extremes. Space Dandy is an all-out comedy (Watanabe calls it 'pure comedy'), confounding expectations from its first episode. Having benefited from his credit on the anthology Animatrix, Watanabe returned the compliment by inviting a great range of artists to contribute to Space Dandy in their own very different styles. For example, Sayo Yamamoto, the rising woman director of Lupin the Third: The Girl Called Fujiko Mine, directed part 2 of Space Dandy's first season and part 7 of the second.
And at the same time, Watanabe brought us Terror in Resonance. It was originally conceived as a movie; while Watanabe took full advantage of its expansion into a series, it's still one of the most 'cinematic' TV anime ever made. "I didn't want it to feel like a fabrication," Watanabe says of the series. "Merging realistic parts and fictional parts is what this piece was aiming at… I needed a realistic base to contain fictional settings and development. Another thing is that I wanted this piece to be multi-layered. You can see it as a realistic piece, but also as an allegorical or mythical story. I wanted it to have such multiple layers."
Or, to put it another way, Watanabe wants an anime in resonance.
Terror in Resonance is released in the UK by Anime Limited.