By Hugh David.
The ancient sages said: "Do not despise the snake for having no horns, for who is to say it will not become a dragon?" So may one just man become an army."
A trio of Japanese TV serials aired in the 1970s on UK TV, becoming instrumental in creating Britain's early generation of fans of Asian popular culture. Only one, however, was actually an imported anime (Battle of the Planets); the other two were live-action Japanese versions of essential Chinese myths and legends: Monkey and The Water Margin. The latter, making its HD bow on UK Blu-ray courtesy of archive TV specialist label Fabulous Films, is also the earliest example of a live-action adaptation of a manga on UK TV, being based on the Mitsuteru Yokoyama's 1969 manga version of the Chinese novel about 108 outlaws fighting corruption and cruelty in 12th century China.  Is there a place for it now in the era of Netflix and Amazon and Chinese-friendly content?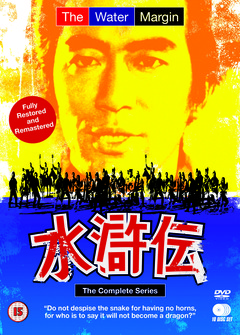 There's still a lot to enjoy today in this Robin Hood-esque series, replete with early 1970s-era martial arts and swordplay (it aired in Japan from 1972-3, in the UK 1976-8), here in a mostly uncut form with plenty of beheadings and blood spilled to emphasise select moments of violence (these were definitely missing from the BBC airings!).  Narrowed down to a more manageable group of characters than 108, the drama has a slightly soapy quality to it, although its visual language has enough in common with Kill Bill that modern audiences should find it sometimes feels fresher than expected; every now and then a director does something that feels truly cinematic with a fight or dramatic scene, and those moments are striking indeed.  By and large, though, it breaks no new ground in either the action or drama fields, and it is easy to see why it is barely remembered in Japan itself; the main actors would become better known in Japan for other films and series, or in one case for becoming a successful politician!
Possibly of greater interest to modern viewers, particularly the technically minded, is the story behind this high-definition restoration. The Japanese rights holders created a new HD master from the original 35mm film of the show; one presumes this was for HD TV broadcast, as this is the main reason these days for HD restoration, rather than Blu-ray release.  But with the BBC having recently junked many elements from its archive, Fabulous Films had to effectively recreate the credits and titles in HD, and overlay the BBC dub on this Japanese master.  However, some scenes were shortened or cut entirely for 6pm transmission back then, and where the dub survives, the longer versions have been retained.  In other words, this version is full of uncut and extended versions of scenes when compared to the older DVD and VHS releases, making it essential for fans of the original.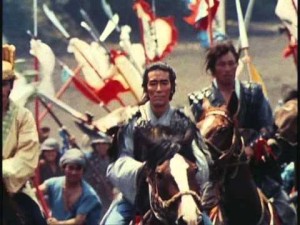 Fabulous Films are playing entirely to the British nostalgia crowd for the show in upgrading and releasing this "re-versioning" of the original. The original dub, retained here, was directed by future Manga Entertainment stalwart Michael Bakewell, frequently with questionable accents (though fans of HK-English-dubbed actioners of the period will feel right at home. As for the script, it was less translated than made up, infamously prepared by writer David Weir from no more than episode synopses!  He would later turn it into a novel, which can still be found second-hand; there are actual translations of the original Chinese novel also readily available. Despite such hokey origins, the late actor Burt Kwouk breathes true and noble life into his narrations, but to younger generations who have grown up with original language releases translated via subtitles all this invented dialogue might seem a bit odd.
So was it worth the effort? Fans of this reversioned bit of nostalgia who don't have it on DVD and like to see things on their current kit will want to see this longer version. Those new to it may not find much to keep them watching; it lacks the expensive sheen and pizazz of something like Netflixs' Marco Polo even if it's a much better chunk of TV overall. It certainly performs another important function in modern times, which is to make it possible for the series to be rerun on modern HD channels in comparable quality to more recent shows around it.  The greatest disappointment for some of us, however, lies in the missed opportunity for including the complete, uncut Japanese language version with newly-translated English subtitles. Such a treasure, however, is way beyond the means of a boutique label like Fabulous, which is banking on the nostalgia audience rather than Asian cinephiles. It would have been icing on the cake for those of us non-Japanese speakers interested in knowing what was actually being said by the characters, and what plot twists were taking place in that context, but the current economics of the distribution business mean that we will remain mystified.
The Water Margin is out on UK Blu-ray on 5th September from Fabulous Films.