The Woman Called Fujiko Mine
October 14, 2020 · 0 comments
By Andrew Osmond.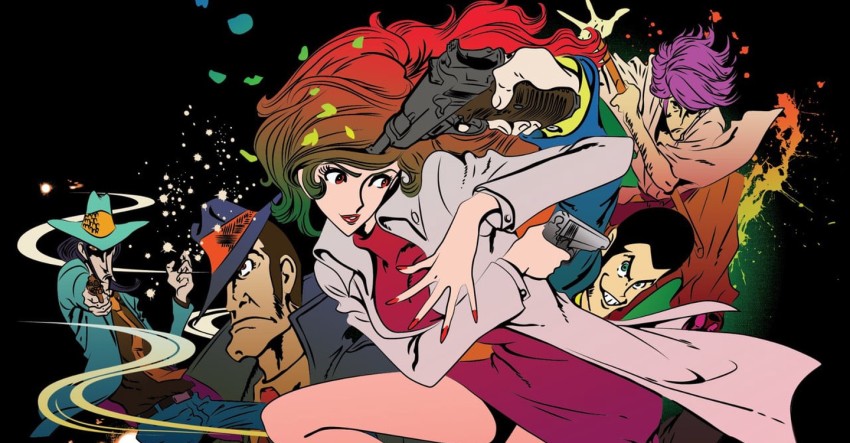 Broadcast in 2012, The Woman Called Fujiko Mine presents a very different vision of Lupin III from the one that audiences were used to seeing capering around in anime, and not merely because it placed the serial's femme fatale, Fujiko Mine, front and centre. Creator Kazuhiko Kato (Monkey Punch) cited many an inspiration for her – he saw her as part Bond girl, part Marianne Faithful, but largely as Milady de Winter, the unstoppable secret agent of the Three Musketeers stories. There was also a little scrap of personal emotion, with the artist admitting he had invested a little of his depiction of his leading lady with his own unrequited schoolboy crush on an attractive classmate.
But the original Lupin III strip had been created expressly for adults; sex and violence was part of its appeal. Many of Lupin's anime exploits, though, watered that side down, often going for zaniness or clean-cut adventures. After all, many of them were shown on TV when kids might be watching. Hayao Miyazaki's Castle of Cagliostro (1979) epitomised the family-friendly Lupin. Four decades on, Lupin the Third: The First is in the same mould.
Still, the adult side of Lupin was never quite buried. Even one of Miyazaki's Lupin TV stories ("Albatross: Wings of Death") was surprisingly naughty, finding excuses to have Fujiko gratuitously naked much of the time. And it was Fujiko's body, and her penchant for exposing it, which fascinated woman director Sayo Yamamoto. Speaking at the Anifest convention, she said, "When I was growing up watching Fujiko in the original series of Lupin, I always watched her with anticipation of when she was going to take off her clothes."
In 2012, Yamamoto was invited to make a Lupin series with full creative control. This was several years before she'd make her hit Yuri on Ice, but Yamamoto was already well-established in the industry. She'd directed five episodes of Shinichiro Watanabe's Samurai Champloo, then helmed the distinctive crime anime Michiko & Hatchin (2008), about a woman and a young girl driving through South America. One of the best episodes starts with the adult Michiko seducing a man by a river. Beautifully choreographed, it's less about male desire than female longings.
At that time, the Lupin character had long been relegated to annual TV films. The last full Lupin TV series had ended in 1985. Yamamoto wanted to get back to the manga version. "In almost every chapter or episode there were some sort of naked female somewhere in there," she said. "I felt that the recent [Lupin] TV series animation was really aimed at kids, made intentionally with kids in mind. So, I wanted to go back in history and bring back the original manga, how I felt it was intended to be entertaining to adults."
Fujiko's title sequence looks less like traditional Lupin than a riff on a mad anime classic, the 1973 film Belladonna of Sadness. Fujiko's vision of female liberation isn't that terrifying, but it's still a full-blooded celebration of a slinky thief whose body is designed to make hetero men and sapphic girls go hubba hubba hubba. For all its action scenes, at heart Fujiko Mine is sensuously languid, relaxed in its bare skin, with a mellowed heroine who's seen everything before and done everything before. Rather than pumping adrenaline, the show evokes a curling waft of cigarette smoke.
The series focuses on Fujiko's exploits, with a spectacular Temple of Doom-ish adventure bringing her into instant collision with Lupin. The next episodes show her meeting the other Lupin icons, gruff marksman Jigen and super-samurai Goemon, who measures his sword against a nuclear missile at one point. As you'd expect in Lupin, there's a generous range of settings: Orient Express trains, airplane battles, haunted labs and nightmare fun-fairs. The episodes are largely separate, but with running threads that reveal a clever season arc, culminating in the final episodes that promise to expose Fujiko's deep secrets.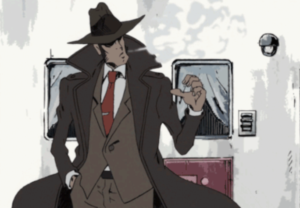 Lupin, Jigen and Goemon are all true to their familiar personas. Lupin even gets moments of crowd-pleasing goofiness, riding a giant flying statue or dressing as a panto horse. The real shocker is what the show does with Zenigata, the permanently cross policeman who's another Lupin regular. In traditional Lupin, he's solely obsessed with nabbing Lupin; but in Fujiko, he's unbuttoned to reveal his carnal desires. The show's point is clear: there's no such thing as a clean-cut character. Notably, all the Lupin anime after Fujiko backed away from that, making Zenigata respectable again.
The sex in Fujiko is nothing without the style, overblown and preposterous like a Bond title sequence. This is a designer show that wants to stand out from all the other anime. It looks drawn, shaded, sketched and stylised. "On-model" is optional; so is depth, dropped into shots here and there, while much of the art is proudly flat. Often you almost expect a shot to be signed by the artist. Colours are often muted, getting only more so as the show progresses, approaching the monochrome of the title sequence.
Lupin fans have argued about if Fujiko Mine is really true to the original manga, or a reinterpretation by a new artist. Personally, I take it as a one-shot reworking of a franchise; in that way it's like Batman graphic novels such as Dark Knight Returns or Arkham Asylum. Or perhaps Fujiko is nearer an adults-only French bandes dessinée. The series is certainly less dark than the Batman books, though its story goes intense places in the closing episodes, before a last joyful reveal.
Yamamoto was only one of the "name" creators on Fujiko Mine. The show's lead writer was Mari Okada, already established as one of the industry's top professionals. Okada's interest in female sexuality is obvious from works such as her later schoolgirl manga O Maidens in Your Savage Season. This also became an anime and will be turned into a live-action Japanese series about the time you read this.
Meanwhile, Fujiko's character designs were by the Redline film director Takeshi Koike, who was also the animation director on the first and last episodes. And it was Koike who went on to direct the three subsequent video releases: Jigen's Gravestone, released two years after Fujiko Mine in 2014; Goemon's Blood Spray in 2017; and Fujiko Mine's Lie in 2019.
One thing to make clear is that these three films – each an hour long – comprise a separate Lupin from Fujiko Mine, with no continuity in story or style. If you don't find Yamamoto's series to your taste, you may prefer Koike's films, and vice versa. The only similarity is that Koike's films, like Fujiko, are emphatically not for kids, but where Fujiko revelled in sex, the films are far more about the violence. Goemon's Blood Spray feels specifically like a tribute to the Tarantino of Kill Bill, or at least a reaction to it, as Goemon takes violence much more seriously.
The humour in the films comes from the leads' chemistry and the action's madness, but there's hardly any clowning; no panto horses here. Each film is a separate story, though the later ones have brief call-backs to their predecessors. One thing they share is impressively high-powered adversaries, who seem like genuine threats to the Lupin characters. When watching Lupin, you usually assume that none of the regulars – Lupin, Fujiko, Jigen, Goemon – can possibly be killed. However, Lupin has always had an extremely loose continuity, like Bond. These films play with the suggestion that perhaps this is a Lupin where the heroes can die…
Fujiko appears in all three films, though her role's very limited in the first two, and some viewers really won't like what's she's subjected to in Jigen's Gravestone. She gets a far better deal in Fujiko Mine's Lie, in which she's in charge of a traumatised little boy who's lost his dad. The situation echoes a classic live-action film, John Cassavetes' Gloria (1980) starring Gena Rowlands. But it also seems to refer knowingly to Miyazaki's Cagliostro, asking if the Lupin characters ever really help people from kindness. The film itself lies to the audience, massively and shamelessly, in order to hide a story twist, but then what else would you expect from Fujiko?
Although there are differences between Koike's films – the mix of colours and designs gives each a different texture – none go for the conspicuous artfulness of Fujiko Mine. Instead, they present straight action scenes animated with maximum magnificence; like the hardcore violence, it feels like Koike's bid to go beyond anything that could be done on TV. As it happened, the Fujiko Mine series revived small-screen Lupin. Two TV series have been made since, including the Italian-set adventure in 2015. They're both strong visually, though neither as radical as Fujiko nor as cinematically stellar as Koike's films.
But notably, the new TV series make a big thing of "mixing up" Lupin. Sometimes he's the wacky, family-friendly thief; but sometimes he's far more hardboiled and dangerous. Because really, Lupin shouldn't just be for the kids.
Lupin III: The Woman Called Fujiko Mine
is being released on Blu-ray by Anime Limited.