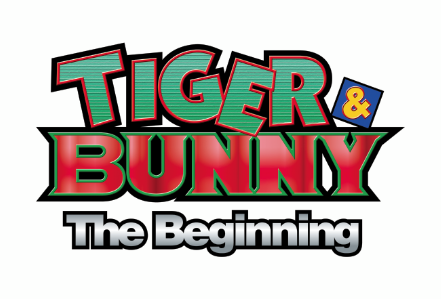 With the release of the Tiger and Bunny: The Beginning collector's edition upon us (March 17th), I thought I'd take a little time out to offer my thoughts and review of the film as someone who comes from a zero-knowledge about Tiger and Bunny standpoint. Stick with me kids, it's ok – I put the words together pretty well sometimes. If you are brand new to Tiger and Bunny or heard about it but haven't watched the show, this is the  post for you!
Tiger and Bunny: The Beginning is a film that introduces the world of Tiger and Bunny the series, and succinctly rounds up the first few episodes all the while throwing in a bunch of new story lines making it interesting, engaging and fun for both fans of the show and newbies (as I was when I checked it out). We are stylistically introduced to a world in which superheroes are sponsored, corporations are in charge and fighting crime is televised in a competition-cum-reality show. It's a crazy mixed up world where a (relatively) ageing superhero (Tiger) is just trying to stay afloat in the competitive world of sponsors, heroing and public support or rather, popularity. He's a bit tired, bit worn out and enjoys fairly mediocre success but, as with everything, it must all come to an end – his setup begins to look to be on shaky ground. His shaky ground is made even shakier thanks to a merger and the arrival of a young, sponsor-less yet ever so flash upstart (Bunny). Through a series of events that I won't go into, they are teamed up as a pair of crime fighting superheroes – but things don't go so smoothly.
The film itself, especially coming from someone who's never seen the series, is a fun enjoyable romp of a film that introduces the world and the characters pretty well. You get sucked into the story and gain a pretty decent understanding of character motivations, capabilities, depths and emotions. You can definitely tell it's setting up for a sequel (and the eagle eyed of you would have noticed that we have indeed licensed the second film, Tiger and Bunny: The Rising), but it doesn't feel like it's to its detriment – or that it's filler content. Instead, it feels like a film that stands on its own – with its own story and adventures, it's a good, fun way to spend 90mins. So, is Tiger and Bunny: The Beginning worth watching – say all your T&B fans and newbies alike? Well, I think so – I mean, I didn't feel like I've missed out on anything by not having seen the series. It's a good, fun crime caper of a film and has some pretty solid animation. I especially enjoyed the cynical commentary on the role of corporations and sponsors in what is now daily life – how the ethics and aesthetics of reality shows and the desperate chase for ratings have permeated every aspect of our lives. Crime fighting and superheroing are no longer noble pursuits but have fallen prey to this beast hungry for attention and ratings. Sure it's cynical, but it is also an interesting reflection of where we are as humans in our 24 hour news cycle/entertainment consumption.
Tiger and Bunny: The Beginning is available for pre-order on Amazon at the moment. It's a combi-pack Collector's Edition release so get it while it's hot!